Go World Travel is reader-supported and may earn a commission from purchases made through links in this piece.
We sat precariously on the edge of a rubber Zodiac boat, all suited up in four layers of warmth. Hues of our royal blue, expedition parkas bounced off the sun. Positioned at 78◦N and 15◦E above the Arctic Circle, 22◦ latitude shy of the North Pole, we faced the Samarinbreen Glacier.
Our boat driver, Arctic Expedition Leader, Chris, asked for five minutes of Arctic Silence. A slice of time I treasured during our journey to the 'top of the world.'
Arctic Silence is magical. High-tech cameras and phones stop clicking and chatter among Zodiac companions ceases. We listen to the hush of nature, we hear the living glacier breathing, heaving and calving.
These periods of total silence felt like the most impactful moments of peace and quiet I have experienced in 75 years.
Life in Longyearbyen
The international expedition team of 17 knowledgeable, rugged men and women choose to live in Longyearbyen, on Norway's Svalbard Archipelago. Joining them are 2500 other souls in this most northern, inhabited town in the world.
I sensed why they have given up their fast-paced lives to work together like a humming machine. To share the mysteries and the harsh realities of this majestic, remote, treeless place.
Imposing mountains, pristine water, glacial ice, diving birds, cetaceans, pinnipeds, polar bears, and land mammals fill the Arctic, not people. Although a seasoned travel writer, I feel unequipped to capture the magnificence of this complex biosphere in words.
One must caress the vastness, the desolation, the changeable, at times dangerous, conditions. The bite of the wind whipping against your face, or the joy of a sun's ray warming it.
Overseas Adventure Travel Expeditions
 The small ship M/V Ocean Diamond is chartered exclusively by Overseas Adventure Travel for five separate Arctic expeditions over the summer 2022 season.
It is designed for both North and South Polar voyages. This served as our home base for 9 days. It was the last of the expeditions before the cruel Arctic winter and the dark months-long, polar night sets in.
We spent five days in Oslo, Norway's sophisticated capital before our flight to Longyearbyen, the gateway for all tourists going on Svalbard expeditions.
Complaints about my prisoner window seat on our chartered flight melted like cotton candy, when I spotted a huge pod of white Beluga whales. They skimmed along the surface of crystal waters; my first encounter with Arctic life even before we landed.
After we embarked on the ship we, settled into our cabins and tried on our pre-ordered knee-high rubber boots that felt like they weighed five pounds each. Also, thin, non-cumbersome lifejackets made for zodiac travel.
Best Tips & Tools to Plan Your Trip
No one was allowed into the rubber crafts without these items. Boots that fit comfortably over insulated socks, and water-resistant outer pants became the most important pieces of expedition gear.
Twice daily zodiac launches required travelers to suit up, clomp down two flights of stairs and safely board the boat without tipping it over. Wet landings meant stepping into shallow, icy water to reach the shore.
Svalbard Archipelago regulations prohibit more than 100 travelers on the outcroppings at one time. The 157 OAT participants were divided into seven different color groups and each small unit had an assigned OAT Trip Leader to monitor his/her 'color.
Ready for Anything
Our mentor, Laura from Argentina, had earned her 'bi-polar' status by leading Antarctica expeditions, Jan.-Mar. and Arctic expeditions in the North's season of perpetual sunlight. She was dynamite but watched over her 'purple' group with gentle and unobtrusive vigilance. I called her our mariposa– our butterfly.
The launch team wisely used this color scheme to schedule First and Second Wave Zodiac send-offs at each site, with the timing precision of a Rolex; 10 guests to a zodiac, one filling after another. An expedition guide motorized each rubber craft through the sea.
The only definite thing in the Arctic; Nothing is. Carefully planned landing sites evaporated quicker than sweat from the skin. Changing weather, a rolling fog, unsafe swells, or a Polar Bear sighting required the Team Leader to expedite Plan B. The Polar Bear, this "King of the Arctic" is the most feared and the most revered of any being.
Before every landing, the scout team goes first and climbs to the topmost points. They then scan the horizon with high-powered binoculars, their ready rifles slung over their shoulders. No traveler steps foot on a landing site, until the perimeter has been established, and the bear alert team posted at pivotal positions.
Their surveillance never ends until every guest is safely back on the ship. They are the first to arrive and last to leave. Though least in the spotlight, they are the most important aside from the Expedition Team Leader.
Sights of Svalbard Archipelago
The first week's landing sites included an abandoned marble mining settlement at Ny-London, hiking among Arctic reindeer at Alkhornet and observing lazy walruses on Prince Charles Island. We also explored a deserted cabin on Bamsebu overwintered by two female researchers among the remains of hundreds of Beluga whale bones.
On Gnalodden, we entered Wanny Wolstad's cabin, the legendary female trapper of polar bears in the 1940s. In addition, we hiked to the stunning nesting canyon for thousands of black-footed kittiwakes at Knapp Waldburg.   
However, the ultimate encounter happened on Day 7 of the expedition. Before the first scheduled landing, an excited Chris announced over the loudspeaker.
"My dear travelers, we have spotted a young, male polar bear along the shore. Everyone, suit-up, warmly. We will begin loading zodiacs, starting with the Blue group on Deck 4 in 15 minutes. Let's observe this magnificent creature."
My husband and I managed to don long underwear, two pair of socks, jeans, boots, water-resistant pants, fleece shirts, parkas, gloves, beanies, binoculars, cameras and life vests in under three minutes. I didn't think seniors could move so fast.
Soon, 16 black zodiacs, filled with ubiquitous blue parkas, were positioned offshore in direct line with this 'superbly-adapted, top of the food chain predator of the Arctic.'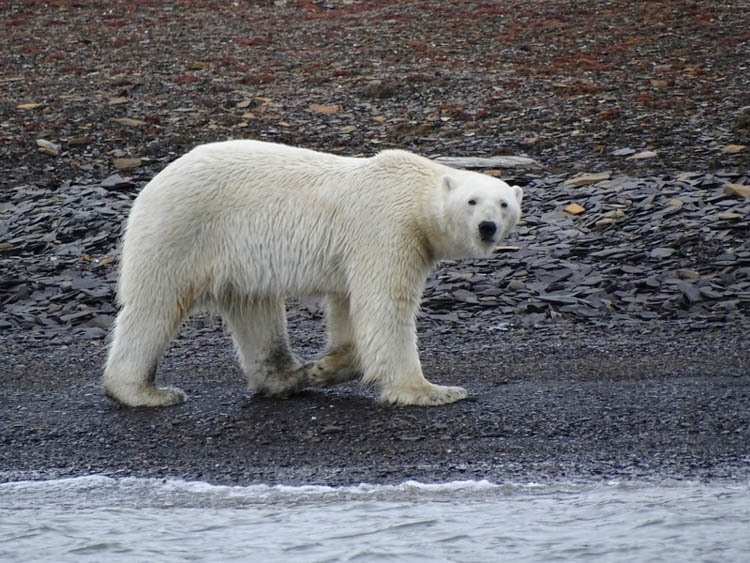 Polar Bear Encounter
He moved with grace, despite his massive size and lumbering paws. A curious bear, he stopped often, gazed with dark eyes toward the strange black crafts dotted with a blur of blue-coated creatures.
We continued to follow him, cameras snapping, binoculars straining to capture every strand of white fur, his every step. We had inched so close, we could see the twitch of his ears, his black nostrils sniffing the air.
Then he plunged into the icy waters, stood on his hind legs and his upper torso emerged, as if to announce, "I am King here."  After a refreshing dip, he returned to the shore, shook the excess water from his coat and strained his neck backward to check on his pursuers.
He surveyed an upcoming glacier and must have spotted the bearded seal lazing on an ice float. The bear disappeared into the water, without a sound or a splash.
He emerged from his dive onto the occupied slab and pounced on his prey, food he needed before the winter set in. But the seal was too quick, gone, denying the bear his catch. Enthusiasm spilled from the expedition team.
Never had they observed a polar bear's behavior to this degree. We had the thrill of tracking his movements for six miles, an iconic, and privileged three hours.  
Devastating News
Our excitement about the unexpected 'bear' miracle at the evening briefing faded as the ship's somber captain revealed the devastating news.
The ship's boiler providing hot water and heat had failed and could not be repaired. We had noticed the ship's interior felt much colder that day. The expedition had to be cut short; a return to Longyearbyen was required.
Disappointed blue parkas were now worn inside the ship. We cocooned under piles of blankets during the night. One full day 'at sea' allowed the expedition team time to wow us with lectures on North Pole climate change and past polar bear encounters.
When we left Longyearbyen a week ago, the landscape looked grey and dirty, muddy tracks from summer thaw, brown permafrost lacking color and cloudy skies threatening things to come. Upon our arrival back in port, the backdrop took my breath.
A sense of peace had fallen over the settlement. A heavy mantle of fresh snow weighed on simple frame structures, the mountains looked even more majestic. Now I understood the signs posted at the edges of town that read: Polar Bear Alert: Do not pass this point without a firearm.
Chris arranged two, final launches near port, and we delighted in a zodiac cruise to the Tunabreen glacier and a wet landing with cathedral cliffs at Skansbutka. A sadness prevailed as we donned our Arctic layers for the last time.
Now, back on Mexican soil, with earthquakes rattling, snarled traffic, and responsibilities clamoring for attention, I crave that Arctic Silence. The things that demanded notice there seemed so innocent. The prowl of creamy-white Polar Bears on the hunt, groans of lazy, blubber-weighted walruses and squeaking bearded seals.
Plus shorebirds, buntings, gulls and geese squawking and dizzying heights of majestic mountains that projected us as specks. We had previously explored Antarctica; now with images of an Arctic Expedition, my husband and I can call ourselves Bi-Polar.   
Author's Bio: After a life-long profession of treating the mentally ill at a PA psychiatric hospital for 33 years and also serving as its Director of Admissions, Carol retired to Lake Chapala, Mexico in 2006 with her husband, to pursue more positive passions. A frequent contributor to Lake Chapala English magazine, "El Ojo del Lago," she's won several literary awards from that publication, including Best Feature in 2010 and Best Fiction in 2014. She also netted a story regarding her psychiatric field work in the published anthology, "Tales from the Couch."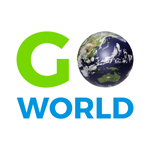 Latest posts by Go World Travel Magazine
(see all)