Jeanne and Mike Reimer of Churchill Wild have always had a deep connection with the Arctic tundra of Northern Manitoba.
Jeanne grew up in the tiny Canadian outpost town of Churchill on the shores of Hudson Bay, where polar bears made occasional appearances during nightly meanders through town and snowmobiles was a common way to get around. Her parents owned a fishing and hunting lodge, and Jeanne and her sisters often helped care for their guests.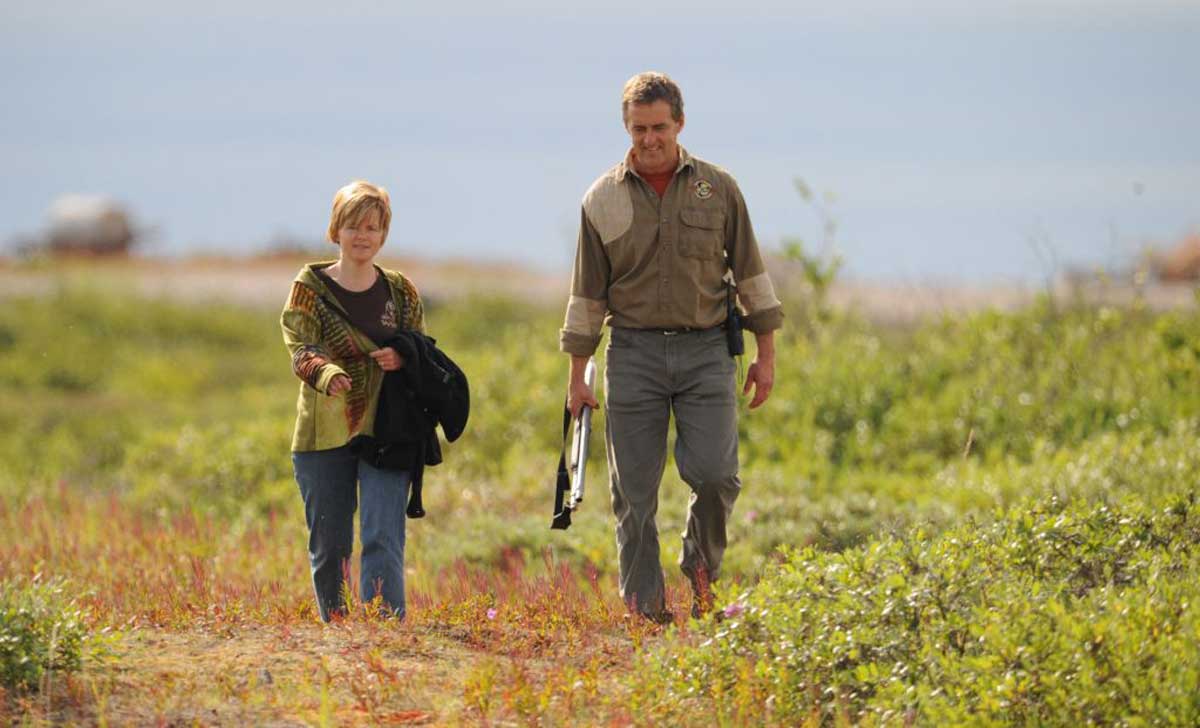 Mike grew up on the prairies of Southern Manitoba in Canada but moved north to become a wilderness and adventure guide. (An avid outdoorsman, he has hiked, paddled, boated and explored more than 100,000 square miles of the Canadian subarctic.)
It was in Northern Manitoba that he met Jeanne. Her parents owned Webber's Lodges, and he had been hired by Jeanne's dad, Doug Webber.
After Jeanne and Mike married, it was only a matter of time before they turned their love of outdoor adventure into a thriving adventure tourism business in the Arctic.
Churchill Wild
Churchill Wild offers all-inclusive wildlife and wilderness encounters from four remote ecolodges, three of which are located deep in the heart of polar bear territory on the Hudson Bay.
Guests get to experience the beauty of the Arctic while encountering wildlife in their natural environment. Churchill Wild is one of the rare outfitters that allows guests to view Arctic wildlife and nature on foot. Some Churchill Wild excursions also offer viewing by boat or "rhino"—a low-impact open-air safari vehicle.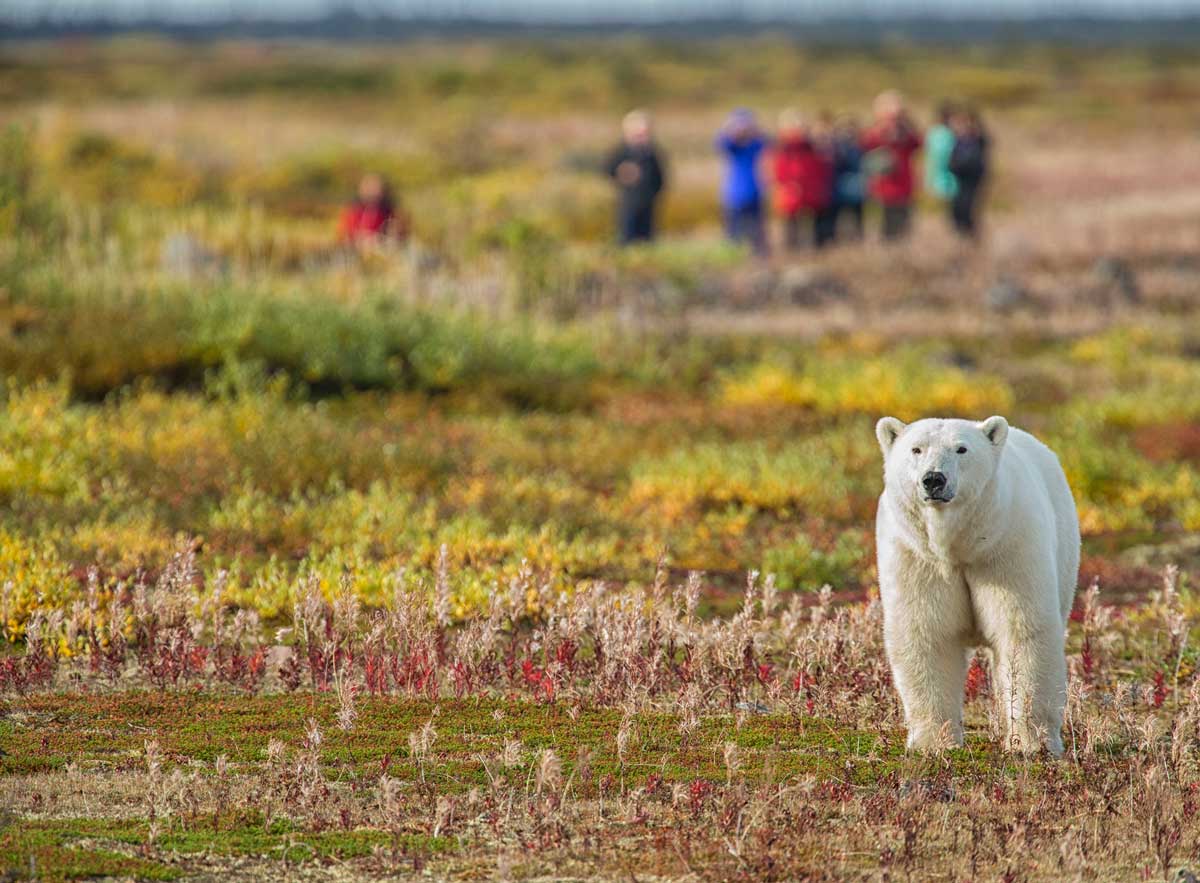 Polar Bears, Beluga Whales and More
The company's Polar Bear Safaris are their signature experience, but the bears aren't the only wildlife that guests encounter. Beluga whales, Arctic fox, wolves, moose, bears and many other animals make their home in the region.
We caught up with Jeanne and Mike and asked them about their unique lives in Northern Manitoba.
GWT: Jeanne, your family were adventure pioneers in this region. Can you tell us a little about your family history in Northern Manitoba?
Jeanne: In the words of my maternal aunt, Maureen Osland: "In the early 1930s, our grandfather Sigurmunder Sigurdson left Arborg, Manitoba hoping to find a more lucrative customer base in the booming town of Churchill, Manitoba. To his surprise, he got kicked off the train near Gillam because he didn't have a work permit.
Being a stubborn Icelander, he and his two sons built a boat, named her Oddney after his mother, and with the help of a nervous local guide traveled on to the treacherous waters of Hudson Bay and made their way to Churchill.
The family set up shop in Churchill and further north, trading in Arviat, Maguse River and the Seal River area. The Sigurdson and Martin grocery, dry goods and ship chandlers operated in Churchill until the early 2000s."
GWT: What was it like growing up in Churchill?
Jeanne: We grew up with polar bears for neighbors, took amazing aurora borealis light shows for granted, and learned to dress for the bitter, howling winds coming off the Hudson Bay all winter long.
Traditional clothing was part of life there and a necessity to keep warm in the sub-arctic winter if the outdoors was to be enjoyed, which is pretty much a requirement to surviving in Churchill.
We had a tremendous amount of freedom, snowmobiling at a young age, partly as a means of transportation and always for fun.
There was an incredible community spirit with active community groups and activities and sports for such a small town. A little-appreciated fact is that Churchill is a coastal community; memories of playing and living on the rugged coastline will always occupy a special place in my heart.
GWT: You and Mike raised your family here. What was it like to raise your four children in such a remote location?
Having grown up here, it did not seem a challenge to me. It was just our way of life. I believe in many ways life is simpler, as the myriad of choices of activities in a bigger center are just not available there, giving our kids a greater chance to learn about the environment and how to appreciate and survive in it.
The availability of goods, particularly choices within that, was not high and we often lived by the Sears (mail order) catalog in between trips to the 'deep' south.
As I mentioned, there is a real sense of community there, as residents are all an important part of the fabric of the community and much like an extended family. Even the people living on the fringes of society tend not to go unnoticed in a small town like that.
GWT: What kind of experience did you want to create for your guests?
Jeanne: We wanted to give guests the best, most comfortable, most authentic viewing opportunity to see polar bears in their natural environment. We wanted to immerse people in what it means to live in and around these majestic animals and have them come away with a greater appreciation and understanding of the beauty of the north and the animals that live there.
GWT: What seems to surprise visitors when they come on a Churchill Wild polar bear tour or photo safari?
The food! They are always surprised by the variety and quality of the food, especially fresh fruits and vegetables.
And ok, the bears! They are often blown away by sipping their wine while looking out at bears through the huge picture windows, in such proximity to the lodge. I think the opportunity for 'dinner and a show' really impresses people when it happens. Which is often.
GWT: Mike, tell us a little about your own background and experience in the region (and how you met Jeanne).
I'm originally from the prairies in Southern Manitoba. I grew up camping, fishing, hunting, canoeing, and loving the outdoors. I followed my dreams north to be a fish/hunt guide, and my first job landed me with Outfitter Doug Webber. I eventually married the boss's daughter.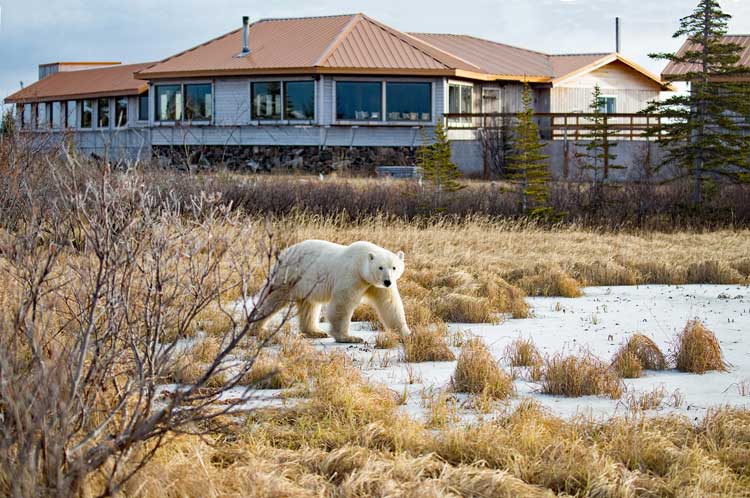 GWT: There must be some unique challenges to building and operating so far off the grid. How did you make your dream a reality in such a remote location?
We had a can-do attitude, ability to adapt/change, and years of experience in the outfitting business with Jeanne's parents.
What is unique about the experience offered by Churchill Wild?
We offer the only polar bear walking safaris on the planet based out of remote high-end ecolodges.
What are summers like in the Canadian Arctic?
It's chilly but beautiful. Hudson Bay is filled with beluga whales, the tundra is covered in all kinds of wild berries, the skies and shoreline are alive with birds, and the polar bears pop against the colorful Arctic backdrop.
Arctic wolf. Photo by Andy Skillen/Courtesy of Churchill Wild
What kinds of wildlife can guests encounter with Churchill Wild?
Polar bears, wolves, moose, black bears, Arctic and colored fox, wolverine, sik-siks (Arctic ground squirrels) beluga whales, seals, Arctic hare, snowy owls, waterfowl, birds of prey, cranes, ptarmigan, sandpipers…the list goes on.
Can you share a memorable wildlife encounter you've had personally? (we know you must have hundreds to choose from)
This is something that, unfortunately, we are no longer permitted to do, but our first swim with beluga whales was the best lasting memory. Realizing one could safely enter their world and interact up close and personal with literally thousands of these incredible creatures was life-changing.
More about Churchill Wild
Dining is a highlight of a Churchill Wild adventure. Meals include organic, locally source and wildly harvested meats and fish along with vegetables from the company's Arctic orchard and gardens. Chefs Helen Webber and Marie Woolsey have spent more than 40 years developing and perfecting their popular recipes.
Churchill Wild has four ecolodges: North Knife Lake Wilderness Lodge, Seal River Heritage Lodge, Nanuk Polar Bear Lodge, Dymond Lake Ecolodge
Packages are all-inclusive. The season runs from July through November. Safaris are all-inclusive out of Winnipeg, Manitoba. Packages range from $11,000 – $20,000 CAD per person (based on dbl. occ.) and are anywhere from six to 10 nights
For more information, see churchillwild.com