EDITOR'S NOTE: WE ONLY SHARE PLACES, PRODUCTS AND ACTIVITIES WE RECOMMEND. IF YOU MAKE A PURCHASE USING A LINK ON OUR SITE, WE MAY EARN A COMMISSION
Boise, Idaho, like many modern American cities, is a desirable place to live, especially when it comes to its thriving food culture.
From trendy restaurants to sidewalk bistros to cookie shops to eclectic eateries, this city is attracting visitors who love to have fun, eat, and explore the City of Trees. Whether sweet or savory, Boise restaurants offer something to fit your taste.
Find a hotel for your trip to Boise here:
Best Places to Eat in Boise
Here is a shortlist of some of our favorite places to eat in Boise, Idaho.
The downtown area of Boise is chock full of nifty little places to eat like The Chocolate Bar. This family-run business offers some of the tastiest treats in town, from truffles to toffee to clusters.
Each batch is hand-made from top-quality chocolate and local ingredients so you may have difficulty choosing among the colorful and taste-tantalizing offerings in the display cases. To make it easier, their top-selling favorites include their salted caramels, toffee almond, and lemon-lavender almond bark.
One nice thing about being located in the downtown area is that most everything is within walking distance. Capital Cellars has undergone many transformations but seems to have hit its stride with this one.
Offering casual fine dining in the basement of a circa 1904 historic building, they specialize in seasonal farm to table meals with prime rib being their signature entrée.
The décor here is pure fun as everything has a political theme. Even the menus are made from old Idaho code statute books. The nameplates on the tables include monikers like The Speaker, The Senator, and Pro Tem. Even the pricing for many items ends in $.43, reflecting the fact that Idaho was the 43rd state to be admitted to the union.
Find the perfect vehicle to visit all the downtown hotspots here.
The sign is simple, and the large interior is clean, modern, and bright. What do they do? They make huge, monster-size chocolate chip cookies, not to be confused with wimpy imitations.
Using fresh eggs never more than two days old, they create plump six-ounce treats. Flavors of the month include cookies and cream and salted caramel along with delivery all over town until 2 a.m. A 4-cookie box will only set you back about $10.
STIL is an acronym for the sweetest things in life, and what could be sweeter than hand-made ice cream? If the frequent lines around the block are any indication, the owners have created another cool winner on the Boise food scene.
Using a creamy base from Reed's Dairy in Idaho Falls, STIL makes flavors such as Strawberry Sorbet as well as vegan options and even boozy ice cream combinations like Honey Bourbon.
Owner Sarah Fendley grew up on a farm and wanted to bring a little of that feeling to Boise. The inside décor of this Linen District establishment looks like a rural country store, and the display cases are filled with humongous-sized carrot cakes, cinnamon rolls, and cherry pie scones.
The same theme follows for breakfast entrees where the dishes are described by Fendley as big, lumpy, bumpy, and all homemade. No frying or grills here either as everything is baked.
Their biscuits and gravy come topped with bacon and seem like enough for four ($12), and according to the menu, if you are weak, you can get a half order for $8.00. Probably one of the best deals in town.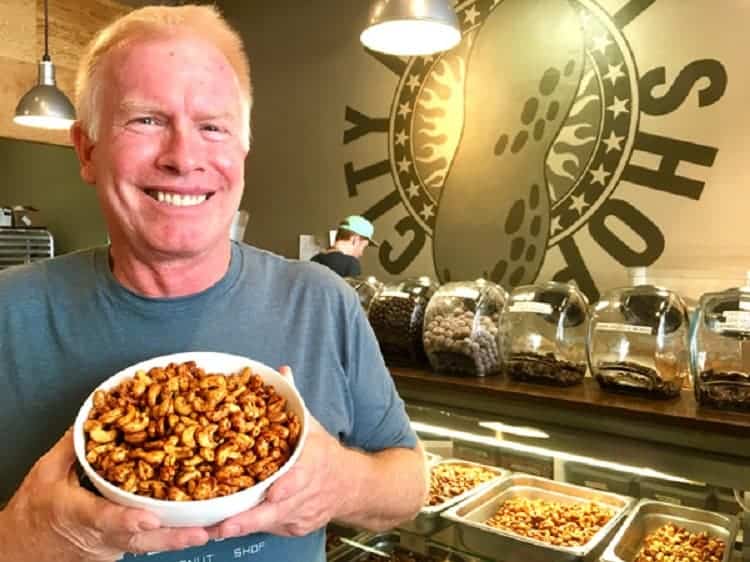 Known as The Peanut Man by the locals, Dan Balluff chucked his high-paying corporate career and opened what was the family joke.
He explains, "My father used to tease me, saying, 'Why don't you open a peanut shop like back home in Lansing, Michigan'?"
Finally, after wondering if this might actually work in Boise, he did just that.
Today, Balluff sells his creations of roasted peanuts to eager locals and travelers. Flavors include his most popular combination called Wild Lands, a mix of organic maple syrup, pepitas, pecans, almonds, cashews, smoked paprika, and rosemary ($16/lb.).
Hurry, this one sells out quickly every time he makes it.
John Cuevas, a James Beard Award semifinalist, and his wife Julie have had long careers in restaurants and hospitality, and in 2017, they decided to put their expertise to work.
They opened up their eatery in the Lusk District of Boise after transforming what was the neighborhood eyesore into the now hip and trendy taqueria.
Cuevas serves what he calls non-traditional tacos that are playful and fun and has carved out a niche and on the Boise food scene. Using fresh, locally sourced ingredients, he packs his affordably priced creations full of flavor and seasonality.
Popular items include his house-made beans and rice ($5) and Harissa Marinated Chicken Tacos with shaved peppers, cucumber, tomato, dill, and buttermilk sauce ($14).
With the tagline, We make our donuts holey, Guru Donuts has become an iconic foodie stop in downtown, winning the Best of Boise award in 2018.
Kevin and Angel Moran turned their dream into reality by making some of the finest donuts from scratch using local ingredients. This includes using fresh eggs and regional flour paired with perfect blends of roasted coffee.
Their circles of culinary joy include yeast-raised and old-fashioned cake donuts along with vegan options. Some of the unusual flavors include Strawberry Dip and Huckleberry Lemon Drop ($2.75).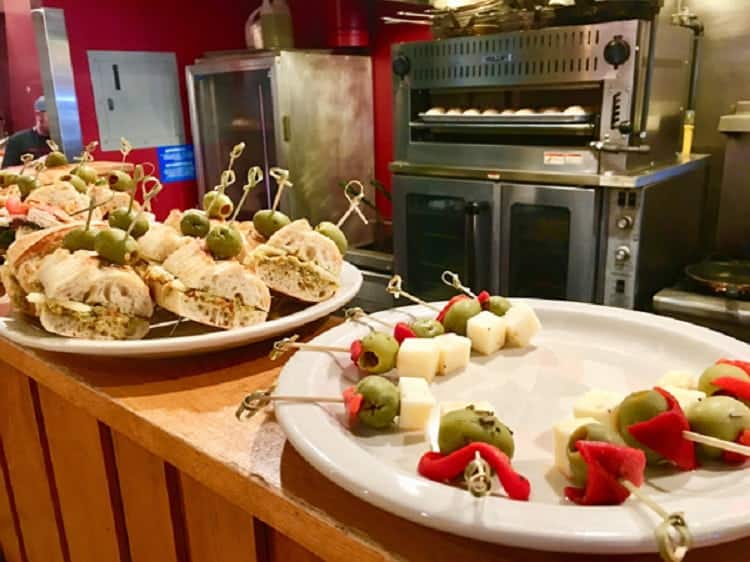 This locally-owned market reflects the rich Basque heritage of Boise. Located appropriately on Basque Block, the market has wines, cheeses, and meats available for purchase.
You can also stay for lunch and try small tapas (pinchos or pintxos). These vary but typically include small sandwiches, olives, cheese, and meatballs.
On Wednesdays and Fridays, people line up for the house-made paella made with olive oil, chorizo, onions, green peppers, saffron, and shellfish. Wash it all down with one of their sangria slushies.
After working for 20 years under local chefs in Boise, Dan Carruthers decided to strike out on his own and created Tasso, which features hand-crafted sandwiches from slow-cooked, smoked meats. "I wanted something special, with really good food," says Dan.
Centrally located downtown, Dan's sandwiches have become quite a hit with locals, not only for their unique flavor combinations but also for their affordability ($9-$12).
His Country Devil uses his own smoked Tasso ham with grain mustard, house-made ricotta, pickled onions, and a savory sauce. Just as important as the ingredients is the bread, and he uses the freshest, crustiest available, which adds just the right amount of crunch to every bite.
With more restaurants and eateries opening each month, Boise is poised to become a hub for new food experiences. No longer just known for spuds, this city will expand your culinary horizons in ways you never imagined.
COVID-19 restrictions might still be in effect in various spaces and establishments.
Author Bio: Ron Stern is a travel photojournalist specializing in food and travel. Read more at www.globalgumshoe.com