Shakespeare wrote "All the World's a Stage and All of Us its Players"
I vividly recall recently witnessing stages of life passing right before my eyes. It was nearly midnight at my son Harrison's high school graduation party on the long lawn of a house of a friend on Pine Lake in suburban Detroit. There was a gift table under the tent conspicuously full of University of Michigan logoed apparel and items.
A Wolverine 10-yard first down away from the tent Harrison sat, with his high school pals, around a bonfire. Even though musician Robert Dempster was still strumming up on the deck, most of the older folks had, at this late hour, peeled off, leaving the night, as it should be, to the young partiers. Taking that cue, I made for the exit, but took a long moment to observe Harrison staring into the fire and poking a stick into the embers as his friends laughed and talked.
It occurred to me that by that same time tomorrow he'd be in a summer-warm dorm room in Ann Arbor with a roommate he'd never met before.
Four Years Later
It wasn't déjà vu four years later when, on the lawn of his Ann Arbor rental house, I once again watched Harrison sit in front of a bonfire on graduation day, but this time with his frat brothers and housemates. It was an afternoon lawn party after they'd all "walked" and collected their diplomas in massive Michigan Stadium.
Watching him, once again, poking into the fire I admired Harrison's courage because, by this time tomorrow, the upstairs room he'd called home for two years after a dorm year and frat house year, would be empty of the items and decorations he'd carefully chosen upon moving in.
His housemates, too, would be heading to jobs in New York, Madrid, Los Angeles, and elsewhere. They'd been masters of their universe on the university campus, and now, once again, would begin a new stage of life.
Double-Entendre
At each stage of our lives, we're asked to perform in some fashion. From debut to curtain call, as Shakespeare wrote, "All the world's a stage and all of us its players."
I began thinking of stages I'd been through and stages I'd visited…and how there is a magic to life and a magic to standing on a stage. There is an energy and excitement just from being where the spotlight is – even if you're not in a performance.
Late night talk show king Johnny Carson delivered his nightly monologue from his spot on a stage…he stood on a literal star.
"Seat snobs" at concerts maneuver to get front-row tickets and backstage passes.
If you haven't stood on a stage since your elementary school Christmas pageant, here are some famous stages I've recently toured.
The Beverly Hilton Hotel, Beverly Hills, California
Guests who check-in to the historic Beverly Hilton Hotel may notice the key card for their room may bear the logo of a glamorous annual star-studded event seen worldwide on television: the Golden Globe Awards.
On my first visit a security guard named Steve was happy to show me the hotel's International Ballroom, the theater-type ballroom that has hosted red carpet show biz stars each January since 1961. The tiered, auditorium-style space, while expansive, is cozier than it looks on television (before the telecasts were interrupted in 2021.)
I snapped photos and climbed up to stand on center stage where yes, I pretended I was presenting or winning a Golden Globe Award. The ebony stage seemed shiny, and I looked out where the tables and chairs full of celebs would be hearing me thank the Hollywood Foreign Press Association and those who made it all possible.
Of course, the venue was actually empty but I even got a quick minute backstage and imagined ghosts of decades of high-powered performers walking back there. Steve pointed out where the actors and actresses such as Meryl Streep and Jack Nicholson, who present and win awards such as "Best Actor" or "Best Actress," queue up to enter from outside the back of the ballroom when it is their turn to take the stage.
The International Ballroom is open for events and functions. Beverly Hilton staffers like Steve will make you feel like a star. Just being on the property – especially at the rooftop Sant'Olina Israeli/Mediterranean restaurant with a view of Beverly Hills, the Hollywood Hills, and the exclusive LA Country Club – which will host the U.S. Open Golf Championship. The Beverly Hilton's Aqua Star pool, christened by none other than Esther Williams in 1955, is the largest in Beverly Hills. Cool videos play on the wall above the pool at night – behind which is the ballroom – and Angelina Jolie once jumped in after winning a Golden Globe Award.
The Grand Ole' Opry House
Nashville's Grand Ole' Opry House tour is an outstanding, authentic, immersive experience that offers complete, guided access to every inch of the historic music venue.
I know nothing about country music, but the toe-tapping, heart-pounding, tour-opening film narrated by Garth Brooks and Trisha Yearwood brought tears to my eyes when I saw how moved the music stars are to perform at the vaunted venue.
As we were then led through the industrial backstage areas, I overheard a couple from Ireland positively giddy about getting in the Grand Ole' Opry House…on their very first visit to the United States!
We then stood on the Studio A floor where the hit television show "Hee-Haw" was taped and watched another brief, fun film that gave us a true sense of place.
We walked by the artist's entrance and even the Grand Ole' Opry Post Office mailboxes where letters sent by fans waiting to be picked up by the eventual appearance of the stars.
Tour guides show the various plush backstage dressing rooms and explain the system of who uses which ones. Tour guests can enter some of them and everyone gets to enter the cozy, backstage lounge area where the entertainers kick back. The walls are covered with the presidents, celebrities and dignitaries who have also visited.
In 1974, when the Grand Ole' Opry radio show (history's longest running since 1925) moved to its current Opry House, a six-foot circle of wood from the stage of the original Ryman Auditorium was embedded into the new stage. Performers weep at the prospect of stepping "in the circle" but tour guests are not only allowed to, but they can have their photo taken doing so while they stare out into the sea of seats and dream.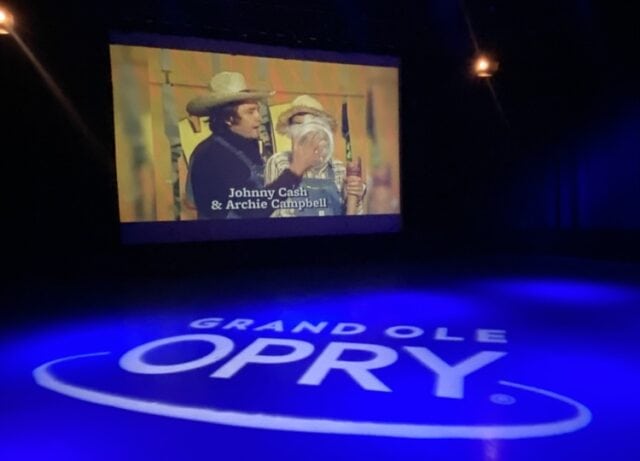 The Opry House tour concludes in an extensive gift shop worth visiting even if you don't take the tour.
Altos de Chavon Amphitheater, Casa de Campo Resort, La Romana, Dominican Republic
When you have Ol' Blue Eyes open your amphitheater under the stars on worldwide television, you create an unforgettable, sought-after spot. It was a pilgrimage, for me, to tear myself from the beautiful beach and famed golf courses of the Casa de Campo Resort to stand where Frank Sinatra stood.
It was the "Concert for the Americas" in 1982 when a tuxedoed Sinatra, dubbed the Chairman of the Board, in which Sinatra, with Buddy Rich, with Carlos Santana as an opener, took the stage under the stars and on HBO.
The 5,000-seat Grecian-style, stone amphitheater is a resort amenity at Casa de Campo's Altos de Chavon, a model, 16th century village of restaurants, shops and scenic views sculpted entirely of stone. Hundreds of concerts have been staged since, including Shakira, Sting, Elton John, Gloria Estefan, Andrea Bocelli, and Placido Domingo.
No guided tour is needed – you can walk in any time, take pictures, and revel in the scenic sound of silence. The warm day I climbed down into the bowl and stood on the stage, workers were preparing a scaffolding for lights and speakers for an upcoming performance. Again, I let my imagination run wild as I stood there, pretending I was part of a dress rehearsal. (Sinatra must have been toasting in the tropics in that tuxedo!)
Red Rocks Park and Amphitheater
The most versatile, scenic stage I stood on was at the Red Rocks Park and Amphitheater overlooking Denver from 16 miles away at 6,400 feet of elevation. Since 1941 stars have performed in the canyon of an open-air concert stadium carved between towering rocks.
"The scenery is part of the experience. For the performers, from the stage, they look out and see the rocks all lit up and the seats are steep. The fans are right out in front of you as opposed to looking out at a flat crowd. It's like seeing a wall of people," said Tad Bowman, the venue manager, pointing out the seats we'd just virtually rappelled down. I was breathing a little heavy and Bowman said the singers and musicians do, too.
"Promoters who bring shows in will bring in oxygen for the performers. They do speak of being out of breath," said Bowman. Despite the thin air, performers love doing shows at Red Rocks. "Kenny Chesney, who normally plays stadiums, booked a series of shows at Red Rocks just because he wanted to play here."
Some people come to lose their breath on purpose, choosing to exercise by running the steps and seats.
"If you run all the aisles back and forth up and down it's about 2.5 miles. Runners love the landscape and the view," said Bowman. "We had a delegation from China visit and they saw a high school sports team doing wheelbarrow drills. The delegates were so surprised they were taking pictures."
At that moment I spotted two fellows playing catch with a football. Bowman was not surprised.
People come up all year long just to see the venue and the rocks. Even on the day of a show when an act is loading in, we keep the amphitheater open and available to people throughout the day up until the sound check," said Bowman. There is also a free Red Rocks Museum on the site.
Behind and below the stage there is a cool cave with dressing rooms, and a lounge for performers, musicians and their entourages and a Hall of Fame Wall with the likes of The Beatles, U2, James Taylor, Blues Traveler, Jimi Hendrix, Widespread Panic, the Colorado Symphony Orchestra, and decades of other stars who have been in that cave and on that stage.
I asked Bowman, since he is venue manager, if he'd ever, when no one was around, stood on the stage and belted out a song like the greats have?
"I only sing in the shower or the car," he demurred.
I was not so shy and grabbed my recorder to get my voice on tape on that historic, magical stage.
Read more on Michael Patrick Shiels' travel blog, The Travel Tattler. Contact Travel Writer Michael Patrick Shiels at [email protected]