In May of 2023, my son, Harrison Ambrose Shiels, graduated from Southwestern Law School with a ceremony at the Rose Bowl in Pasadena, California. There was a poetic element to the event's location,
as he completed his undergrad degree at the University of Michigan.
The Michigan Wolverine football team's legacy in the Rose Bowl is rich, with "Michigan" historical markers commemorating the Ann Arbor-based team's 49-0 win there in 1902 in what was not only the very first Rose Bowl Game, but also college football's first-ever bowl game.
Reaching the prestigious Rose Bowl game – dubbed "the Grandaddy of Them All," by winning the Big Ten Championship – was the goal each season and a reward for the Wolverines and their fans, who could travel out of the dark winter for a colorful New Year's Day in the Golden State.
Harrison's undergrad graduation ceremony was in the giant University of Michigan Football Stadium, known as "The Big House." His law school graduation was in the Rose Bowl. Just like so many Wolverine football teams over the course of a century, he'd made it. And at the end of the ceremony, wearing a traditional cap and gown, Harrison clutched a rose in his teeth and a diploma in his hands.
Cradle to College
Harrison was not even three months old when, on New Year's Day in 1997, Michigan's football team, led by coach Lloyd Carr, beat Washington State in the Rose Bowl to complete an undefeated season and clinch a national championship.
I traveled to attend that game – the first and only time I'd been in the Rose Bowl until Harrison's graduation. How could I have imagined my infant son back in Michigan with his mother Vera would one
day gain acceptance into the University of Michigan with one of his application endorsement letters written by Lloyd Carr. And that the next time I'd be in that Rose Bowl stadium would be 26 years later
for Harrison's law school commencement.
Theme Park Party – Celebrate at the Studio
Adulting is serious work, so to celebrate Harrison's passage from academia to professional life, I decided to turn back the clock and give him a chance to be a kid again, even if just for a day.
When he was a boy, we'd spend entire days at theme parks. He and I would literally be there from the "rope drop" at dawn that opened the park for the day until the closing fireworks show, during which I'd have to carry his sleeping self, draped over my arms, onto the monorail and out to the parking lot.
On one occasion he fell asleep at midday in his stroller, with a balloon tied to it, wearing his mouse ears with a giant sucker in his mouth. When that certain "mouse" character happened to come by, I pointed out Harrison. He stood behind the stroller and pretended to push it while I took a photo.
After 40 winks, when little Harrison awakened, he rubbed the sleep from his eyes, which went wide open when I showed him the photo of Mickey Mouse, his "babysitter," at the handles of his stroller.
Now, at age 26, it would be Scooby Doo and Bart Simpson and Shrek Harrison would encounter…at Universal Studios Hollywood's theme park…not too far from the Rose Bowl.
Hooray for Hollywood
"It's just like the old days – you and I going to an amusement park," I said to Harrison, slapping him on his knee in the front seat after picking him up from his West Hollywood apartment – the first he'd ever had on his own.
It was interesting to watch, when Harrison left home in West Bloomfield for college, an hour away at U of M in Ann Arbor, how the first year he lived in the West Quad dorm. Second year: the AEPi fraternity house. Third and fourth years: a five-bedroom rental home on Church Street.
Once in Los Angeles for law school, the numbers, over three years, dwindled by attrition as housemates
moved on to live with girlfriends or make their own way.
"Is it weird now living in an apartment on your own," I asked Harrison.
"No. I was ready for some peace and quiet. I can do my own thing now," he answered.
I was impressed by the pride he took in his apartment and the way he'd decorated it and arranged his
furniture, television, computer desk, and music mixing board technology…right down to the video gaming, which remained among his prime entertainment options – especially Madden Football and…Mario Brothers.
"I'd like to go see the new Mario Brothers section they opened there," Harrison said when I initially suggested we try Universal Studios. He lives two miles from Universal's elaborate complex a – popular tourist draw – and never mentioned it, but he was aware they'd opened a Super Nintendo World featuring Mario Brothers video game characters and attractions.
"I didn't know you liked Mario Brothers," I said.
"Everyone likes Mario Brothers," Harrison answered.
After parking the car, parkgoers stream through a colorful retail canyon called CityWalk – a lively outdoor dining, shopping and entertainment complex with a movie theater. When Harrison spotted the Mario Brothers merchandise shop, he went straight in.
"Mario Brothers items make for cool decorations sometimes," he explained. "We'll probably pass through here again on the way out?"
I knew, at 26 years old, and with a Bar exam to study for, I would not be carrying fully-grown
Harrison out of the theme park at the end of this day.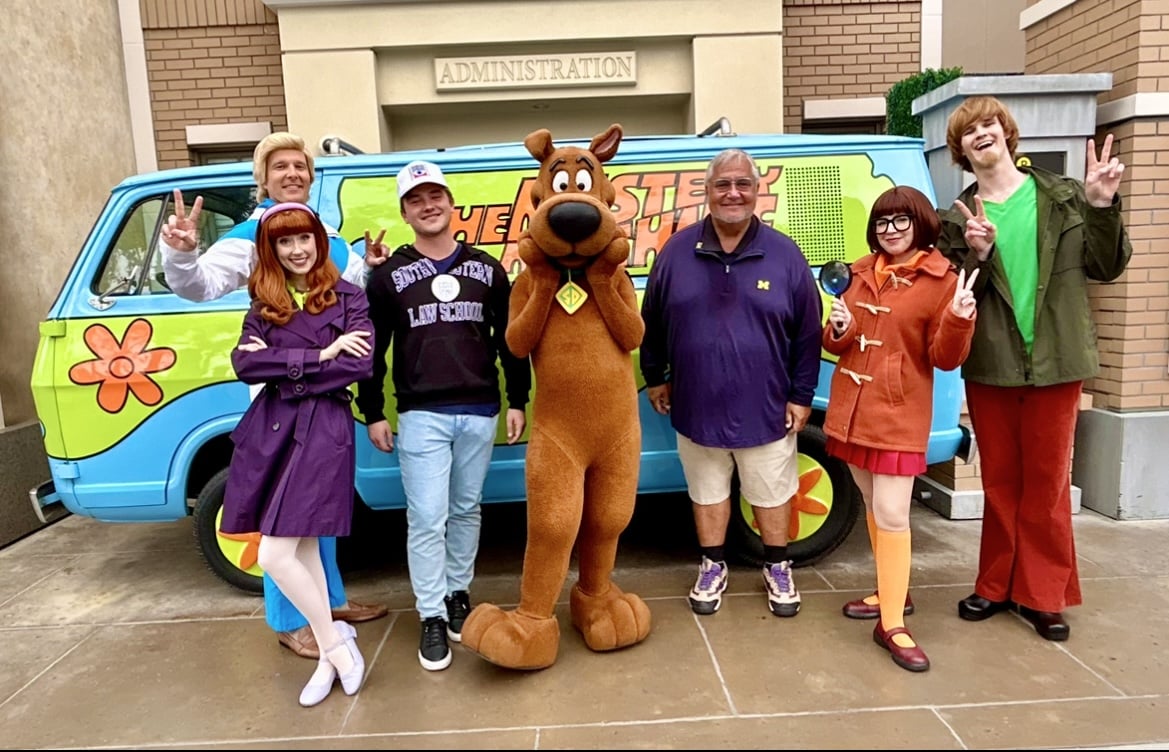 What's Inside?
Universal Studios Hollywood Theme Park proved to be a thoughtful, colorful, user-friendly experience which embraced iconic movies and television shows.
The first thoughtful thing we noticed is that Universal had designed and built, around the park,
flowered photo backdrops saluting the 2023 graduates, since it was the month of May.
I am not sure how many law school graduates it was intended for, but a funny, related moment happened as we strolled up the faux Brooklyn street. A couple of microphoned "New Yorker" characters up in an
"apartment window" had been greeting, cat-calling and heckling the passing park guests in Big Apple
accents.
"Wait, wait," the man in the window joked to the woman character, pointing when he'd noticed
the Southwestern Law School logo on Harrison's hoodie. "Don't say nothin'. That guy down there goes
to law school!"
The park was flooded with character photo opportunities from many tv shows and movies – from Shrek to Bart Simpson.
"I think you'll recognize who is just up the street," Harrison teased, having spied ahead. It turned out to be "Scooby Doo" and his cartoon compadres alongside the Mystery Machine van. Seeing Scooby Doo – and Harrison's acknowledgment that he'd been a Scooby fan since he was a tiny boy, was heartwarming.
When we posed for a selfie and greeted the character actors who populated the scene around the minivan playing Shaggy, Velma, Fred and Daphne, they all stayed in character, even with me, which was impressive and charming.
Super Nintendo World at Universal Studios Hollywood
Harrison and I continued to walk back and down to the lower corner of the multi-level Universal Studios Hollywood theme park via a series of massive covered escalators. The mountainside scenic views from the various stages of the escalators provide a panorama of the park and points of interest in the valley below. In terms of show business, guests get a birds'-eye view of Warner Brothers Studio, Disney/ABC, and more.
Once we reached the far lower corner of the tumultuous property, it was "game on:" Super Nintendo World lay before us. But not until we walked through the giant green pipe into the Mushroom Kingdom.
The interactive land of Mario, Luigi and Princess Peach was colorful, vibrant, and teeming with people and exploding with color – even on the "May gray" morning we visited. Harrison smiled as he recognized the elements blended into the architecture and attractions, with Mount Beanpole at the center of it all.
The towering landmark marks the entrance of Mario Kart: Bowser's Challenge – the star of the show: an active-participant bid for the "Golden Cup" via a high-tech tumbling ride for guests through Bowser's Castle wearing augmented reality goggles – on an actual moving track. There is the Toadstool Café, and shopping in the 1-Up Factory; was among the interactive offerings plus Goomba Crazy Crank and more.
Pottering Around the Park
Once our Mario Brothers mission was completed, Harrison and I worked our way back out through the rest of Universal Studios Hollywood theme park. The lines, early on a weekday morning in May, were short. I didn't mind waiting some, though, because Universal's designers have made the queues visually entertaining and part of the anticipatory storytelling.
More importantly, waiting in lines with Harrison gave me quiet, idle time to talk and catch up
and even reminisce about the amusement park adventures we'd shared throughout his life.
As we waited in the Egyptian tunnel-themed line for the Revenge of the Mummy ride, the
nature of which is concealed in a building, Harrison, even in his mid-20s, surprised me by seeming
nervous.
"What kind of a ride is it? Is it a roller coaster?" he asked. "Is it scary?"
"It'll be alright," I assured him, as I had done many times over the years, even when, as a boy blessed to travel the world with me, Harrison, as a young adult, developed an uncomfortableness with air travel. He assuaged his sudden fear of flying by studying the science of commercial flight to the point he can describe the safety features and age of any aircraft he boards.
"Remember when we rode 'Apollo's Chariot' at Busch Gardens?" Harrison asked.
Waiting to board the hidden and mysterious "Revenge of the Mummy" must have triggered a memory of that roller coaster that we rode in Williamsburg, Virginia. A decade earlier our seemingly magical lives once found us in historic, Colonial Williamsburg, a major historical tourism attraction, for a Fourth of July weekend.
Can you imagine a better setting at which to see the Independence Day fireworks? And while I was happy for Harrison to explore the restored and preserved Revolutionary War-era buildings of Williamsburg and encounter the character actors and servers who teach by portraying America's patriots, he needed a spoonful of sugar, too. That's why Williamsburg also offers activities such as golf at Kingsmill Resort and Golden Horseshoe Golf Club, a waterpark, and an amusement park.
So, we ran around the Busch Gardens Amusement park and jumped in line for Apollo's Chariot – a roller coaster which, at first glance, didn't seem to intense or high off the ground. But we were in for a big, fast, high surprise!
"Once the ride took off, we found out it was built into the mountainside," Harrison reminded me. "It didn't look high from the line but it was."
Apollo's Chariot surprisingly swooped steeply down into a chasm along the river that had us holding our breath as our stomachs did flips.
Universal Studios Hollywood's "Revenge of the Mummy" indoor ride gave us an adrenaline rush from its speed and fun, fearsome, multi-sensory visual and psychological elements. 3-D ride technology, with less actual roller coaster movement, was also used in the park's "Transformers: The Ride 3-D" and the wild, cartoon comical simulator "Springfield: The Simpsons."
Harrison and Harry Potter
"It was like 'Soarin,'' Harrison said, referencing a gentle ride we'd taken years ago at Disney's Epcot Center. It was my heart that was soaring, though, when I watched Harrison disembark from the "Harry Potter and the Forbidden Journey" ride he'd was compared to Soarin'.
I saw the look on his 26-year-old face when we walked under Universal Studios archway leading to Hogsmeade, the snow-capped, quaint village that is the setting for J.K. Rowling's "Harry Potter" books and movies and the park's elaborate, detailed "Wizarding World of Harry Potter."
Harrison, wearing his Southwestern Law School hoodie, bounded into another famed educational institution: Universal Studios' replica of Hogwarts.
Amidst the attractions and storefronts and Butter Beer carts and live performances, I noticed a small girl leading her parents over the cobblestone street. The little girl was dressed head-to-toe in a Harry Potter-style, Hogwarts sorcerer outfit clutching a map in one hand and a magic wand in another.
The sight was adorable and touching, and brought to mind the exclamation "flipendo!" That Harry
Potter would declare when wielding the wand.
I knew all this only because when Harrison was her age and size, we began to refer to him as
"Harry," which made him feel a special connection to the Harry Potter books and movies he so loved.
(Sometimes we called him "Prince Harry.") We'd also spent snowy days bunkered in for hours of the
Harry Potter PlayStation video game.
I remember keeping the seven-year-old Harrison awake until midnight to be among the first in line to buy the newest Harry Potter book at the Barnes & Noble Bookstore in Farmington Hills, Michigan. The store turned the midnight release into a fun event with decorations and music and costumes and souvenirs. Those books were so big. Of course, we had to read some as soon pages as we got home. This
bedtime story, at that hour – flipendo! – a trip to dreamland.
The next morning it was very quiet around the house. Hmm. Where was Harrison? Likely still sleeping. But I heard a mysterious sound in the bathroom, so I crept over to investigate. Through the open door I spotted a still-in-pajamas Harrison, on his knees atop the long counter, looking up-close, carefully, into the mirror. He had an eyeliner makeup pencil in his hand.
"Good morning, Harry. What are you doing?"
Harrison turned around and smiled. Above that smile, I saw he'd used the makeup pen to draw
Harry Potter's lightning bold on his own forehead.
Read more of Michael Patrick's work at The Travel Tattler and contact him at [email protected]