During his second voyage to the New World in 1493, Christopher Columbus sighted a tiny island that rose dramatically from its shoreline to volcanic peaks in the interior. He named the dot of land Sant Jago Saint James), after the Patron Saint of Spain.
to misinterpretation of the name on maps by explorers who followed Chris to the area, it came to be known as San Cristobal (Saint Christopher), and that name – shortened to St. Kitts – stuck.
Travel in St. Kitts
Saint Kitts and the neighboring island of Nevis make up one country, and travel in St. Kitts reveals its unique blend of roots.
English and French settlers followed Columbus to the island in the early 1600s and established a lucrative sugar trade that spanned two centuries, and accounted for an influx of slaves from Africa.
England eventually wound up in control of St. Kitts, which achieved its independence in 1983.
Given that history, traces of British influence are commingled with elements of African and indigenous cultures, providing a rich mosaic which touches many aspects of life.
For example, vehicles are driven on the left side of the road, cricket is the most popular sport and some restaurant menus meld Caribbean and African fare with touches of England.
History of Sugar on St. Kitts
The romance of the island with sugar began around 1640 at a time when its use to sweeten food was increasing around the world, along with the added benefits of producing molasses and rum.
The rich volcanic soil and perfect climate prompted the proliferation of plantations, which sprouted like the cane they cultivated. St. Kitts came to be blanketed by some 200 plantations that grew cane, which was processed at nearly 80 factories.
What to See and Do in St. Kitts
But that heyday could not, and did not, last forever. Over time, over planting impoverished the soil, competition increased and external economic conditions brought an end to the era of sugar.
While some sugar cane still is grown and processed on St. Kitts today, tourism and light manufacturing now are the basis of the economy. Visitors may relive the heady days of sugar wealth by exploring the remains of the once-thriving plantations.
Ruins of cone-shaped stone windmill towers, rusted steam-driven cane crushers and huge copper bowls in which the juice was boiled lie half-hidden in the vegetation as reminders of the once flourishing sugar economy.
St. Kitts Scenic Railway
A pleasant way to recall the sugar plantation life is aboard the St. Kitts Scenic Railway, which offers a 30-mile, three-hour tour along the northeastern coastline. In the past, the train that chugged along the narrow-gauge rails delivered cane from plantations to a sugar factory in the capital city of Basseterre.
Now passengers in double-deck cars enjoy views of the sea, pass through tiny villages, skirt lush rain forest terrain and spot long-abandoned windmills and chimneys of former estates.
A welcome and somewhat surprising attraction on the island is a population of green vervet monkeys, which were introduced by French plantation owners some 300 years ago as pets for their families.
These endearing creatures, which are named for their golden-green fur, prefer to hang out at high elevations, peering inquisitively through the dense foliage at any intruders.
Some bold monkeys venture down to more populated low-lying areas, especially where there are sources of food and people who will toss them an edible handout.
While there's no way to know how many of these simians share the island with their human cousins, some residents claim that there are more monkeys than people.
Given efforts by European nations to colonize and control the Caribbean islands, and the sugar wealth of St. Kitts, forts were built to provide defense against attacks.
Brimstone Hill Fortress
Construction of the massive Brimstone Hill fortress was begun by the French in 1690 and completed intermittently over a 100-year period by the British, using slave labor.
The complex, perched atop an 800-foot-high rise, sprawls over 38 acres, and the meticulously restored structures include officers' quarters, barracks and a hospital.
References to British, French and other influences abound in town names and histories. The village of Bloody Point is where, in 1629, French and British soldiers joined forces to repel an attack by the Carib indigenous people, who had occupied the island since about 1300.
The town of Sandy Point is characterized by typical West Indian-style cottages. Basseterre ("lowland") and Belle Tete ("beautiful head") are among place names reminiscent of the French era.
Dieppe Bay is believed to have been the first French town, while Challengers Village was the first "free" town, where ex-slaves were permitted to purchase small parcels of land.
St. Kitts National Museum
The story of the island's villages, along with its history, culture and other aspects of life past and present, is told at The National Museum.
It occupies an imposing Georgian-style structure that was completed in 1894 and since then has housed almost every government department at one time or another.
A personal favorite exhibit, among those that provide a personal introduction to the people of the island, was a collection of phrases which depict the traditional Kittatian dialect.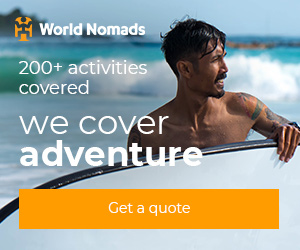 In that vernacular, "He ate the breadfruit" translates to "Is he eat d bread fruit" and "Let's go to the movies tonight" comes out as "Le'we go movies tonight nuh."
The National Museum and a handful of other small but interesting collections, plus the added allure of casino gambling, are among the something-for-everyone array of attractions that greet visitors to St. Kitts.
Then there's the added choice of inviting palm tree-lined beaches and intriguing multi-cultural history.
Book This Trip
Ready to relax in the Caribbean and soak up the culture of St. Kitts? Start preparing for your trip with insider knowledge on how to get around, hotel and VRBO options, local restaurant favorites and more through TripAdvisor and Travelocity.
Protect your trip and future travel during changing times with World Nomads. Find trip coverage or long-term travel insurance here.
For more information about St. Kitts, see stkittstourism.kn.
Author Bio: After gallivanting throughout the United States and to more than 75 other countries around the world, and writing about what he sees, does and learns, Victor Block retains the travel bug. He firmly believes that travel is the best possible education, and claims he still has a lot to learn. He loves to explore new destinations and cultures, and his stories about them have won a number of writing awards.