In his book, "The Longest Way Home: One Man's Quest for the Courage to Settle Down," actor and award-winning travel writer Andrew McCarthy sets off on a solitary journey to far-flung places around the globe. Even as he contemplates his upcoming wedding, his need for solitude is great.
Solo travel, he believes, makes him feel "at home" in himself like nothing else. Traveling alone provides transforming  moments as he experiences the new and unexpected. For him, the inner journey is as important as the external one.
Yet as he journeys — climbing Kilimanjaro, boating down the Amazon and hiking in Costa Rica — he finds it is human connection he craves. His entire experience at each destination is based on the strangers he encounters. Traveling alone forces him to open himself up to the kindness, viewpoints and experiences of these strangers. He becomes more vulnerable and trusting.
"Traveling is all about people, isn't it?" McCarthy told me in an interview. "I go to a museum and I'm tired in 20 minutes, but when I have that connection with people, I experience the culture in a different way. That's what I'm looking for."
In his book, McCarthy describes how he came to understand his deep need for family and true relationship. During his travels, he meets others who have "left it all behind" and who have chosen to live a nomadic life with no attachments. While initially drawn to this lifestyle, he discovers that he does not want what they have. Instead, he finds himself yearning to be part of something bigger than himself, as a father and as a husband. He returns home to his bride-to-be to begin their life together.
Today, McCarthy still travels alone for his writing, but he makes traveling with his family a priority.
"Traveling with someone else is a whole different kind of experience," he explained. "When we travel together, we have our experience of each other in that place. When traveling by yourself there's that entire confronting of yourself that is really rewarding, and traveling with your family is a whole different set of rewards and challenges. When I travel with my family, watching them experience the world, through their eyes, is thrilling for me."
I agree with McCarthy completely. When I first started off my career in travel writing, I often traveled alone. I craved this alone time, which allowed me to focus solely on the destination I was visiting. I was able to notice the tiniest of details, soaking in each nuance of the culture. I had time to explore and speak with others.
My writing from those kinds of journeys is more introspective and offers deeper detail. Creating this kind of work is rewarding and satisfying, and I always came home refreshed and revived.
As my kids got older, though, I began taking one of them at a time with me on my travels. Sure, I spent more time focusing on them, and many details of the destination went unnoticed. But experiencing the destination through their eyes provided a whole new perspective.
Norway looks totally different through the eyes of a 14-year-old girl, and following the Lewis & Clark Trail with a 6-year-old means stopping at completely different attractions. When I took my 10-year-old to explore the Hill Tribes of Thailand, I met other village mothers while my daughter played with their children, something I never would have been able to experience otherwise.
These days, I treasure my family travel even more than the times I travel alone. Each journey comes with its own rewards — and those are often determined by the people you meet along the way or those who travel beside you. For me, these are usually the travel experiences I treasure most.
Read my whole interview with Andrew McCarthy
Author Bio: Janna Graber is the managing editor of Go World Travel Magazine. A travel journalist for more than a decade, she has covered travel experiences in more than 30 countries. She is the author of A Pink Suitcase: 22 Tales of Women's Travel and Chance Encounters: Travel Tales from Around the World.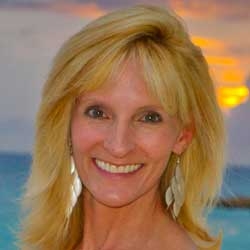 Latest posts by Janna Graber
(see all)