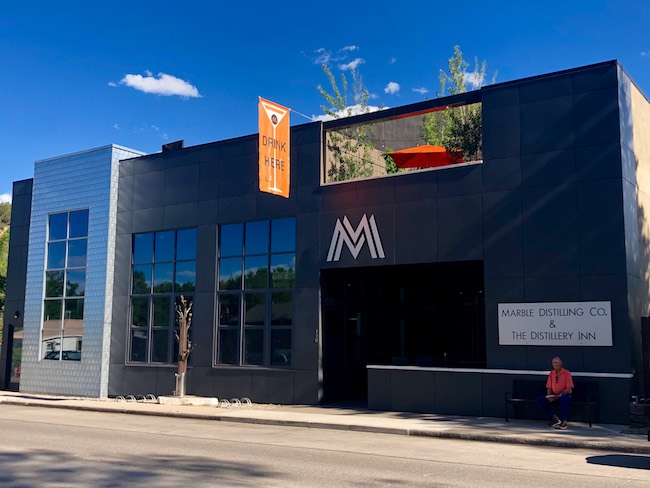 The Distillery Inn taught me a few things on my recent visit to the sleepy little town of Carbondale in the central mountains of Colorado. First, it's not a sleepy little town any more. Secondly, you don't have to drive another 30 miles to chi-chi Aspen for 5-star lodging. Bed down in one of the Inn's five luxury suites and you will have every amenity found at the most sophisticated hotel room. Plus you won't need a designated driver. The Inn is in the still!
About The Distillery Inn
Husband and wife team Connie Baker and Carey Shanks drew upon their strengths when they co-founded Marble Distillery and The Distillery Inn in 2015. His knowledge of sustainability from years of living on a Hopi reservation and her experience in communications for the pharmaceutical industry together with their shared interest in distilling led them to live their passions: Service, Spirits and Sustainability. "I wanted to create a beautiful place to stay, more of an experience than just a place to lay your head," said Baker who serves as head distiller. The "destination distillery" was born. They claim it's the only inn in the world housed within a working distillery. Already the Inn has won a Green Hotelier Award, the sole property in North America to be so honored in 2017. More about the distillery later.
Staying at The Distillery Inn
I had random thoughts about sleeping in a still. Would it reek of alcohol? Would it be noisy? Would I be able to sleep? None of these thoughts materialized. . .you see, the inn is quite separate from the still, though housed in the same building. You would never know award-winning spirits are being crafted and aging within the walls!
Prior to our arrival, the inn manager emailed me two keypad codes, one to get into the building and one for the room since there is no check-in desk. We find the building on Main Street with no problem and park across the street. We enter to an open-air lobby with seating around a prominent marble (what else?) fireplace replicating the wall of the marble fabricating mill in nearby Marble, Colorado, a tiny town with a huge quarry where the couple lives. Marble from that mountain was used to construct the Lincoln Memorial, the Tomb of the Unknown Soldier and other monuments around the country. The mill, once the largest of its kind in the world, is now closed but there's a wonderful history there among the ruins.
Rooms at The Distillery Inn
Our room is up the stairs at the end of the hall, past a cabinet holding fresh water, flowers, ice and reading materials. Nice. We also notice a second-floor patio with umbrella tables. . . for sipping cocktails, perhaps? 
The room is spacious with a king-size bed dressed in luxurious Italian bed sheets, a gas fireplace, TV, comfortable seating, a desk and a wet bar inviting us to craft a cocktail from three bottles of Marble Spirits and The Martini Book to tell us how! A Nespresso coffeemaker is also there. In the closet we find a dresser, iron/ironing board, a safe, two bathrobes and an umbrella. A master control panel regulates the room environment, and reading lamps target each side of the bed. A private balcony with seating looks out to snow-capped Mt. Sopris.
If the bedroom is fit for a king, the bathroom is worthy of the Queen of Sheba! From a large, fabulous walk-in shower and separate room for the toilet down to springs of fresh mint in a vase, Baker has thought of everything. This includes a large vanity mirror, local organic bath products in pump bottles, a scale, plenty of fluffy towels and bright lighting. 
Room rates start at $250; dogs can stay for an additional $25 per day. They get their own bed and bowls in this pet-loving place.
Marble Bar at The Distillery Inn
The handsome white bar in the Marble Bar downstairs is marble, cut from a 9,000-pound slab from the Marble quarry. The brick on the bar back wall is reclaimed from a stable that once stood in the distillery's footprint. The rest is contemporary furniture and shelves of branded products. With occasional live music and entertainment, it has quickly become the gathering place for locals and tourists in this beautiful little town.
Belly up to the bar where a band of merry mixologists will regale you with stories about the spirits and create yummy cocktails. For guests, the first round is on the house. You can also order snacks to keep you from over indulging, though it's easy to do!
About Marble Distillery
One of about 100 craft distilleries in Colorado, Marble Distilling Co. (MDC) is remarkable for several reasons. It's the only one that filters its hooch through crushed marble, giving it a little bit of minerality on the finish. "It's Mother Nature's filtration," says Shanks.
MDC is a zero-waste distillery. Passionate about sustainability, Baker and Shanks have designed an efficient closed loop system that re-uses 100 percent of the water and energy used during the distilling process to run the building and distilling equipment (all made in America). Their model saves more than 4 million gallons of water a year and captures enough energy to power 20 homes! Shouldn't every distillery be using it?
MDC sources non-GMO grains from local ranches and then sends all the stillage (waste) back to the ranchers for feedstock. Another closed loop.
No other distillery is doing this. "I love making vodka," says Baker. "But we don't have to destroy the planet to do so." There's much more about their pioneering practices here.
The spirits: Marble Vodka, made from non-GMO Colorado grains; Gingercello, my favorite, is a nod to the Italian quarrymen and their lovely lemon liqueur—this one has freshly cut ginger; Gingercello Reserve is aged in bourbon barrels; Moonlight EXpresso, a coffee liqueur recipe from Baker's mom using locally roasted Guatamalan coffee beans and Ugandan vanilla beans; Hoover's Revenge Ragged Mountain Rye, a whiskey made with local grains.
About Carbondale
Just 12 miles from Glenwood Springs and 30 miles from Aspen, Carbondale has come into its own as a destination. In winter, it's homebase for Nordic and alpine skiing and winter sports. In warm months, mountain sports take over. Fishing on the Roaring Fork and Crystal Rivers doesn't get any better. The drive on Highway 133 through the Crystal River Valley between Carbondale and Marble (off Road 3) is one of Colorado's most beautiful, especially in the fall.
But there's more to Carbondale than outdoor sports. The picturesque town was recently named one of the state's 21 rural communities as a Colorado Creative District. Characteristics of these districts are art shows, art and dance studios, galleries, art classes and instructional centers, art walks and public art, including open space sculptures, murals and fountains. "In short, these creative districts are a mix of heritage and modern culture; they exude an attractive vibe, and through their corpus of individual services and outlets provide an ambience that appeals to a growing clientele of cultural tourist and art enthusiasts," the Colorado Tourism website says. Carbondale adds healing arts, local food production and dining to its creative endeavors.
There's nobody more creative than Baker and Shanks and the team at Marble Distilling Co. Their "Drink Sustainably" model should be copied not just in Colorado but all over the world.
Cheers!
Marble Distilling Co. & The Distillery Inn, 150 Main Street, Carbondale, Colorado 81623; 970-963-7008; https://marbledistilling.com.
Claudia Carbone is an award-winning travel writer based in Denver. Read about other hotels she's visited in Sleepin' Around.