Tucked neatly in the woods near Keystone Resort in central Colorado is a sweet little chalet called Ski Tip Lodge. it's the oldest operating ski lodge in North America and my absolute favorite place to stay in ski country. At any moment you expect the Seven Dwarfs to come parading out the curved doorway.
History of Ski Tip Lodge
Ski Tip once was the mountain home of ski pioneers Edna and Max Dercum who moved into the old 1869 stagecoach stop with their two children and Edna's mother in 1945. Soon after, Max bought nearby land that he and pals developed into Arapahoe Basin Ski Area, and he later co-founded Keystone Resort. With winters spent free skiing, teaching skiing and ski racing, the Dercums invited their many friends to stay with them at Ski Tip. Word spread, and they found themselves playing host to people from around the country. "Little did I dream that these would be the first of many guests who would return season after season," wrote Edna in her delightful memoir It's Easy, Edna, It's Downhill All the Way ($17.95). Actor Henry Fonda was among their guests, as were ski legends like Stein Eriksen (Deer Valley), Ben Abruzzo (Ski Santa Fe), Ernie Blake (Taos Ski Area) and Klaus Obermeyer (Obermeyer Ski Clothing).
I first met adorable Edna for an interview in 1994 when I was writing my book WomenSki. She was 80 years old and still winning medals for ski racing! She showed me around the rustic lodge, pointing out the walls of logs Max cut and she filled in with chinking, the wood floor they and their guests laid down plank by plank, and the grey stone fireplace and ceiling beams a famous rock-climber guest ascended with ropes one late evening. She showed me where the pitons are still embedded! Oh, to have been a fly on the wall during their fun-filled evenings with friends after a day of skiing or hiking. This is how the living room looks today. Note the wooden skis hanging from the rafters and on the wall.
The lodge as a B&B is now owned by Vail Resorts, which owns Keystone Resort. To their credit, the company has retained the historic value of the home as it was during the Dercum days—lively conversation and no phones in the guest rooms or televisions anywhere! It's an uber romantic retreat—cozy, warm and oozing with old-fashioned charm.
Rooms at Ski Tip Lodge
As guest numbers began to swell, so did the number of rooms. Ski Tip now has 10 rooms, all in various configurations and styles. Some rooms are named for people who've stayed there: Howard Head (ski maker), Edna's Eyrie, Max's Manor. All beds have down comforters. However, none of the rooms are suitable for guests with disabilities.
Bathrooms all have been updated. Hair dryers and large-bottle amenities included.
Dining at Ski Tip Lodge
The intimate dining room at Ski Tip consistently receives awards, both national and local. It's my choice for "most romantic dining" in ski country. Combined with the history of the place, candle-lit tables, fresh flowers, elegant tableware and exceptional food, it's one of those special occasion places you go back to year after year. In addition, a killer breakfast is included with a stay.
The menu changes every week, inspired by what is fresh and seasonal. It's a four-course prix-fixe dinner for $80. It begins with an interesting mix of yummy breads to accompany a hot soup (we had Wild Mushroom Purée), followed by a choice of appetizer or salad, then the entrée, which could be Wagyu Beef or a fish dish like Seared Ahi Tuna with dabs of spicy Aioli. Our server is a longtime employee, knowledgeable and fun to chat with. The sommelier is equally savvy, recommending a great wine to go with both our dishes.
The final course, dessert, is served in the piano room in front of a crackling wood fire. We couldn't resist a hot Ski Tip Coffee with Irish Liqueur, Grand Marnier and house-made whipped cream. This tradition is one of my favorites at Ski Tip, and certainly the most romantic!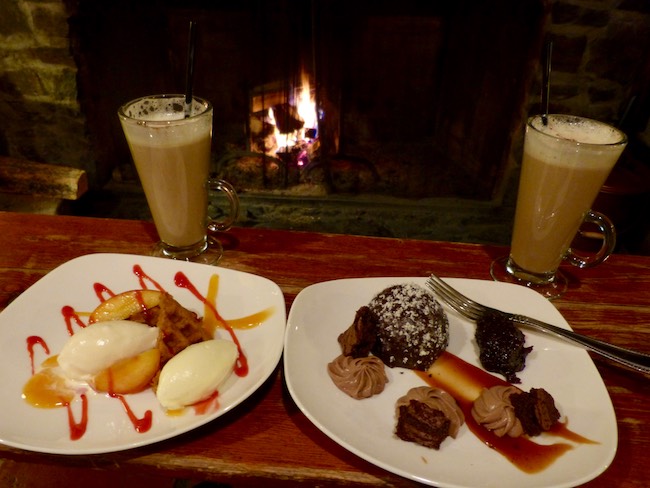 The Piano Room is a quaint gathering place where I have met people from around the world in front of the fireplace. Also, Après Ski featuring hot and cold small plates and drinks is held here and in the living room every day and on weekends in summer.
Amenities at Ski Tip Lodge
There's a free on-site parking lot. Plus, the lodge is a stop for the excellent free shuttle service around Keystone Resort four miles away. WiFi is complimentary as is ski storage. There is an outdoor hot tub with changing room and showers if you don't mind a short walk down the road. While children are welcomed, there are no kid-friendly amenities like a pool or playground. A $15 per day resort charge is applied.
With ski resorts in the U.S. being gobbled up by corporations building huge hotels on or near the slopes, it's refreshing to know you have an alternative to urban-like lodging on your mountain vacation.
The only thing missing at Ski Tip Lodge are more photos and memorabilia of the Dercums and their family. Their extraordinary contribution to the Colorado ski industry, their days of exploring the mountains around them, just the two of them on skis, and their outstanding careers in ski racing should be celebrated in the place they made their home for most of their lives. Edna passed away in 2008 at age 94. Max, her husband for 71 glorious years, died three years later just two days before he would have turned 99. "Skiing was a bond that kept our family beautifully close," Edna told me.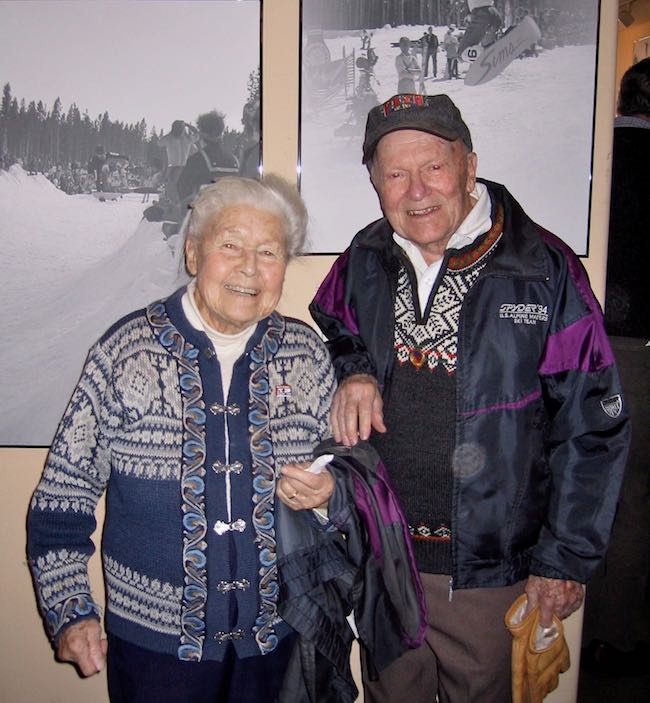 Keystone Ski Resort
Keystone is a top-rated resort for families, offering free skiing and riding to kids 12 and younger with two or more nights booked at their properties. Its signature Kidtopia program features a variety of family activities and the world's largest Snow Fort. More than 3,000 acres of skiable terrain include three peaks, five open bowls, night skiing and snowcat skiing and touring. There's also ice skating, tubing and sleigh ride dinners.
In summer, you can do all the mountain stuff like biking, hiking, horseback riding, kayaking, wagon ride dinners, and playing golf on Keystone's two championship courses. And, Kidtopia programming spills over into summer activities.
Warm weather kicks off a rousing festival season in River Run Village. Beginning with Bacon & Bourbon Festival, there's also Wine & Jazz festival, Art Festival, Mountain Town Music Festival, Oktoberfest, Taste of Keystone, and my favorite Bluegrass & Beer Festival.
For more to see and do in Keystone, visit www.keystoneresort.com.
Ski Tip Lodge, 0764 Montezuma Road, Keystone, CO 80435; 970-496-4242; www.keystoneresort.com
Claudia Carbone is an award-winning travel writer based in Denver. Read about other hotels she's visited in Sleepin' Around