Editor's Note: Travel is complicated right now, but we hope this will inspire your future travels. Please refer to the links at the bottom to find more information about what is open for visitors. WE ONLY SHARE PLACES, PRODUCTS AND ACTIVITIES WE RECOMMEND. IF YOU MAKE A PURCHASE USING A LINK ON OUR SITE, WE MAY EARN A COMMISSION.
The historic town of Avilés, perched on Spain's northern coast between A Coruña to the west and Santander to the east, has not figured much on the tourist trail until recently. Historically famous for its fishing industry, the international port of Avilés in the region of Asturias has re-established itself as an important cultural center.
This is Celtic, not Mediterranean, Spain, and each July since 1997 Avilés has hosted the Interceltic Festival of Music and Arts inviting participants from Ireland, Wales, Cornwall and Brittany. A stopping-off point for international cruise ships and linked to both A Coruña and Santander by motorway, rail and bus networks, Avilés is well worth a day or two's visit.
Summer temperatures are more bearable than those farther south, but international visitors can still enjoy Spanish food and the atmosphere of its arcaded streets and bars.
Here are six things to see if you are going to visit this picturesque town:
1. Plaza España and the Town Hall
Voted one of the 20 most beautiful squares in Spain, and known locally as El Parche (The Patch), Plaza España connects the main roads leading to the town center. Dark square paving tiles to the side of the Town Hall mark the site of the town's medieval walls.
The balcony of the 17th-century Town Hall itself plays host to the "Three Kings from the East" on the evening of Jan. 5. This is when celebrants arrive in the town on horseback with presents for local children. On the other side of the square, there are several cafés and the Palacio Ferrera, now a five-star hotel.
Book your stay near the Plaza España here.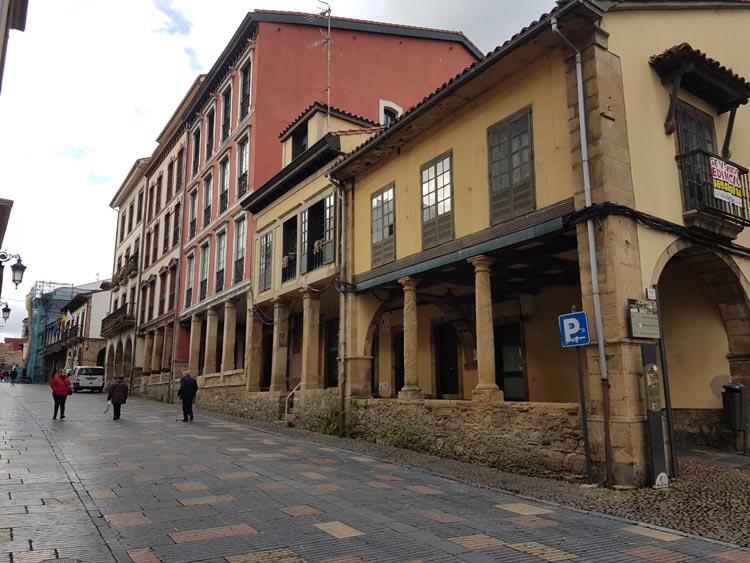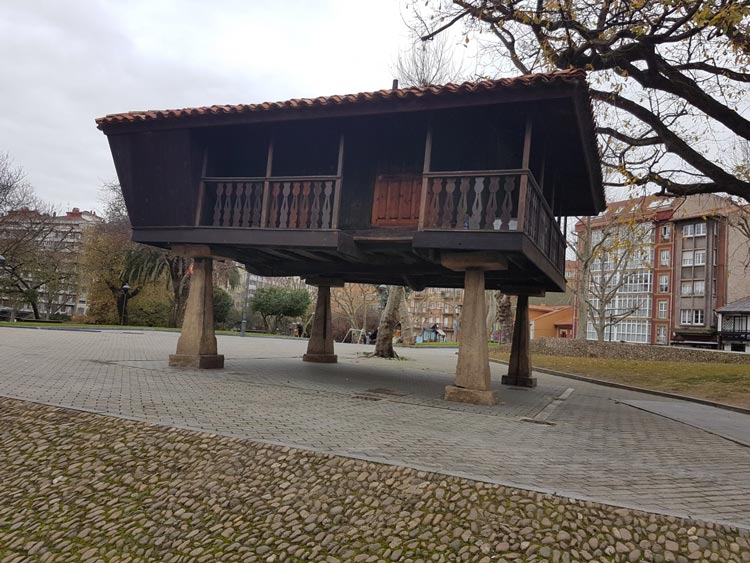 2. Calle Galiana and Plaza de Carbayedo
Calle Galiana, a picturesque street bordered by cobblestones, dates from the 17th century and is the present-day scene of the town's Carnival celebrations in February or early March. A raised, arcaded pavement leads from Taverna La Bellota to the entrance to the town's main park (Parque Ferrera).
Originally owned by the Marquis of Ferrera, whose palace stands on the town's main square, different areas of these gardens were laid out in English and French styles. The park was officially opened to the public in 1976 by Spain's King Juan Carlos and Queen Sofia.
Just off to the right at the top of Calle Galiana is another important square, Plaza Carbayedo. Here you can see a typical granary or
hórreo.
These granaries were formerly used throughout the region of Asturias to store food for animals as well as any farm produce that needed to be ripened.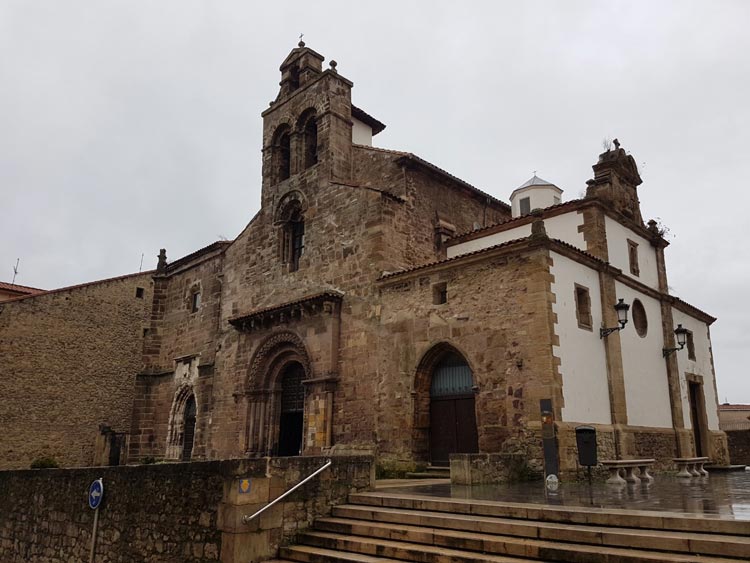 3. Franciscan Church
Officially St. Antonio de Padua, the Romanesque church is located in Plaza Carlos Lobo opposite the Museum of Town History (Museo de Historia Urbana) and dates to the 12th century.
It contains the tomb of Avilés' most famous son: 16th-century Pedro Menéndez, a navigator and explorer. He founded St. Augustine in Florida, accredited with being the oldest town in the United States. You can see a statue of Menéndez in the Parque del Muelle.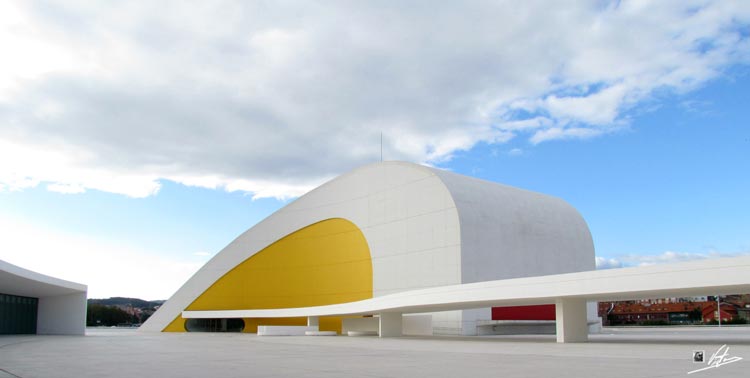 4. Oscar Niemeyer International Cultural Centre
Dominating the Avilés skyline with its unusual yellow-and-white curves is the building designed by the centenarian Brazilian architect Oscar Niemeyer, who was awarded the Prince of Asturias Award for Art in 1989. The Cultural Centre was officially opened in 2011 and is dedicated to education, culture and peace.
It contains a spacious auditorium with approximately 1,000 seats for concerts, theater productions and conferences. Exhibitions are held in The Dome. The Niemeyer Centre also houses a film center, café, shop and information point.
5. La Carriona municipal cemetery
Situated at Calle Carriona 9 on the outskirts of Avilés, and well worth a visit, La Carriona is the municipal cemetery. It was created by the architect Ricardo Marcos Bausa and constructed in the late 19th century by Asturian migrants who returned to Avilés after making their fortunes in Cuba.
The cemetery is a member of the Association of Significant Cemeteries in Europe. There are numerous headstones, sculptured figures and hypogea or vaults designed by distinguished Spanish artists.
6. Cider Bars and Restaurants
Numerous bars and restaurants welcome visitors to the town. Guti and Pedro always make international visitors feel at home in the Lord Byron, an arts café next to the municipal theater in Calle Palacio Valdés.
Learn the Language Before You Travel With Babbel – Get 25% Off 12 Months
At the Tierra Astur restaurant in Calle Galiana, you can sample typical Asturian dishes such as cachopo (breaded veal and cheese cutlets) and fabada (bean stew). You can also see how the local cider is poured. There is a special way of doing this locally called sin mirar (without looking).
Waiters hold the bottle of cider in one hand above their head. In the other hand, they hold a glass, slightly tilted, at a level just above their knee. They then pour the cider from a great height. It's also customary for the drinker to leave a little cider in the bottom of their glass before it is refilled. This is done to clean the glass, as traditionally it was shared between groups of guests.
If You Go
Avilés: Getting There www.wikitravel.org/en/Aviles
Cities of Asturias: Avilés www.turismoasturias.es & www.avilescomarca.info
Interceltic Festival of Avilés and its Region: Turismo www.turismoasturias.es
Official Portal of Tourism of Asturias: www.asturiastourism.co.uk
Author Bio: David Wilson is a freelance writer who loves exploring and writing about well-known and not-so-well-known places in Europe.