Located along Spain's western border, Extremadura is a region known for its culinary specialties, three UNESCO World Heritage sites, excellent birdwatching and rich Roman history.
Many visitors to Spain miss this region, and that's a shame. Extremadura offers a unique look into the heart of Old Spain, with its aging hilltop castles, wooded countryside, thriving farms, medieval cities and timeless villages.
Birdwatching in Monfragüe National Park (Parque Nacional de Monfragüe)
Though the Romans came to this region to build cities, many of today's visitors come for birdwatching. Extremadura is one of the top birding destinations in Europe. Spanish Imperial Eagle (Aquila adalberti), Black Vulture (Aegypius monachus) and Black Stork (Ciconia nigra) are some of its most emblematic species. Other species that can be seen in the region include the Egyptian Vulture and Bonelli's Eagle.
Though birdwatching is popular throughout the region, one of the best places to go for birdwatching is Monfragüe National Park, home to the largest and best-preserved Mediterranean forest in the world.
Straddling the Tajo valley, the park has some 175 varieties of birds, including more than 200 pairs of black vultures, one of the largest colonies in the world, as well as the globe's highest concentration of imperial eagles (more than 10 pairs). If you're lucky, you might also see the illusive Iberian lynx.
Extremadura even has a Birding in Extremadura Club, for those who are interested. The club has specialized guides, companies, accommodation and travel agencies for birders. They also speak English. Learn more at https://www.birdinginextremadura.com
While you're at Monfragüe National Park, check out the ancient cave paintings in Castillo Cave, which are of Arabic origin. If you have time, stop by the Puente del Cardenal bridge and the village of Villarreal de San Carlos, which are certainly worth visiting.
Follow the Cheese Trail (Ruta del Queso)
Extremadura is for cheese lovers. The region is famous for its cheese products, such as Torta del Casar, a creamy cheese made from sheep's milk. The cheese is named after Casar de Cáceres, where it was created. To make Torta del Casar, the milk is curdled using a coagulant found in the pistils of a wild thistle.
Other cheese specialties can be found in Los Ibores, La Serena and other spots along the Cheese Trail. In fact, there are more than 70 farms, dairies, restaurants and wine cellars that offer their own special take on regional cheese. Be sure to stop by a local farm to see how the cheese is made, then dine on cheese products at restaurants and lodges. 
Explore Roman Ruins in Mérida
Mérida is the capital of Extremadura, and it has a long, rich history. The Romans founded the city, now a UNESCO World Heritage site, back in the 1st century BC. It became the capital of the Roman province of Lusitania.
Ruins of this ancient city can still be seen sprinkled throughout Mérida today. A wonderful example is the Roman Theatre of Mérida (Teatro Romano de Mérida), which was built in the years 16 to 15 BC. The colossal theater could hold up to 3,000 people, and is located on a hill, which improved the structure's acoustics.
Other Roman sites to see in Mérida include the Temple of Diana, a Roman-era aqueduct (Acueducto de los Milagros) and the Puente Romano bridge. Don't miss the National Museum of Roman Art, which has an outstanding collection of Roman artifacts in its collection.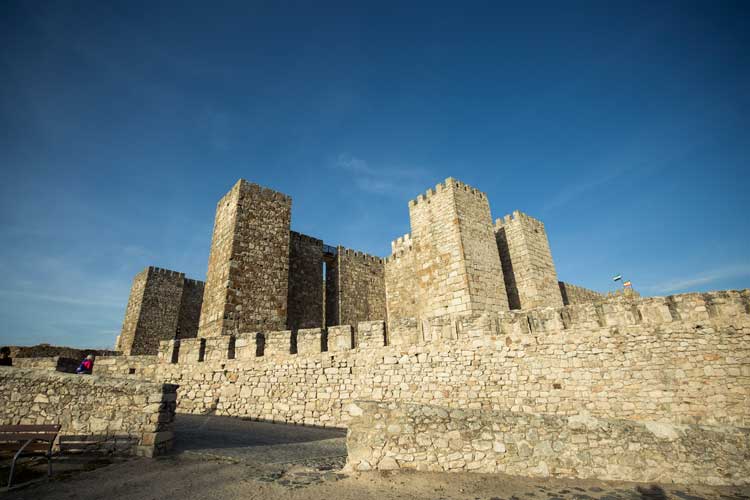 Visit the Medieval Town of Trujillo
The town of Trujillo in Extremadura is one of the best-preserved medieval towns in Spain. With its grand stone fortress (The Castillo), well-preserved town walls with seven doors, quiet plazas and historic churches, it feels almost timeless. Dating back to the 16th century, when town residents returned home from the Americas as wealthy conquistadors, you can still feel the grandeur of those times.
You can learn all about conquistador Francisco Pizarro, who conquered the Inca empire, at his former home, the Casa Museo de Pizarro. There's even a statue dedicated to him in the Plaza Mayor.
Today, Trujillo is one of Spain's most romantic destinations. Its cobblestone streets and small-town charms continue to draw travelers looking for a quiet escape.
Follow the Iberian Ham Route (Sierras de Badajoz)
If you like the idea of combining food with nature, make your way along the Sierras de Badajoz Ham Route. Extremadura is known for its special Iberian cured ham. One reason for the ham's unique taste is that pigs are giving a free-range grazing period known as the tiempo de montanera, where they forage for acorns in wooded pastures called dehesa.
The "Dehesa de Extremadura" Iberian ham route in Badajoz runs 93 miles through 33 municipalities. You'll pass through woodlands, mountains, towns and villages along the way. You can go as far as you want or just visit a few locations. Stop at pig farms, tour ham factories, and dine in local restaurants which make the most of this regional specialty.
Please note: It's best to organize your visits to the pastures and curing plants through the tourist offices or the Iberian Ham Route. They will connect you with the right people to arrange your visit.
To learn more about travel in Extremadura, please visit Extremadura Tourism.