Every city has its secrets and forgotten stories, and Boston is no exception.
Founded in 1630 by Puritan settlers, Boston is one of the oldest municipalities in America. That long heritage is rich with tales that have gotten lost over time.
Secret Boston: A Guide to the Weird, Wonderful, and Obscure
Kim Foley MacKinnon, a local author and Boston expert, set out to uncover many of them. Her book, "Secret Boston: A Guide to the Weird, Wonderful, and Obscure" explores Boston's hidden side, with a nod to the weird, quirky, and unusual.
The book is an excellent guide for Bostonians and visitors to the city, but it is also an interesting read for anyone who loves quirky tales. The book covers 90 different landmarks, characters, and locations in Boston.
Uncovering Boston's Hidden Side
The book includes the stories behind some of the city's most famous attractions, such as the popular Make Way for Ducklings sculpture and the city's Freedom Trail.
Foley MacKinnon dug deep to uncover these finds. "People have been writing about Boston since the beginning of Boston," she says. "I wanted to show a different side of the city. I researched old archives and did a lot of walking around the city. I found hidden places that I had walked by for years, yet never knew were there."
Her work uncovered forgotten history, hard-to-find landmarks, and some very colorful characters. A small plaque in downtown Boston, for example, marks the place where the term Gerrymandering came to be.
In 1812, an unscrupulous politician named Governor Elbridge Gerry signed a bill that redrew his congressional district to favor his party. The resulting district was shaped like a salamander. The Boston Gazette termed this dirty political trick a "Gerrymander" – and the term continues to this day.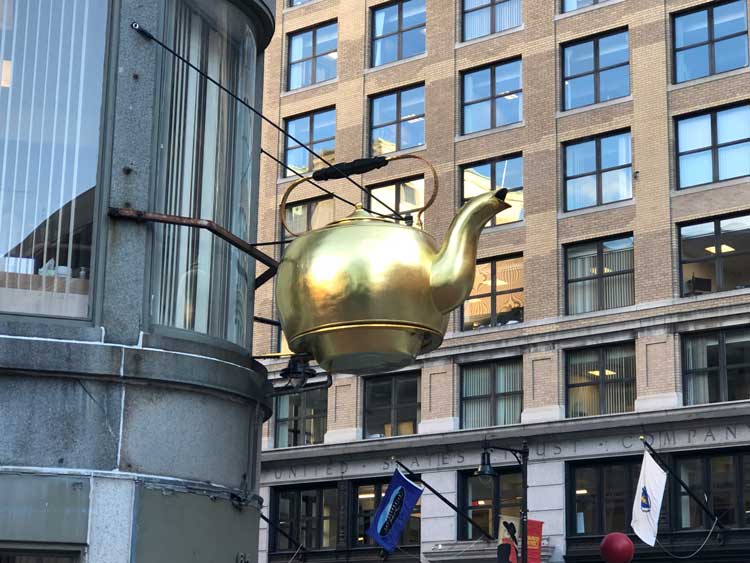 Giant Tea Kettle
Another fun remnant of the past is a giant steaming tea kettle that hangs above the Starbucks at 63 Court Street.
The giant tea kettle was created in the 1870s, when not everyone could read, to promote the Oriental Tea Company. It was so large that the kettle once held eight small boys and a tall man during a publicity event in 1875. Today, you can still see the kettle puffing out steam.
Things You May Not Know About Boston
The book also uncovers some modern-day finds in the city.
For example, the Garment District is a 12,000-square-foot alternative retail store selling new and used clothing. Every morning before the store opens, an 850-pound bale of clothing is cut open and dumped in a giant pile. Savvy shoppers wade through it to find their treasures and pay just $2 a pound for their purchases.
USS Constitution Ticket Lottery
Another little-known fact is that the USS Constitution, a historic ship known as Old Ironsides that is berthed in the Charleston Navy Yard, holds a special lottery each year.
The ship is normally docked, and visitors can tour the ship. However, on special occasions such as the Fourth of July, 300 lucky lottery winners get to board the ship when it sails into Boston Harbor.
Passion for Boston
It's obvious that Foley MacKinnon is passionate about her adopted city. She came to Boston to attend college and never left. Since then, she has been a go-to source for all things Boston and has authored several books, including 100 Things to Do in Boston Before You Die.
Her other writing credits include the Boston Globe, Food Network, Forbes Travel, Travel + Leisure, Cruise Critic, Global Traveler, USA Today, U.S. News & World Report, and various AAA publications, among many others. You can read more of her work at escapewithkim.com
Secret Boston is available wherever books are sold or can be ordered directly from Reedy Press or Amazon.
Secret Boston: A Guide to the Weird, Wonderful, and Obscure, by Kim Foley MacKinnon, ISBN 9781681062105, paperback 9 x 6 224 pages, $20.95
Latest posts by Janna Graber
(see all)