The Italian island of Sardinia is a magical place to explore. Whether you seek the super-rich world of yachts and villas in the Costa Smeralda or the Stone Age history of the nuraghes of Barumini, there really is something there for everyone. I spent a magical week exploring Sardinia, traveling all over the island. When I was in Orosei, an area on the northeastern coast of the island, I got outside to enjoy some action sports.
E-bike Ride Through the Bidderosa Oasis
Oasi Biderosa (Bidderosa Oasis) is a natural reserve in the Orosei area that borders the sea. There are mountains, lakes, forests and five usually deserted beach coves, some reachable only at low tide. Popular with hikers, campers and bike riders, it lives up to its moniker as an oasis. Starting outside the park, we took an hour-long e-bike ride through the Bidderosa Oasis, ending on a sand path that opened out onto a deserted beach.
It was my first experience riding an e-bike and in case you didn't know, an e-bike has an electric motor that only aids when you are pedaling. You cannot use the motor to power the bike without pedaling. It makes riding much easier and you can adjust the degree of intervention of the motor. It allows you to ride longer distances without really getting fatigued.
After our five-mile ride (on e-bike mountain bikes), we arrived at the breathtaking sea. The sea around Sardinia has beyond-beautiful blue, green and aquamarine colored-water. The clean, clear water is highlighted by the bright white sand on the bottom and illuminated by the bright sunshine. After enjoying the beach (I filmed some drone shots), we were treated to a wonderful picnic in the forest highlighted by local wine. Lunch was followed by a beachfront shot of mirto, the local aperitif made from myrtle berries.
On the Water
After lunch, a boat approached the beach and we all waded out to climb aboard. We then took a spirited boat journey across the Gulf of Orosei to the seaside town of Cala Gonone. The little tourist town has a picturesque harbor with a large beach. This put us close to our hotel for the night, the amazing Su Gologone luxury resort in Barbagia.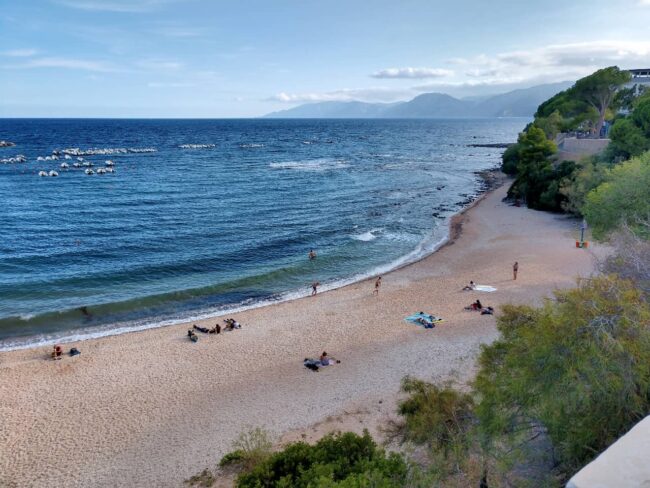 Getting There
Although part of Italy, Sardinia is located closer to Africa than to Italy itself. You can either fly or take a ferry. There are a few airlines with direct flights from major European cities. It's a popular summer destination, so there are more flights between May and October. You can also take a ferry from a few different cities in Italy, France and Spain. The shortest ride is from Rome (Civitavecchia) which takes about six hours.
Read more of Freddy Sherman's take on travel on his Go World Travel Blog. You can also follow more of his adventures at luxuryfred.com, on his @luxuryfred Instagram feed and on his YouTube channel.