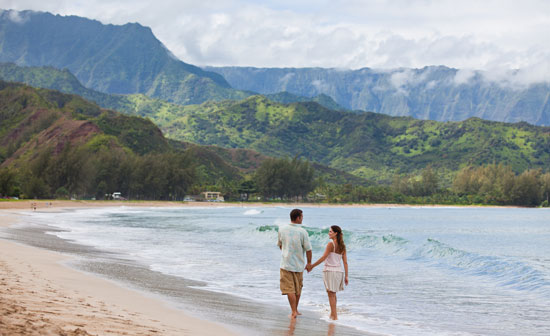 With its beautiful beaches, roaring waterfalls and unforgettable sunsets, Kauai is a natural draw for those seeking a romantic getaway. After all, with such natural beauty surrounding you, it's easy to feel amorous.
But romance isn't just about gazing happily into each other's eyes – it's about experiencing new things together and creating shared memories that you can savor for years. And as many visitors have found, Kauai serves up plenty of unique experiences along with Mother Nature's bounty.
Home to some 69,000 people, Kauai has a slow, relaxed way of life. You'll feel that laid back spirit as soon as you land at the airport in Lihue. The majority of towns on this Hawaiian island are small. Even Kapaa, the biggest town on the island, has only 10,700 inhabitants. This means that small town friendliness and charm are the norm.
Those seeking big-city shopping or entertainment won't find it here, but couples who want to explore the Hawaiian outdoors and savor the simple pleasures of good food, friendly people and beautiful landscapes will not be disappointed.
Travel in Hawaii is popular all year-round. Kauai's weather is ideal, with average temperatures in the mid-70s to mid-80s. So it's the perfect place to get outside and explore.
Continued on next page