Driving California's scenic Highway 1 has been on my bucket list for years. Finally, we did it! So, wanting a leisurely drive with lots of stops along this iconic American highway on California's Central Coast, we chose the section called "Discovery Route" starting at Oceano & Nipomo and ending at Ragged Point.
Each night, a different inn became our home base for exploring beautiful beaches, lush landscapes, wacky wildlife (would you believe zebras?) and wonderful wineries. Though we were not out for physical adventure, there's plenty of it on the water and hills nearby. No, we sought the sights and sounds along the 101-mile stretch of this historic region. We were not disappointed.
Getting There
We picked up a rental car after our direct flight from Denver at the airport in San Luis Obispo, a small town about 190 Miles (310 km) north of Los Angeles. Like many towns in California, it was founded by a Franciscan priest in 1772. A guided tour of the mission church gave us a good historical view of the religious and political climate of the era.
We poked around SLO, popping into two family-owned wineries, Biddle Ranch and Claiborne & Churchill Winery. Consistent morning fog giving way to warm afternoon sunshine and then evening ocean breezes, all combined with different soil profiles, create the perfect setting for growing grapes, they said.
The name aptly describes our first "town" where we would spend the night about 15 minutes from San Luis Obispo. It is an "old townsite," with a few vintage buildings leftover from a busy stagecoach stop settlement of about 2000 residents circa 1880. Currently, one building houses the tasting room of Sextant Wines and The Gourmet Deli. Two quaint farmhouses have been beautifully restored for vacation rental properties. We stayed in the one that sleeps six called Suite Edna. It's across the road from Sextant's MacGregor Vineyard.
In the kitchen I could envision a farm mom baking pies!
The rooms radiated a Victorian-era charm; but they were comfortable, not stuffy.
Who was Edna? Nobody knows for sure. . .she may have been a prized brown mare, a German nun, or the Madam who worked in the crib. Her photo hangs in one of the old buildings where Sextant hosts special wine events. A little bit of past mixed with the present!
A 15-minute drive through the hills brought us to the cute coastal town of Avila Beach right off Highway 1. We loved feeling the sea breezes, walking the beach and long pier, and hearing the seagulls—sights and sounds we don't get living in the center of the U.S.
We strolled the Avila Beach Promenade, popping into boutiques, restaurants and galleries. Since it was early November, the summer farmers market had closed and there wasn't much beach activity. However, some venues are open year-round: Point San Luis Lighthouse; Central Coast Aquarium; Avila Valley Barn, an expanded farmstand; and Sycamore Springs Resort. Here we indulged in an au natural mineral springs soak in one of 23 private outdoor hot tubs. Ahhh! The resort also features a spa, rooms and dining, all tucked away in the secluded woods.
We devoured lobster rolls and salad at Louie's at the Beach, a pleasant casual eatery on Front Street before our drive back to Old Edna.
Back on Highway 1, we passed famous Morro Rock, a huge volcanic structure jutting up incongruously from the white sands beach, on our way to the seaside town of Cayucos 26 miles north. Here we found another long pier built in 1872 when the town was an important port for ships sailing between San Francisco and L.A.
Now it's an ideal spot for watching the sun slide into the ocean and observing seals, dolphins and whales playing in the waves. Gray whales appear in winter and spring as they make their annual migration. However, we did hear sea lions barking.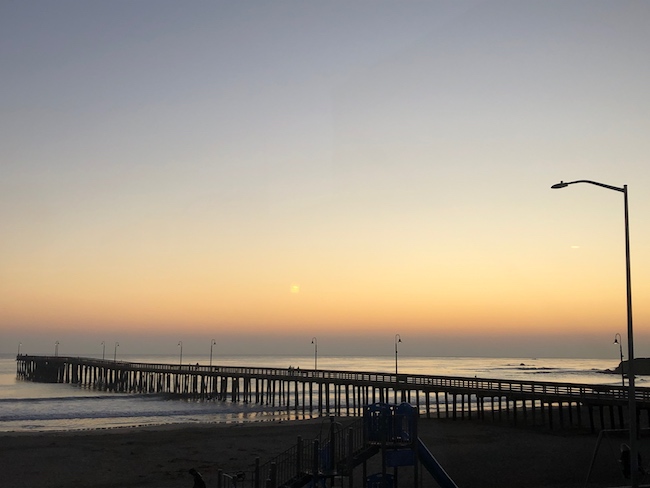 Our reservation was for Cass House, the 19th-century home of Captain James Cass, the man who built the pier and eventually established the town.
The current owner took 15 years to lovingly restore the home, not overlooking a single historical detail. For example, she kept the original banister (except for spindles people burned for firewood) and fashioned the floor out of old ship decks. Our room had a comfy sofa in front of the fireplace and a sparkling white bathroom with contemporary fixtures.
Sunsets are the pride and joy of these small coastal towns, so a porch from which to enjoy them is nice.
Everyone knows the best spot at sundown is Schooner's Restaurant overlooking the water. We had a delicious fresh seafood meal at this nautical-themed eatery with a lovely view.
In the morning after a fresh warm muffin and coffee at the Cass House Bakery, we poked around this seaside town, browsing antique stores and gift shops and couldn't resist a treat at the famous Brown Butter Cookie Company, where bakers use only basic ingredients for their yummy confections.
In conclusion, part two of our road trip will include Cambria, Hearst Castle and Ragged Point where we ended our drive north on Highway 1 Discovery Route.
Claudia Carbone is an award-winning travel writer based in Denver. Read about other hotels she's visited in Sleepin' Around.