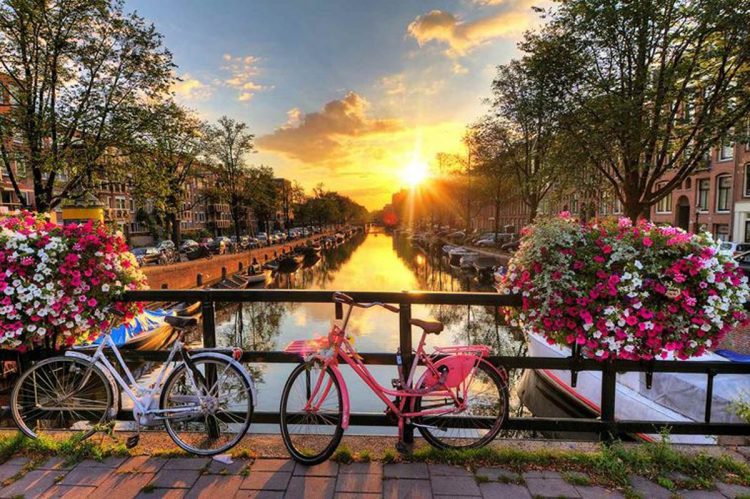 Standing on the balcony, I watch Amsterdam grow smaller in the distance. Bicyclists zip along the shoreline, intent on their destinations, while a delivery man unloads his wares, getting set for another day.
AmaWaterways River Cruise
I'm aboard the AmaPrima, a luxury river cruise ship by AmaWaterways. From my spacious stateroom, I have a front-row seat to Europe, a view I've come to relish. The AmaPrima is heading out on a 10-day cruise through the Dutch and Belgium waterways, and I'm excited for what's ahead.
My husband, Ben, and I had originally planned to take AmaWaterways' popular Rhine river cruise, which sails from Basel, Switzerland to Amsterdam. But temporary low water levels had halted traffic on the Rhine River. All river cruises lines on the Rhine were affected.
AmwWaterways didn't hesitate, though; they quickly moved the cruise itinerary to the Netherlands and Belgium instead. So here I am, passing windmills, dikes and tidy Dutch homes as we cruise through the Netherlands.
Our itinerary will take us through 12 different locks (a device used for raising and lowering boats between water of different levels on rivers and canals). The AmaPrima is 443′ long and 38′ wide, so she fits through the locks nicely.
An avid traveler, I've come to appreciate every mode of transportation, yet none are as relaxing as river cruising. You simply unpack once — in a luxurious room, I might add — and then wake up every morning to explore a new destination.
There's no hassle of traveling to your next hotel, or finding a place to eat. The relaxed pace and the excellent care provided by the staff mean you can sit back and enjoy the experience.
What is a River Cruise?

Interview with Maddy Caldaruse, Cruise Manager at AmaWaterways. Video by Benjamin Rader
AmaWaterways has 23 custom-designed ships cruising in Europe, Africa and Southeast Asia. They have a reputation for personalized service, luxury accommodations and authentic travel experiences — and this cruise is no exception.
Aboard the AmaPrima
Ben and I have one of the 81 spacious staterooms on the AmaPrima. It has an outside balcony and a French balcony, a large bathroom and lots of storage space. But as comfortable as our room is, we don't spend too much time in it.
We like walking and sitting on deck, especially when the ship goes through the locks. We also spend time in the lounge, with its large windows and pleasant piano entertainment. Every evening, the lounge is host to Sip & Sail, a complimentary evening happy hour on all AmaWaterways ships.
There's a small pool and hot tub on the top deck, and a small gym on board. The ship's wellness host leads daily yoga and fitness classes. One afternoon, we join him on an invigorating fitness walk along the river.
With more than 50 crew and some 150 passengers, we are well taken care of. AmaWaterways river cruises are all-inclusive, meaning our meals, drinks and excursions are included.
The AmaPrima has two restaurants — the Main Dining room and the more intimate Chef's Table. Meals soon become a highlight, as we savor locally-inspired cuisine, as well as traditional Western favorites. Local wine and beer flow freely.
Dinner is served at a set time each day in the Main Dining room, with open seating. We enjoy getting to know our wait staff, as well as many of the other passengers. Soon we're joining many of our new friends for drinks or meals.
River Cruise Excursions
The best part of river cruising in Europe is exploring one and sometimes two destinations a day. AmaWaterways offers a variety of excursions, at gentle, regular or active paces. Bicycles are available to use at every port at no extra charge.
We soon come to appreciate the local guides we meet at each stop. Learning from a local makes the destination come alive.
Delft and Royal Deft
Our first stop is Rotterdam, where we take a quick bus ride to the picturesque town of Delft. This small canal-ringed town was home to the Dutch Master painter Johannes Vermeer. Looking around at the tree-lined canals and classic Dutch homes, I can understand how the region inspired him.
Delft is best-known, though, as the home of Delftware, the hand-painted blue-and-white pottery that can be found in many of our homes.
Royal Delft has been creating these earthenware masterpieces since 1653. On a tour through Royal Delft, we learn more about the process of creating these beautiful, but functional works of art. Each piece is still painted by hand in a centuries-old tradition, and takes about 10 days to make.
Kinderdijk UNESCO Windmills
It's windy and raining when we reach our next stop at the village of Kinderdijk in the Netherlands' South Holland province, but that doesn't stop us. The historic village is known for its iconic 18th-century windmills, which still work today. Windmill keepers and their families live in the windmills and keep them in working order.
We learn from a local expert that the village's water-management network includes 19 mills, three pumping stations and many dikes and reservoirs. This age-proven use of nature and technology gained Kinderdijk UNESCO World Heritage status.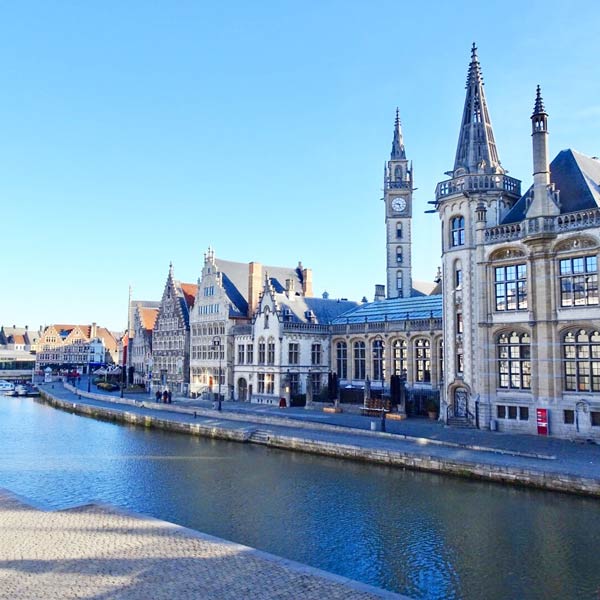 Ghent, Belgium
The AmaPrima soon leaves the Dutch waterways and cruises into Belgium. Our first port visit is to the city of Ghent, a bustling port town in northwest Belgium. A prominent city in the Middle Ages, today it is a busy university town known for its stunning medieval architecture, such as the 12th-century Gravensteen Castle and the Graslei, a row of guildhalls beside the Leie River harbor.
Our knowledgeable guide explains how industry formed the city, and still plays an important role today. We enjoy visiting several shops and small cafes before heading to our next stop — Bruges.
Bruges, Belgium
It's bright and sunny when we arrive in Bruges, Belgium (or Brugge, as the locals spell it). This little town has been called the Venice of the North, and now I see why. Canals spread out like fingers throughout the city.
While some join a guided tour, Ben and I set off to explore on our own. We sit along the bridges with many others enjoying the sun, and then later take a canal tour, which gives us a unique view of the city.
Later, we find our way to the eclectic 2be Bar and Shop, which is famous for their brews as well as the Beer Wall, a passageway lined with hundreds of different beer bottles. The atmosphere is bustling, and it's hard to find a space at the bar, but we soon have a nice beer to enjoy on this perfect Belgian afternoon.
Later, we sample chocolates (and buy some for home), then stop in at a small local eatery for Flemish stew and fries. It's been a wonderful day, and we wish we had more time here.
Antwerp, Belgium
In Antwerp, it's time to get serious about Belgian beer. We choose a foodie tour that includes three different stops where we can sample some of Belgium's famous waffles, chocolates and beers.
Our guide's insight makes the experience all the richer as we walk through the city. As we pass through cathedral square, we see the statue of a giant sleeping boy. It is a tribute, she says, to the beloved Belgian tale, The Dog of Flanders, which strangely found fame in Japan long before it was known in Flanders.
Utrecht: Castle De Haar
In Utrect, it seem as if we have stepped into a fairy tale. The Castle De Haar stands in the middle of a grand estate. I can just picture coaches arriving for big dinners and grand balls, like something right out of a Disney movie.
The largest castle in the Netherlands, it was once the residence of the Van Zuylen family. They hosted many lavish parties with famous guests from Coco Chanel to Roger Moore. Today, you can tour the castle and grounds.
Amsterdam
As we sail back toward Amsterdam toward the end of our cruise, I realize how relaxed I've been the whole time. I haven't worried about a thing. On board, the staff at AmaWaterways have pampered us with expert service and wonderful meals. And at each port, we chose the experiences that fit us best — whether exploring on our own or taking unique guided excursions.
Our final excursion on the trip is perhaps a bit touristy, but nonetheless, memorable. Canal cruises have been must-do experience in Amsterdam for decades, and we're happy to join in on the tradition.
This mighty city looks different from the water — in fact, even better. Its rich history is on display in its towering narrow houses, tree-lined canals and busy shipping ports. As the sunlight begins to fade, lights come on all over the city, reflecting in the water. It's a beautiful time to be in Amsterdam.
If You Go
For more information on river cruising with AmaWaterways, see AmaWaterways.com
Janna Graber is a Colorado-based travel journalist. She is the editor of three travel anthologies, including "A Pink Suitcase: 22 Tales of Women's Travel," and is the managing editor of Go World Travel Magazine.