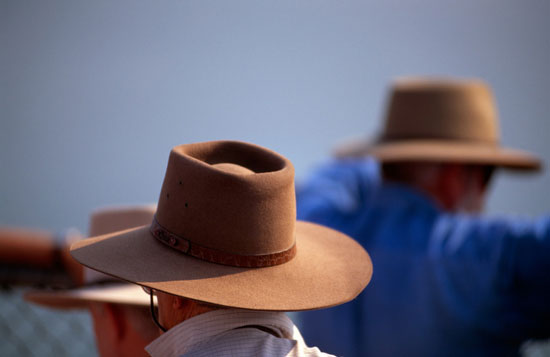 I loosened my neckerchief and pushed a frustrated finger beneath the rim of my riding hat, trying to wipe some of the sweat away. The goats had disappeared, again.
Only a minute ago they had been right there in front of us across the shallow, rocky ravine, a group of ten of them staring obstinately at us as we approached. Now they were gone. At least they were the last of the bunch.
Suddenly a holler went up from Jonathon, who was leading the muster. He had spotted them, a couple of hundred yards away in the other direction. They blended almost entirely into the tan of the bush; it wasn't surprising that anyone who hadn't spent years on a ranch might miss them.
I urged my Australian brumby, named Apache, forwards, neck-reining him between the rocks into a wide arc around the goats. We slowed to negotiate a deep narrow gorge, half hidden by rough grass. Apache considered it for just one second, then took the safe option, and jumped.
We were alongside them. The billy nearest me lifted his bearded head and looked at me boldly, daring me to come closer. Goats are far less placid than you might think. But the job had to be done.
Easing Apache back into a walk, I swung him carefully round to the back of group, as my campmate Courtney mirrored me on the left. We were behind them. One darted sideways threatening to break away but I blocked the way just in time.
"Eh up, eh eh eh up. Move along now". The adrenaline was rising once again; by now we were truly in the spirit of the muster.
We kept to a steady pace behind the goats, encouraging them forward with the ringer calls we had learned earlier that afternoon. Our job was to move a herd of over three hundred goats from one end of the ranch to the other. By now we had been out for almost two hours, but the job was nearly done. As long as we didn't lose concentration, or a goat.
From the moment I arrived at Kroombit Park, everything about Australia that had grown familiar to me was lost. Gone were the endless beaches, the relentless surf, the tropical islands. Gone were the comfortable hostels, bustling cities and backpacker luxury. I was now in the lonely outback, sleeping in sparse cabins, eating round a campfire and mustering goats on horseback.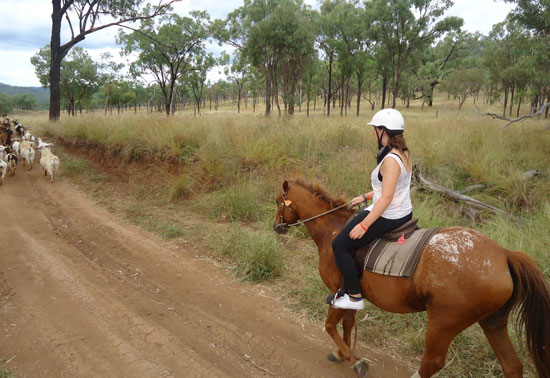 Kroombit Park is just part of the huge, fully working Lochenbar Cattle Station. It is a family run farm, owned by Alan and Carol Sandilands, which offers travellers a chance to experience a side of Australia often forgotten, or passed by.
"This place is the real thing" Alan told us the night before, by firelight. "It's the real working outback Australia. It's been like this for centuries."
For a country 2.97 million square miles in size, it is amazing how little of it is actually seen by visitors, or indeed by Australians themselves, due to punishing heat, enduring emptiness and sheer distance from anywhere. On the edge of the outback, Kroombit is far more accessible than many other interior destinations, but is still 35 km away from its nearest town, Biloela.
There is little civilisation out in this remote section of Central Queensland. This is true ringer country: 'ringer' being the Australian term for cowboy, and here I was, experiencing a real taste of the lifestyle.
Aside from the goat muster, clay-trap shooting, quad biking, whip cracking and a rodeo are just some of the activities available at Kroombit.
Alan had explained that the name of the area had come from the legends of 'the Kroombit boys', who smoked cigars as they mustered and could ride horses nobody else could.
There was no other option for me; I wanted to ride in their footsteps. Now I had aching thighs, and a hoarse throat from the whooping and hollering required to drive the goats along. But I was too immersed in the task to notice, too absorbed by the pleasure of riding a spirited horse through spectacular scenery, which was unlike anything I knew.
We were reaching the final stage of the muster, gathering the whole herd together to move them into the coral. We had ridden several kilometres from the farm, and out here the landscape was massive.
The scrawny trees were just scratches on the surface, the wilderness stretched into a rugged panorama, under an infinite sky. Sun bleached grass rose sparsely from the earth, along with the dust which gathered lazily around us as we moved.
The goats jostled forwards against this backdrop, in front of chestnut ears which flicked back and forth. They were an untidy bunch, pausing every now and again to head-butt one another, or to drift off the track in search of food.
This was how it been for hundreds of years: mustering goats and cattle on horseback out here in the bush in Kroombit country. Nothing has changed.
Apache shook his head and snorted with impatience. I didn't know where we were but he certainly did. He knew he was getting close to his hay.
A sharp brackish aroma caught in my nostrils and I smiled to myself: my fingers were sticky with the sweat rising from his coat, and I could feel the familiar layer of grease thickening on the undersides of hands that brushed his mane.
The inside of my legs were hot and damp against his sides. It made me think of my horse at home, riding down narrow country lanes sheltered by high, lush hedges, and hearing the sound of metal horseshoes on the weathered tarmac.
Out here everything was bigger, and wilder. There were no hedges, no horseshoes, no tarmac, just the grasslands stretching for miles, the thick scent of earth and animal, and Jonathon's hollers, in time with the bleating of the goats heading for the coral.
But riding a horse was just the same. I felt at home out here in ringer land.
If You Go
Kroombit Park offers various farm stay packages. Accommodation is in air conditioned cabins. Prices start from AUD$27 per night.
Kroombit Park is a 2hr drive from Rockhampton and a 1.75 hr drive from Gladstone.
Website: www.kroombit.com.au
Address: Kroombit Farm, Lochenbar Station, Biloela, Central Queensland, Australia
Tel: 07 4992 2186
International Tel: +617 4992 2186