While the White House is the desired destination of presidential candidates, most Commanders in Chief, at some point after being sworn in, become associated with a vacation destination during their four or eight years working in Washington.
Martha's Vineyard was a favorite of President Bill Clinton and his family – not far from President John Kennedy's Hyannis Port compound on Nantucket Sound. President Barack and First Lady Michelle Obama also took their girls to Martha's Vineyard in the summer and the island of Oahu, in Hawai'i, at Christmastime.
President Ronald Reagan liked to ride horses at Sky's Ranch, which became known as the "Western White House," in Santa Barbara, California and President Gerald Ford enjoyed golf in Palm Springs and skiing at Beaver Creek, Colorado.
President George H.W. Bush vacationed almost exclusively at his family compound on Walker's Point in Kennebunkport, Maine, where he spent most of his time fishing aboard his speedboat "Fidelity" and playing tennis or golf.
The "Winter White House" is Mar-a-Lago, President Donald Trump's club in Palm Beach, Florida – the mansion and grounds Marjorie Merriweather Post bequeathed to the National Park Service to serve U.S. Presidents in that capacity. Her "Winter White House" wish never came to fruition until Trump bought it and was subsequently elected.
The 45th President spends most summer weekends at golf clubs he owns in Bedminster, New Jersey.
President Richard Nixon enjoyed "Sequoia," the former Presidential yacht, on the Potomac River; and Camp David, in the Maryland foothills, serves as a woodsy but nearby retreat for Presidents to escape the confines of White House life.
Access to Presidential Destinations is Rare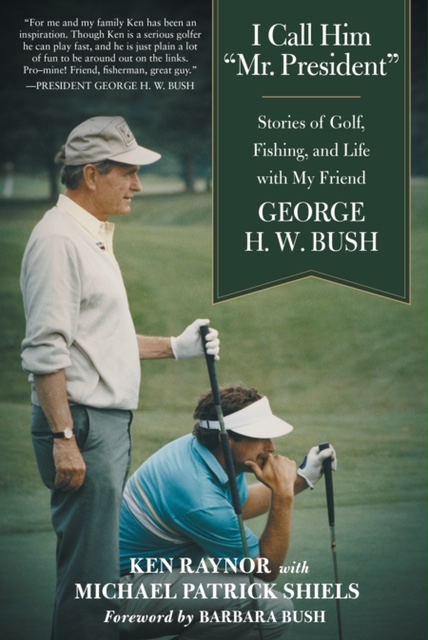 The average American cannot schedule a weekend getaway to Camp David or book airfare there aboard the Marine One helicopter. The Lincoln Bedroom at the White House does not show up as available on AirBnB; and no amount of frequent flier miles will get you even a middle seat aboard Air Force One. Want to ride in the heavily-secured Presidential limousine known as "The Beast?" No chance. But readers can live those experiences vicariously in the book I Call Him Mr. President – Stories of Golf Fishing and Life with my Friend George HW Bush, by Ken Raynor and Michael Patrick Shiels. I collaborated with the 41st president's longtime fishing pal and golf professional Raynor over the last few years of President Bush's life to research and write the book, which is now also available in a new, updated soft cover edition.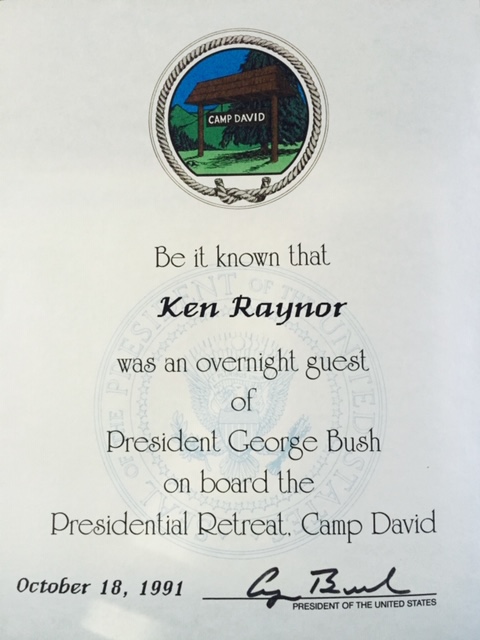 Presidential Pal Traveled Extensively With Bush
It's believed that Raynor, head pro at Cape Arundel Golf Club, near the Bushes' seaside summer home in Kennebunkport, has played more golf with Presidents of the United States – given Bush's son also became Commander in Chief – than any PGA professional in history.
For vacationers to Kennebunkport, Cape Arundel Golf Club is open to the public, and the Bushes' home on Walker's Point is an attraction visible from a viewing area along Ocean Avenue. Raynor takes readers right inside the Bush's living room, aboard his speedboat, into the White House swimming pool and everywhere the President Bush welcomed him – in I Call Him Mr. President.
Fishing trips, including the two of them alone in a tiny Bass Tracker boat on the Kennebunk River at dawn; or fly fishing expeditions to the Arctic Sea by float plane and through the wilds of Newfoundland via helicopter, are detailed in the book's pages. Johnny Morris, the founder of Bass Pro Shops and creator of Big Cedar Resort, in the Ozark Mountains of Missouri, spearheaded the expeditions.
Bush Played Golf in Famed Locations
President Bush and Raynor were guests at the very private Augusta National Golf Club. Raynor also coached the surprisingly nervous 41st President to hit a ceremonial opening drive in front of a big crowd with Tiger Woods at Congressional Country Club near Washington D.C.
Raynor is a golf professional, not a caddie, but one of his stories details how he caught up with Bush at the Old Course at St. Andrews, in Scotland, just to deliver the President's favorite overcoat to him. (Bush was headed to Eastern Europe for a meeting.)
Making a Splash in the White House Swimming Pool
When snow hits Maine each year Raynor and his wife Anne pack up the car and drive down the east coast to spend some of the winter months in Florida. First Lady Barbara Bush got wind of this and asked Anne, "Where do you stop on your drive down from Maine to Florida?"
Anne explained to the First Lady that she and Ken just choose any roadside hotel when they feel like stopping.
"Well, why pay for a hotel? You must stop in Washington and come and stay with us at the White House on your way down," she said. "I insist. You might even find it nicer than a hotel."
Raynor writes, "We became more comfortable, but no less awed, each time President Bush invited us back to the White House. I got so comfortable that on one occasion I woke up early, just after dawn, and decided it might be fun to take a swim in the White House pool. It's a simple, outdoor pool over by the Oval Office but at the hour it was very quiet, so I dove in and swam some laps. I was just kind of dog-paddling around and enjoying the setting and the novelty of it when I suddenly heard a voice. It was President Bush.
'Ahoy! Who is the "great white whale' in the pool?"' he cried out.
President Bush was making his way to work at 7 a.m. sharp in the Oval Office, with the Secret Service in tow, and the weight of the world on his shoulders, but he had time to send a parting shot at me in this swimming pool!"
Star Search: President Bush's Celebrity Pals
Bush entertained plenty of celebrity friends along the way, so sidebar stories contributed by Prince Andrew, Jack Nicklaus, Larry Gatlin, VP Dan Quayle and many other notables are included.
"President Bush, at the end of our round of golf in Maine, insisted on giving me the dollar I'd won from him in a gentleman's bet on the course. I wanted him to autograph it but was concerned that somehow defacing federal currency was a crime, so I didn't ask him to do it," says NBC's star sports commentator Jimmy Roberts. "Someone hearing this story later reminded me, 'President Bush was accompanied all that day by two Secret Service agents who work for the Treasury Department…' All I needed to do was ask one of them if it was legal and I probably could have had the dollar signed that day!"
Word got back to President Bush, so he had Roberts mail the dollar to him, which he signed and sent back with a fun personal note Roberts now has framed in his home office.
Like First Family
Raynor is also friends with Bush's son former President, George W. Bush. The 43rd President, who now calls Dallas home, liked to vacation by fishing and cutting brush at his ranch in Crawford, Texas. But he spends each January in Boca Grande, Florida, near Raynor's winter home and Coral Creek Golf Club.
From "shirts and skins" Wallyball games against the Secret Service agents at Camp David to trick or treating with First Lady Barbara Bush (who wore a Barbara Bush mask), Raynor's book, I Call Him Mr. President, is meant to be a fun and touching portrait of what it's like to travel with "the Prez."
Michael Patrick Shiels is a radio host and travel blogger. Follow his adventures at GoWorldTravel.com/TravelTattler. Contact Travel Writer Michael Patrick Shiels at [email protected]
Latest posts by Michael Patrick Shiels
(see all)