Editor's Note: We share travel destinations, products and activities we recommend. If you make a purchase using a link on our site, we may earn a commission.
A pair of placid eyes with the most exquisite eye-lashes wreathed in a halo of soft, honey-brown curls gazed disinterestedly at me. I was mesmerized by their dark richness and was drawn deeply into their depths. All the while she simply stared back at me while working contentedly on her cud.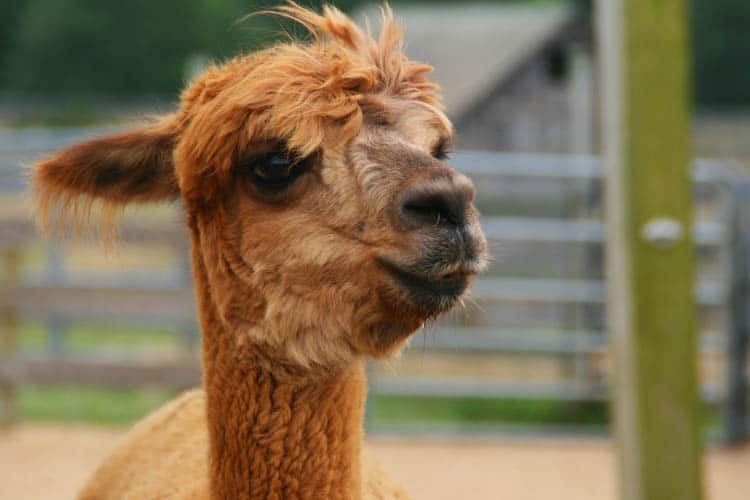 Alpacas of Martha's Vineyard
Island Alpaca oversees over 50 Huacaya (pronounced Wha-Ki-Ya) Alpaca on 19 acres. With warnings not to upset them (Alpacas tend to spit their cud when angered), I petted the soft, luxurious fleeces. It's amazing how relaxing it can be communing with these mop-topped creatures.
In the gift shop, an earnest employee extolled the virtues of Alpaca yarn. Meanwhile, my wife, Kathy, piled scarves and socks made of said yarn onto the counter, exclaiming what wonderful gifts they will be.
Raising Alpacas commercially for their soft, warm hypoallergenic fleece is nothing new. However, finding an Alpaca Farm on Martha's Vineyard, an island off Cape Cod, Massachusetts, only adds to the whimsical nature of "The Vineyard".
Presidential escape, muse to artists of all genres, Hollywood star, a summer retreat for tens of thousands and home to a herd of Peruvian transplants. Martha's Vineyard enjoys an almost mystical hold on its frequent visitors.
Just 10 miles off the southwestern shore of Cape Cod, the 100-square mile island of Martha's Vineyard claims six diverse towns. It also boasts white, sandy beaches, soaring cliffs, peaceful meadows, and extensive charm.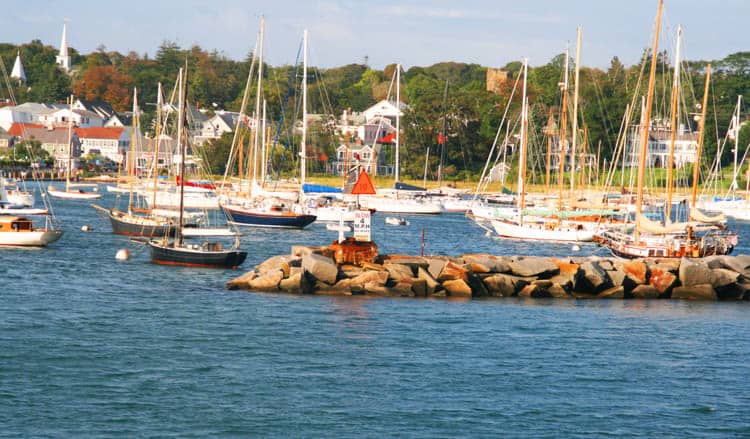 How to Day Trip to Martha's Vineyard
It does a disservice to Martha's Vineyard to attempt to discover its appeal in one day. But, we made do with what we had. Therefore, we started out early from Woods Hole, Cape Cod to begin our day trip to Martha's Vineyard. From here, the Steamship Authority operates daily ferries to the island.
You can transport your car to the island but it's much cheaper to park, ride and take advantage of the island's excellent bus system.
The Steamship Authority operates large and numerous parking lots in Woods Hole, with shuttle buses to take passengers to the docks. Be sure you note your parking spot so you are not wandering around a very outsized parking lot after dark trying to locate your car as we did.
We caught the 8:00 AM ferry for the 45-minute trip to Vineyard Haven, one of the three Down-island villages. Down-Island, as the natives refer to it, is the eastern portion, home to the larger historic villages of Edgartown, Oak Bluffs and Vineyard Haven.
As we approached the dock, I asked Ed, a 15-year veteran crewman of Steamship Authority for any suggestions. His reply was, "Nothing happens in Vineyard Haven, head to Edgartown for lunch and finish the day in Oak Bluffs".
That tends to be the burden of Vineyard Haven. Visitors drive off the ferry and out of town, in their haste to be elsewhere.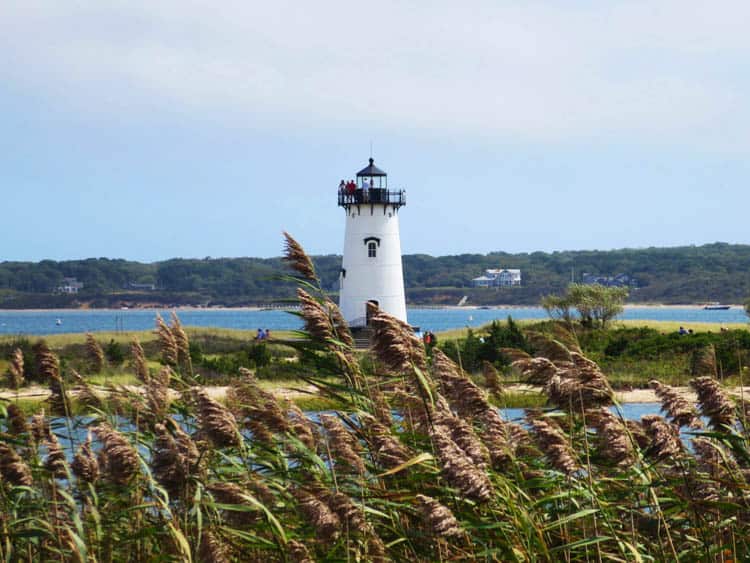 Vineyard Haven and Edgartown
But we took a little time to explore. We started with the Black Dog Water St. Bakery with its enduring smells and ubiquitous t-shirts. Then moved on to Main Street, which is lined from end-to-end with interesting shops.
The street is anchored by Bunch of Grapes Bookstore, known for its outstanding selection of books, and for the book signings that headline notables like Vineyard resident David McCullough.
We then purchased our tickets to ride.
Martha's Vineyard Transit Authority provides the local bus service. With an $8 all-day pass, it was the perfect way to see the Island.
Island Alpaca is just 2 miles outside of town. Although not a standard stop, upon request an intra-route stop will be made. After our thoroughly entertaining visit with the alpacas, we caught the next bus into Edgartown for lunch.
We found The Seafood Shanty to be perfect for a sunny afternoon. Their upstairs deck lets you enjoy the comings & goings in Edgartown Harbor. A platter of cod, shrimp and whole belly clams plus a wonderful view provided a perfect start to our visit to Edgartown.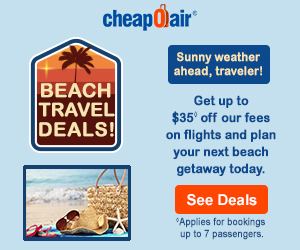 Edgartown remains the Vineyard's most elegant town and has preserved its stylish past. Once a well-to-do whaling center, sea captains' homes from the 18th and 19th centuries with well-manicured gardens and lawns line the streets.
The Old Whaling Church, now the community arts center, was built in 1843. It's is a fine example of Greek revival architecture and also the wealth that whaling had brought to the community.
After lunch, we strolled over to Lighthouse beach and the Edgartown Lighthouse which sits a few hundred yards out on the sandy shore. Strolling past the waving stalks of beach-grass onto the unspoiled beach with its flowering Rose Hips provided a peaceful respite.
The forty-five-foot-high white cast-iron tower, which is open for tours, stands stoically and vigilantly against the sea. Still providing light for lost ships and the souls they carry.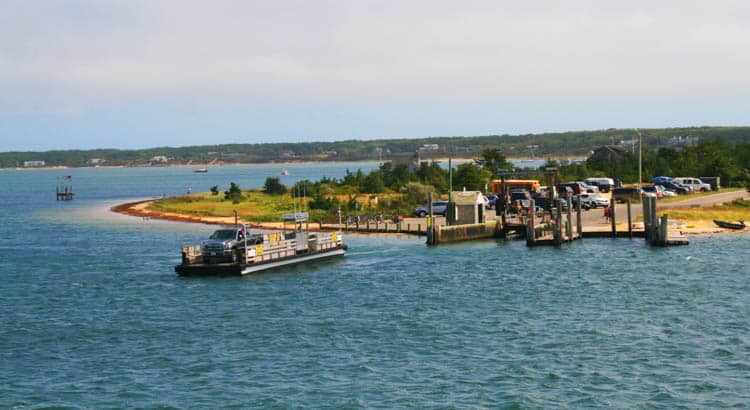 Remembering "Jaws"
Martha's Vineyard is also known as the home of Jaws, the 1975 movie about a great white shark terrorizing the town of Amity. Edgartown stood in as the town of Amity.
Chappaquiddick Ferry was one of the bit-players in the movie. Connecting Edgartown to the island of Chappaquiddick, it must be one of the shortest ferry trips around.
However, it was both amusing and just a bit strange to watch the Chappy Ferry, as it's called, travel the mere 527 feet between the islands. The boat had barely got up to speed before reaching the dock on the other side.
Next, we caught the bus to Oak Bluffs. Oak Bluffs is not nearly as staid as Vineyard Haven nor as upscale as Edgartown. It's more touristy, but also probably more entertaining. There's a wide beach, an attractive seaside park and lively nightlife along Circuit Avenue, the main commercial drag.
Coming into town on Seaview Blvd, we trundled over the American Legion Memorial Bridge. Another iconic player in Jaws, you can't miss Ocean Park as it stretches out in all its 7-acre glory. It's green and wide open, with a splendid bandstand, an eye-catching fountain and a great view of the harbor.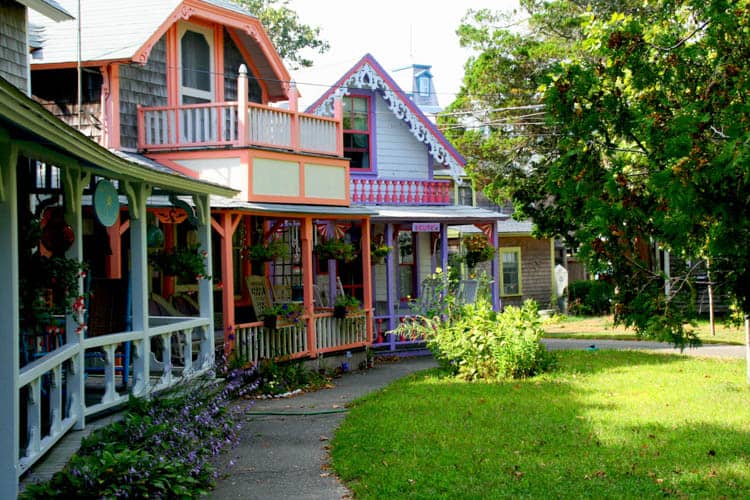 Gingerbread Cottages & Flying Horses
After exiting the bus, we strolled to just behind Circuit Ave to the Martha's Vineyard Camp Meeting Association and its "Gingerbread Cottages." 
This incredible collection of brightly painted Victorian summer cottages originated from a time of religious camp meetings. Followers would pitch tents in concentric circles for several weeks of worship and convivial interaction.
Eventually, tents gave way to small wooden cottages of elaborate latticework and arresting colors. All built around the imposing tabernacle built of wrought iron. Today, the camp is listed on the National Register of Historic Places and is a cherished spot for visitors and residents alike.
Wandering along the narrow pedestrian streets past the ornately trimmed, gaudily painted dollhouses transport you to a world of quaintness. Most are summer retreats, a few are year-round homes and all are meticulously maintained. It's an enchanting community of elfin homes.
Downtown, in an old red barn-like structure, we found the Island's Flying Horses. The Flying Horses Carousel, with its hand-painted horses, is the oldest operating platform carousel in the country.
Originally operated as a Coney Island, NY amusement, it was moved to Oak Bluffs in 1884. It has lived here, delighting generations of Island residents and visitors ever since. Don't forget to reach for the Brass Ring to win a free ride.
We finished our day trip to Martha's Vineyard at Nancy's Restaurant on the harbor. Here we enjoyed a bowl of chowder, a cool pint and a beautiful sunset overlooking Oak Bluffs Harbor as we awaited the ferry.
As we slowly sailed our way back to Woods Hole, a lone gull rode the air currents above our heads. Keeping pace as the sunset to the west.
It was a wistful sight that only conveyed the feeling that we had left too soon. But it whetted our curiosity to return for another chance to embrace the Vineyard's charms.
Book This Trip
Start planning your relaxing getaway to Martha's Vineyard today. Find the best flight promotions and car rentals through CheapOair. Then check out hotel and VRBO options, local restaurant reviews, best shops to visit and more on TripAdvisor and Travelocity.