It's mid-afternoon and we've already left Cape Town, Johannesburg and Pretoria, South Africa in our wake.
Moving through destinations in a short period of time always leaves me slightly disorientated. It feels like days have gone by, especially if our obligatory road trip snacks are anything to go by.
Mpumalanga Panorama Route
We are heading for the Mpumalanga Panorama Route, a popular scenic road in South Africa.
As we get closer and closer to our destination, the potholes in the road get worse and worse, a signal that we are almost in Graskop, a small town in the Mpumalanga province of South Africa.
A place synonymous with potholes and pancakes, both of which we experience in excess. Swerving our way onward, we pull up to our idyllic hillside cottage.
Minutes away from Graskop, rolling green grass, never ending forests, and an accompanying babbling river cover the landscape. My inner Julie Andrews stirs within me as "The Hills are Alive" plays on repeat in my head while we unpack.
Morning brings a picture perfect day, ideal for exploring our surroundings on foot.
After a short walk, we find ourselves at our first Panorama Route attraction — Lisbon Falls. With no railings, the sights at this viewpoint are nothing short of spectacular.
One of the highest falls in the area, the noise it produces is far from quiet. We listen and watch for an hour or two, hypnotized by the warm sun, tranquil sounds and constant plummeting water that lies before us.
God's Window on the Panorama Route
God's Window is one of the Panorama Route's most famous attractions for a good reason. Although not ideal for our much-anticipated photo-ops.
The hazy mist that surrounds the look-out point this afternoon makes for a dramatic and somewhat eerie visit.
We walk along a concrete path, winding through thick tropical rainforest. A few minutes later, the forest thins and we see that the trees end meters away from a cliff edge, only to continue in the valley below.
Framed by green rock faces, the ground we are standing on plummets dramatically before us, creating a gigantic valley carpeted in green.
The bowl of rainforest extends for what looks like hundreds of kilometers before it curves up into elegant cliff faces similar to the one we're standing on.
Peering over the safety railing, I can see nothing but unspoiled natural architecture before me and I am in awe.
Rumbling tummies and the thought of pancakes lead us back into Graskop for the last few hours of afternoon.
We roughly plan out the next few days over cinnamon sugar pancakes and head back along the dented road to our cottage before the stars settle in for the night and the sun bids us adieu.
Traveling to Mac Mac Falls
Mac Mac Falls is our first stop that next morning. A large safety wall means viewing is restricted, but the constant rainbow and double stream of water make this stop memorable nonetheless.
After some convincing, I'm persuaded to head to a destination that was not on the agenda for today.
Once again, we climb into our blue Ford. Twenty minutes later, we pull up into a largely empty parking lot. The heat from outside sticks to our skin as soon as we step out of the car.
There's a small hut and a line of parking bays that extends away from where we've stopped. We get what we need out the boot and turn around to face a wall of thick jungle-like trees and vegetation.
The moisture hangs in the air, along with the thundering sound of a nearby waterfall. We walk along the damp sandy path and after only a short distance, the trees thin out.
We catch our first glimpse of the mammoth amount of falling water that is the source of the noise. We reach the clearing and I step up onto a rock, not at all ready for the beauty that is awaiting me.
A 200m tall waterfall crashes down into a clear river pool meters away from where I'm standing. A handful of people are paddling in the water.
Despite the fact that there's a small wooden bridge, a parking lot, and even bathrooms, there's something about Lone Creek Falls that feels unspoiled and untouched.
The water is impossible to resist. I step gingerly over the pebbles and into the refreshingly cold river. The mist has already covered my body completely and the water laps higher up my legs with the slight waves.
I'm in up to my hips and all I can hear is the thundering waterfall. I dive forward and dip my head under the cool water. It feels like someone cracked an egg on my head. The deeper I go, the more the spray takes my breath away.
I float on my back, close my eyes, and let the sound and movement of the water transport me away for a minute or two.
South Africa: The Panorama Route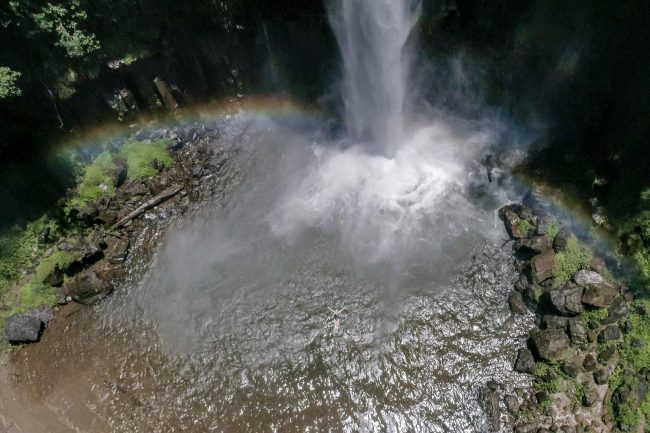 After undoubtedly one of the best swims of my life, we're changed and back on schedule, snacking in the car on the way to the area's renowned off-road potholes.
Several large parking lots await us with dozens of curio shops and a cafe in the centre.
Troops of baboons sit and watch unusually quietly from the edges of a nearby forest. This is by far the most built up attraction that we've seen so far — it is large and touristy compared to the other Panorama viewpoints.
It's around 35 degrees Celsius without the tiniest breath of wind to offer relief. Sprinkled with visitors, the Bourke's Luck Potholes expand over a large area.
Walkways and bridges zig-zag between the natural craters and flowing water, forming an uneven jagged landscape. It looks like someone sculpted the rocky ground carefully and simultaneously haphazardly out of clay.
For a while we hop over the burning hot ground, peering over the edge of the various indents. Eventually, the heat becomes unbearable and we practically run to the car.
After picking up ice creams from the tiny cafe of course. The air-conditioning provides some much anticipated relief.
It's the final stop of the day and the final viewpoint of our whirlwind Panorama Route adventure. It's late afternoon and the sun is low, casting a gold light over the green mountainous landscape.
Blyde River Canyon's Three Rondavels
We couldn't have arrived at a better time. The parking area and curio shops are emptying out as evening draws in. Walking towards the lookout point, I let out a gasp.
We rush towards the edge and look out onto the Blyde River Canyon's Three Rondavels, the most exquisite landscape I have ever seen.
We are standing on a raised boulder on the edge of a cliff. The ground drops dramatically and spreads out into a basin containing mountains and hills covered in thick blankets of green, a blue body of water, and of course the Three Rondavels themselves.
The famous round hut-shaped rocky outcrops sitting atop the nearest hill. Named 'rondavels' due to their resemblance to traditional circular African huts, these mountain houses are truly natural sculptures.
After clogging our phones and cameras with photos and videos, the two of us find a spot on a rock and watch the golden light move across the scenery spread out below us.
I knew that the Panorama Route landscapes would be beautiful, but I didn't know that they could be this beautiful, this spectacular. Everything is quiet and still.
The heat of the day lifts as evening draws in and we head back to our cottage, accompanied by a red African sunset.
All too soon our car is packed and we're dodging the potholes into Graskop for the last time.
After the best pancakes, I've had so far (mine was filled with milk tart — a famous South African creamy cinnamon custard-like dessert), we reluctantly drag our full bellies back to our little blue Ford.
The next leg of our road trip, Kruger National Park, is calling. As we leave Graskop behind, I realize that the Panorama Route is so much more than a picturesque Kruger add-on.
It's one of South Africa's most underrated destinations — a true hidden gem.
If You Go to Graskop:
The lovely cottage we stayed in is part of Lisbon Hideaway (https://www.lisbonhideaway.co.za). From here, we self-drove to all the surrounding sights and attractions. This is doable if you stay in or close to Graskop.
For some more information on Graskop and the Panorama Route, here are some helpful links:
Author bio: Alexandra (Ali) Findlay is a Media Studies Honours graduate from Cape Town, South Africa. With a passion for both words and visuals, Ali is a freelance writer, editor, and videographer. When she's not working, you'll find her blogging, traveling, exploring her city, baking, or petting any dog she lays her eyes on.