Editor's Note: We share travel destinations, products and activities we recommend. If you make a purchase using a link on our site, we may earn a commission.
I was happily on the road again. It was like old times, and it was cathartic. Albania is welcoming visitors who feel comfortable traveling. A COVID test is not required to enter and there is no quarantine required or mask mandates once in the country.
Albania suffered for half a century under a severe communist dictatorship. Its borders were shut tight all those years, followed by political strife in the 1990s. However, the small Balkan nation has turned things around over the past two decades, rushing to modernize and launching a building boom that continues unabated.
Today, Albania is wide open for travelers and is an extraordinarily safe and affordable destination, with a delightful diversity of things to see and do. Furthermore, the entire experience is wrapped in the exceptional hospitality of the Albanian people.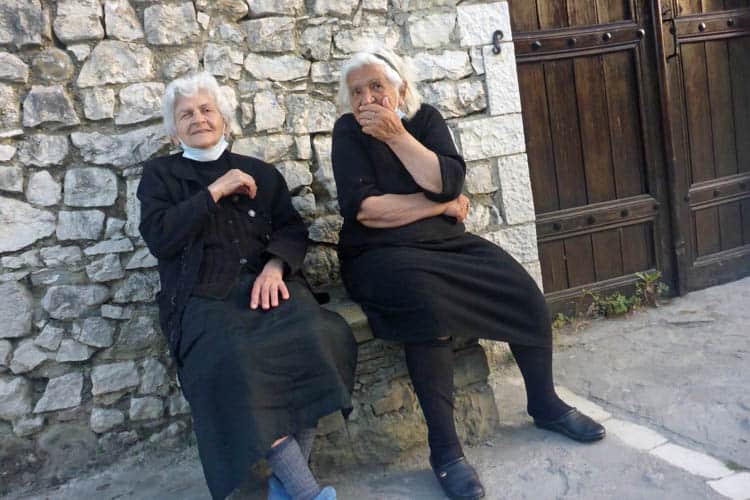 Beautiful Sights and Friendly People
Crisscrossing the country for several weeks, I hiked in the picture-postcard Albanian Alps and swam in the aquamarine Ionian Sea at the bustling beach resort of Saranda. I took a ferry ride that is among Europe's most stunning and plied the lanes of five historic towns topped with storied castles.
I eased into the relaxed outdoor-café lifestyle of the capital and tasted a full menu of traditional dishes unique to Albania. Additionally, I visited three UNESCO World Heritage sites including the ancient ruins of Butrint, Gjirokastra with its celebrated Ottoman-era architecture, and Berati, the "City of 1000 Windows."
As I toured the country, the people welcomed me with open arms, elated to see tourists returning. I was frequently asked my nationality, and when I responded American I was showered with welcomes and compliments.
Asking passersby for directions, I often was personally shown the way. Taxi drivers also went out of their way for me. For example, not just dropping me at the station but searching for my bus and taking me right to it.
Adding to the ease of travel, English is widely spoken, especially among the young.
Read the fascinating story of The Sworn Virgins of Albania
8 Places to Visit in Albania
If you're ready to travel, Albania is ready to welcome you. The following list covers some of the best activities and places to see in Albania so you'll be sure not to miss a thing.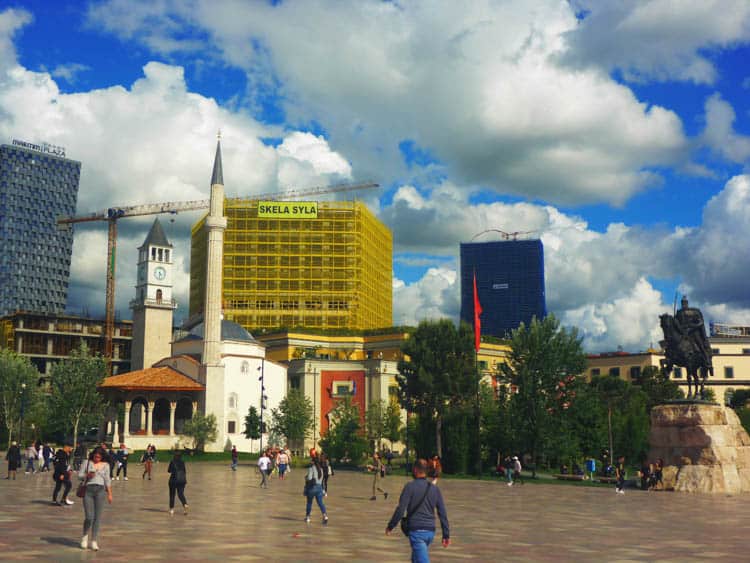 Tirana
The leafy capital city of Tirana is one of the top places to visit in Albania. It exudes the relaxed lifestyle and enthusiastic, forward-looking spirit of the emerging country. Tirana has a city center of tree-lined avenues, parks, squares and sidewalk restaurants.
There's also ever-ongoing construction, juxtaposing historic monuments with modern skyscrapers, encircling massive Skanderbeg Square. A square named for Albania's national hero.
However, it's the countless outdoor cafes that truly define Tirana and all of Albania really. There must be more here per capita than in any other nation.
It's the thing to do here: sit in an open-air café with friends, sipping espresso, the national drink. Wiling away the hours gabbing, people watching and savoring the slower pace of life.
Berati
It's easy to see why Berati is known as 'The City of 1000 Windows.' The iconic photo often used to illustrate and promote Albania is of this best-preserved Ottoman city in the Balkans. It highlights the 18th-century tile-roof houses with rows of big windows that stack up the hillside.
Standing guard over the riverside town is a massive, and magnificent, hilltop castle that started in the 4th century BC as an Illyrian citadel. Still occupied, inside is a warren of lanes between stone houses, mosques, churches, cisterns and fortifications in varying states of ruin.
With the sundown begins the daily evening promenade where seemingly half the inhabitants stroll along the river gabbing, laughing, eating ice cream and hanging out in outdoor cafes.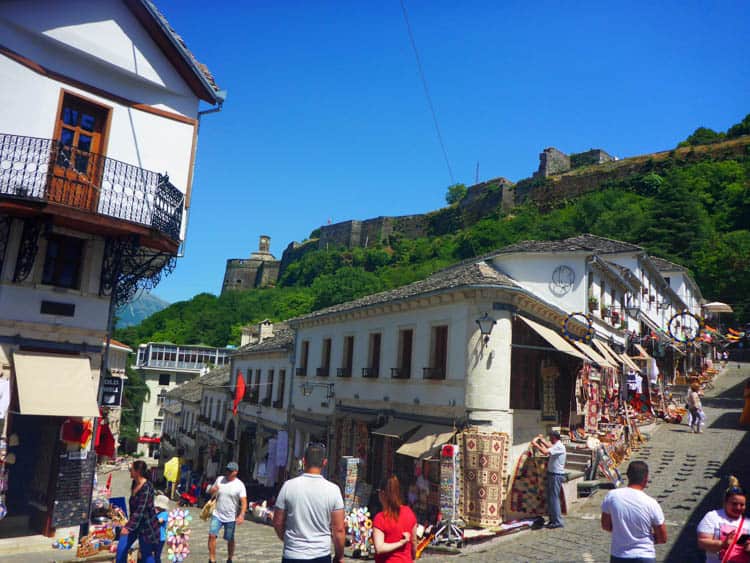 Gjirokastra
Narrow cobbled lanes negotiate steep slopes up to this hilltop town where Turkish pashas once ruled. They left behind a grand architectural legacy, giving today's Gjirokastra the moniker of Albania's prettiest city.
In the small center, the 19th-century houses have been converted into restaurants, cafes and shops. Venture beyond to discover the hauntingly beautiful real Gjirokastra.
Architecturally completely different than the Ottoman houses of Berati, they have defensively designed lower floors with small windows and narrow entrances, several stories of airy living quarters and slate roofs.  
Perched above the city, Gjirokastra castle was once a formidable bastion, with origins dating to the Iron Age. Today, outer walls and an 18th-century clock tower stand but little else remains. The panoramas, however, of valleys, rivers, mountains and patchwork fields, are stupendous.
Ionian Beach Resorts
The exponential development of Saranda, quickly turning the small seaside city into a major resort, has been stunning. And the neighboring village of Ksamili is now playing catch up. The two are prime examples of how fast once-isolated Albania is coming into its own.
In summer, Saranda is a sea of beach-goers and a hub for activities. Everything centers around a long, bustling seafront boardwalk of outdoor cafes, restaurants, boutiques and hotels. It's definitely a popular place to visit in Albania in the summer.
Ksamili is more purely focused on sand and sea. It's known for its beach clubs, beautiful water ‒ aquamarine in the shallows near shore and deep blue further out ‒ and a string of small islands to swim out to.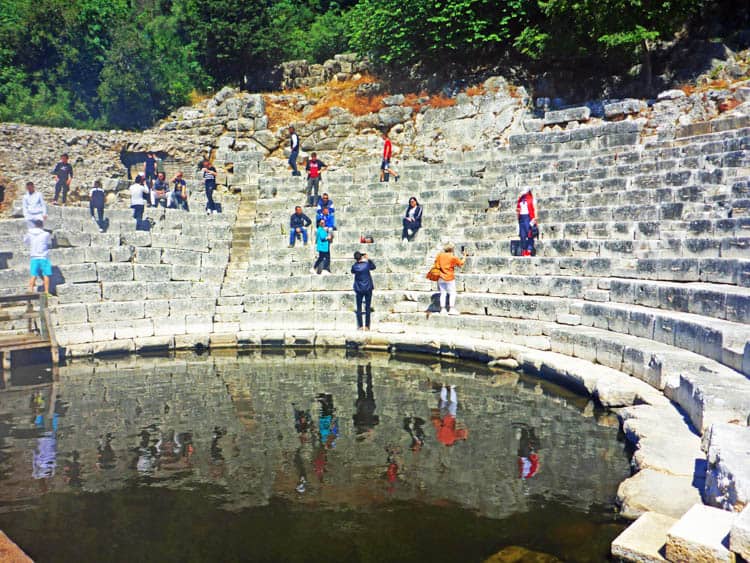 Butrint
This UNESCO World Heritage Site is one of the historic places to visit in Albania. It is a journey through the history of the region, beginning back in the 8th century BC. The ancient ruins are truly pleasant to visit.
Located on a forested peninsula jutting into a lake by the Straits of Corfu, you walk under a cool canopy between the sites. Every few minutes, as you emerge into a clearing, a new surprise awaits.
Highlights include a nearly 3,000-year-old acropolis, a Hellenistic theater, Roman villas and baths, an early Christian basilica and a baptistery. There's also a medieval gateway with a carved lintel depicting a lion biting a bull's neck, a Venetian castle and tower and more.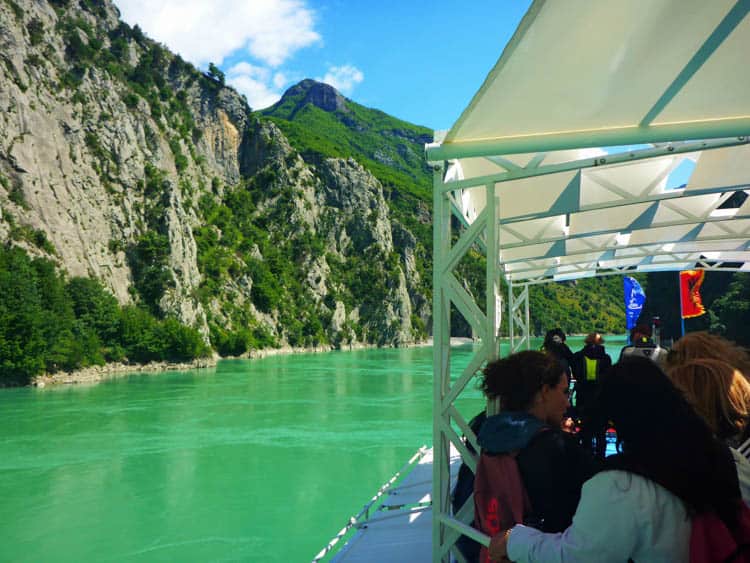 Lake Komani
The lake is only 60 years old, yet the natural beauty is one for the ages. Lake Komani is manmade, created in 1961 as part of a large, successful project to generate sustainable hydroelectric energy.
Beyond electricity, it brought an unexpected bonus: stunning landscapes that leave you breathless. Several passenger and car ferries ply Komani.
They sail the shimmering sea-green waters through submerged canyons and gorges, navigating narrow channels between high, gargantuan walls of rock that loom over the passing boats. Designed by engineers, it became a force of nature and one of the most ravishing ferry journeys anywhere.
Valbona
To see the most majestic crags and peaks, illuminated by radiant natural light, head to this hamlet in the picture-postcard Albanian Alps. Albania is more than 70% mountainous terrain among the world's most mountainous countries with some of the most dramatic and breathtaking panoramas experienced in Valbona.
Hiking trails range from forest paths to rocky escarpments. The most challenging hike is the 7-8 hour crossing over the 6,000-foot-high Valbona Pass to the village of Thethi. It has become a bucket list item for hiking aficionados around the world and is one of the best places to visit in Albania for outdoor activities.
The guesthouses that dot the valley do it all for visitors, from lodging and food to guides and transportation.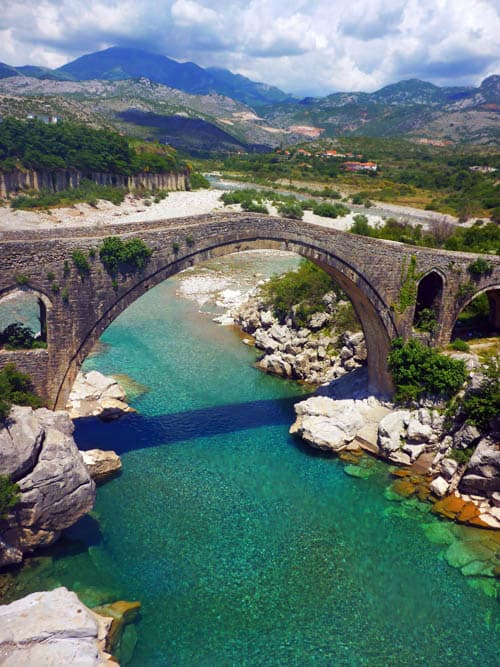 Shkodra
With its center of grand promenades, parks of verdant green and tree-lined pedestrian streets, Shkodra is a genteel city for walking and bicycling. But its greatest tourism asset is massive Rozafa Castle, one of the biggest castles in Europe with unequaled vistas that make you feel you're on top of the world.
There are more than 2,000 years of history inside the walls, though most of what remains is from Venetian and Ottoman times. On a clear day, the extraordinary views in all directions are overwhelming.
The confluence of three rivers snaking through a multi-colored quilt of fields, the expanse of the Adriatic Sea, Lake Shkodra and Montenegro beyond, and distant mountains compete for attention.
Shkodra's most serendipitous attraction, however, is 'the bridge in the middle,' the Ura e Mesit. To walk over the old stone footbridge is to step back to a time when the communities on either side of the Kiri River met and traded there.
It's also a great swimming spot: yes, the clear, glistening blue-green water that flows down from the Albanian Alps is very cold but so refreshing in summer.
Book This Trip
Ready to see the most magical places in Albania? Start planning your trip by finding hotel and VRBO reservations, restaurant reviews, best local shops and more on TripAdvisor and Travelocity.
When you're ready to plan your travels, check out Kiwi for the best flights deals and Omio for the best ground transportation options through Albania. Be sure to protect your trip from any unexpected changes or lost items with insurance from TravelGuard.
Author Bio: Ed Placidi is a freelance travel writer/photographer who discovered his passion for exploring the world as a teenager and has gone on to travel ‒ mainly on solo, independent adventures including a number of extended voyages across continents ‒ in 104 countries (so far).