It doesn't take long for visitors to the state of Oregon to admire its varied landscapes, intriguing chapters of history and well-deserved reputation as a cornucopia of tasty fruits, vegetables and outstanding wine. No wonder the state has ranked high on many "best of" lists.
At the same time, Oregon is as much a lifestyle as a destination. Laid-back and laissez-faire were among the first words that crossed my mind shortly after I arrived there. Those impressions were underscored by locals whom I encountered.
"We're very accepting of various lifestyles," a thirty-something woman told me. "A lot of eccentric characters live here," according to an over-50-year-old man whose gray hair was twisted into a long pony tail.
The diversity that characterizes Oregon's populace translates to its landscapes. They range from rugged Pacific Ocean coastline to dense evergreen forests, from glaciers to barren desert, from grassy prairies to volcanoes.
That variety provides a wide choice of things to see and do. For some, it means visiting wineries that invite guests to learn about their craft, sample their products and understand why they're advancing in the world of fine wines.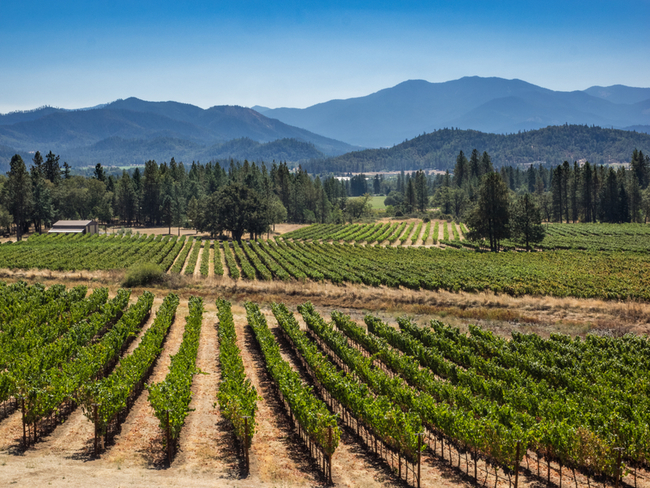 Early History
Others delve into the state's interesting history. Meriwhether Lewis and William Clark led an expedition to explore and map the western portion of the United States, which took them into what then was known as the Oregon Territory.   Their trip (1604-1806) was followed by first a trickle of pioneers and later a wave of farmers, hunters and settlers.
As word spread about the area's inviting characteristics, a growing number of people took what became known as the Oregon Trail, willing to accept the very daunting challenges it presented. The route ran more than 2,000 miles from its start in Missouri, and was the most heavily used trail in the westward expansion of the United States.
Visitors today may follow sections of that trail, and others, which provide an immersion in various aspects of the local lore.  For example, the 35-mile-long Hood River County Fruit Loop leads to 28 farm stands, berry farms and wineries.
The past comes alive along the Mt. Hood Territory Heritage Trail. It includes stops at the Museum of the Oregon Territory and the End of the Oregon Trail Interpretive Center.
A different experience awaits those who take the Mount Hood and Columbia River Gorge tour, which combines dramatic views of the canyon including its plummeting waterfalls and stunning mountainous terrain.
For those who prefer walking tours, a self-guided stroll through the town of Canby traces its history from serving as a stop along a section of the Oregon Trail to a logging community, and introduces the fascinating cast of characters who played important roles in its past.
Magnificent Mt. Hood
In an area of mountainous terrain, the snow-capped peak of majestic Mt. Hood, which soars to over 11,200 feet, reigns supreme.  The dormant volcano offers the longest ski season in North America, including runs on 12 glaciers and snow fields.
In summer the dense wilderness, fields of wildflowers, Alpine lakes and rushing rivers in the million-plus acre Mt. Hood National Forest attract hikers, campers, fishermen and sightseers, along with experienced mountain climbers. Humans share the woodlands with black bears, elk, mule deer and an occasional cougar.
Not to be outdone by the beauty provided by Mother Nature, a number of Oregon's cities and towns compete with collections of outdoor art which augment the splendor of the surroundings. Among works along art trails in Tualatin are a 20-foot tall metal statue which represents the town's history and the Tualatin River, and another that depicts a flock of bronze geese.
The Gallery Without Wall in Lake Oswego includes both permanent and loan pieces, some of which are for sale. Other communities, including Hillsboro and Forest Grove, host monthly art walks during which shops extend their open hours and local artists showcase their work.
Portland Attractions
Art also enhances outdoor spaces throughout Portland, Oregon's largest city.     A collection of statues ranges from Abraham Lincoln and Theodore Roosevelt to the Greek god Orpheus. An inviting open-air sculpture mall is decorated with statuary and a created waterfall.
Visiting Portland's neighborhoods is a perfect way to experience and enjoy what the city has to offer. The Alberta Arts District is home to a number of quirky galleries, and hosts a monthly street festival that pays homage to art.
Houses in the historic Old Town district, where the city was born in 1843, display a never-never land of ornate cast-iron scrollwork and filigree along with human and animal figures.
West End hosts a growing number of fashion boutiques and design shops. The Pearl District has evolved from a setting for warehouses, light industry and railroad yards to a collection of art galleries, specialty stores and upscale residences.
Strolling the streets also helps visitors understand the attitude and atmosphere that are unique to the city and its residents, and how it continues to cling to much of its small-town charm. One aspect of its attitude is the motto "Keep Portland Weird."  Simple, unpretentious and real could be substituted for the last word to describe Portland and its people.
Nature Calls
Another well-deserved boasting claim is the city's inviting collection of parks and gardens. The 160-plus parks range in size from minuscule to massive.
Hikers find wilderness within the city limits in Forest Park, which is crisscrossed by 30 miles of trails. Waterfront Park includes a riverside promenade that leads past boat docks, shops and restaurants. Council Crest Park sits on a 1,073-foot high hill which offers dramatic views over the city and to distant mountains.  Mount Tabor Park occupies the only extinct volcano within city limits in the continental United States.
Against the backdrop of multi-hued shades of green provided by Portland's parks, numerous gardens add dramatic splashes of color.   The sprawling International Rose Test Garden, which contains 400 varieties of roses, has spawned an annual festival and is a major reason why Portland is known as the City of Roses.
The nearby Japanese Garden is a tranquil sanctuary which includes a traditional sand and stone setting and a ceremonial tea house. The Lan Su Chinese Garden in the Old Town neighborhood is an oasis of winding paths, reflecting ponds and the de rigeur teahouse.
Graceful tea houses and lovely gardens, towering mountains and forested fields are among many attractions that beckon people to visit Oregon, and Portland.   Nearly two centuries ago hardy pioneers braved extreme hardships to seek a better life in what today is the state. The trip now is much less strenuous but the rewards can be just as satisfying.
For information about visiting Oregon call (800) 547-7842 or traveloregon.com.
Authors: Fyllis Hockman and Victor Block are a husband-wife team of experienced travel journalists who have gallivanted throughout the United States, and to nearly 80 countries around the world, and written about what they have seen, done and learned. Their articles have appeared in newspapers across the country and on websites across the Internet, and they each have won numerous writing awards. They love to explore new destinations and cultures and uncover off-the-beaten-path attractions. Read more of their work at The Rambling Writers