Ski-in/Ski-out doesn't get much better than One Ski Hill Place at the base of Peak 8 in Breckenridge. And when you get a hankering to go into the historic town, the free BreckConnect gondola is right there to whisk you down for a short walk to the enchanting  Main Street. It's the best of both worlds; you never need a car. One Ski Hill Place is a property of RockResorts, so you know it's going to be luxurious in every way.
A massive fireplace, probably the biggest I've ever seen, anchors the two-level lobby. A grand staircase leads from the Garden Level where you check in to the lower level Living Room.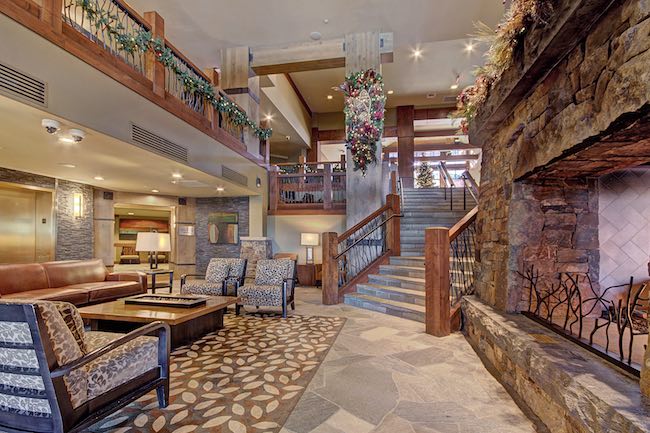 Rooms at One Ski Hill Place
Condos range from studio to five-bedroom units. We stayed in a nice two-bedroom decked out in typical lodge-style contemporary decor. Lots of wood, comfortable but nothing special. The sofa pulls out to a bed. A private patio looks out onto the slopes.
The bathroom is special. Good lighting, two large sinks, separate room for the loo, a very nice shower and a tub.
The king bedroom had ample storage space and a TV on the dresser. A glance out the window in this summer shot shows the proximity to the slopes of Peak 8.
Check out this kitchen. Full-equipped and all new appliances, if you are inclined to cook on your ski vacation. Who does that? In Breck, where there are so many great places to eat, I prefer going out. . .a quick trip on the gondola gets me there. But if you have to cook, having this dream kitchen to do it in is terrific. There's a dining room table just to the right of the breakfast counter.
This (as well as all the other units) also has a washer and dryer, iron/ironing board, Wifi, phone for guest services, humidifier (the air at 10,000 feet is very dry), and a safe.
Speaking of air, the altitude of the town of Breckenridge is 9600 feet above sea level; the summit of Peak 8 tops out two feet shy of 13,000. That makes it the highest ski resort in North America. So if you have respiratory issues, you can take advantage of the Oxygen Bar in the living room. Purchase a nasal tube for $20 and use as often as you need.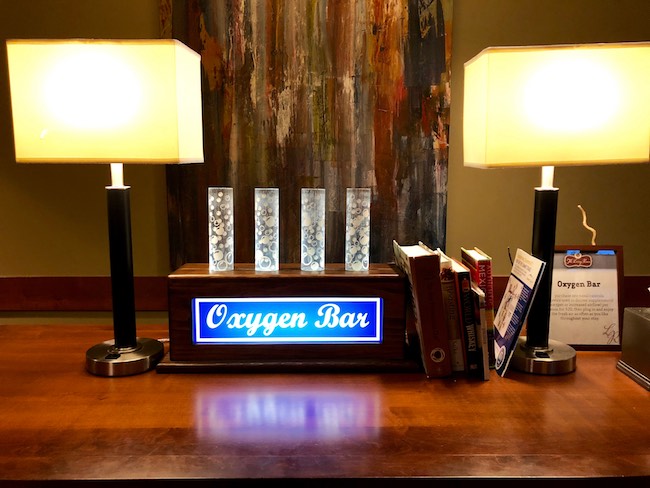 Dining at One Ski Hill Place
We had a nice breakfast in The Living Room Lounge. The menu included Colorado classics like omelets, burritos, pancakes and yogurt parfaits. I had a scrumptious Brioche French Toast laced with Gran Marnier. My companion had an exotic Waffle Benedict. The lounge also serves lunch and dinner with Après Ski served from 2:30 p.m. until 8. The bar closes at 10.
Slopeside, the T-Bar is a huge lodge-style eatery with a sun-splashed patio. It's the place for Après Ski on Peak 8. It sits next to Ski Hill Grill.
Amenities at One Ski Hill Place
Like all RockResorts, ski valets retrieve your skis from your designated ski locker and place them on the snow ready for you to click in every day. There's also a concierge who can help make dinner reservations, book activities, etc.
The kids will love the pools at the aquatics Center, and you will love soaking in the hot tubs (one also outside with a fire pit). A wall of windows lets you watch skiers as they come down to the base area. They're freezing; you're toasty warm! There's no lap pool for exercise, but a fine fitness center is just through the door. In addition, there's the Rejuvenation Mini Spa with an assortment of massages, facials, wraps and scrubs for complete relaxation. After a day of skiing or riding, nothing—absolutely nothing—beats a Hot Stone Massage! A steam and a sauna come close – they have that too.
Wait! There's way more to do at One Ski Hill Place. How about a game of billiards?
Or bowling in the Mine Shaft Bowling Alley?
Or watching movies in your reserved private theatre?
All this and more is included in a $35 per day resort fee.
What To Do Near One Ski Hill Place
Breckenridge—the historic town and the mountain—is the most visited resort in the country and with good reason. The mountain spreads across five peaks and offers terrain for every ability, from ballroom slopes to steep chutes.
The town, founded in 1859 as a gold mining camp, has retained its heritage in the Victorian buildings that exude charm around every corner.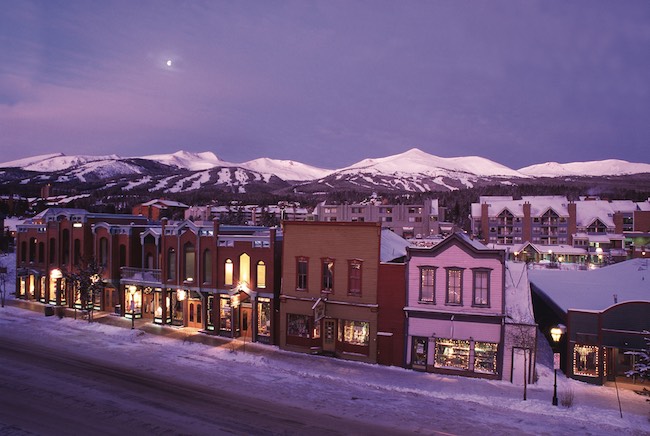 Breckenridge is a year-round resort, with activities to match the seasons. In winter besides downhill there's Nordic skiing, ice skating, snowshoeing, dog-sledding, snowmobiling and horse-drawn sleigh rides. Annual winter signature events are Dew Tour (ski/snowboard competition festival), Ullr Fest (a crazy winter festival) and the International Snow Sculpting Championships. Spring features zany slope competitions until the mountain closes usually in late April. In late May, the free WAVE: Light + Water + Sound is a 4-day contemporary public art festival in town like no other.
The town really comes alive with a morning-to-night 4th of July celebration to kick off summer season that includes golf at Breckenridge's 27-hole Golf Club; mountain biking; hiking; whitewater rafting; sailing and kayaking on Lake Dillon; horseback riding; 4-wheel drive tours; fly fishing; and Epic Discovery, the mountain playground that includes an alpine slide, alpine coaster, ziplines, climbing wall, ropes course and much more to challenge your outdoor skills. Fall brings Oktoberfest, Craft Spirits Festival, Wine Classic and Breckenridge Film Festival.
In addition, Breckenridge has a lively year-round arts district BreckCreate with artists workshops, concerts, exhibitions and installations culminating in the 10-day Breckenridge International Festival of the Arts in late summer.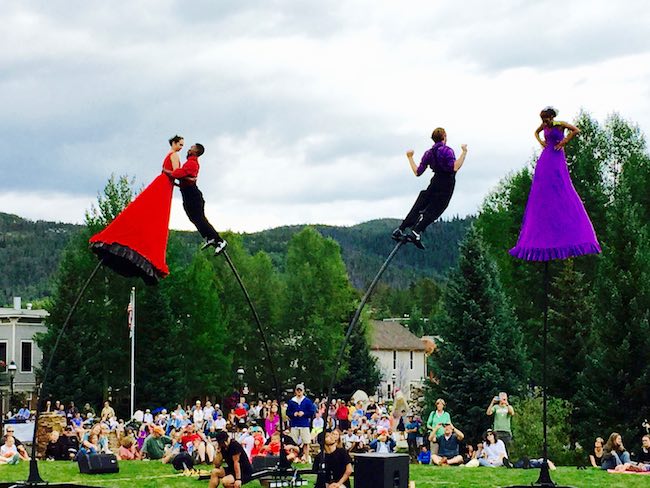 For more about Breckenridge, visit gobreck.com
One Ski Hill Place, 1521 Ski Hill Rd, Breckenridge, CO; (970) 496 4334, oneskihill.rockresorts.com
Claudia Carbone is an award-winning travel writer based in Denver. Read about other hotels she's visited in Sleepin' Around.