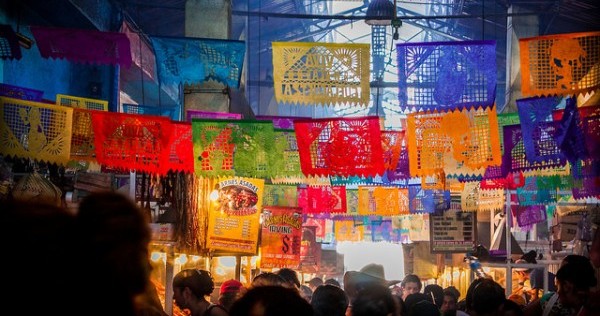 Visiting the Mexico Market
Early on Saturday mornings, well before the rest of Mexico City even thinks about stirring, artists are already unpacking their wares at the Tianguis Artesanal Tenanitla Market, the oldest traditional art market in Mexico City (tianguis is the Nahuatl word for a bazaar or open-air market).
In just a couple of hours, they'll transform a tiny urban park into a colorful bustling market filled with handmade crafts.
I stumbled upon the market a few years ago. I was renting a room just a 10-minute walk from the San Angel neighborhood, which has been designated a Barrio Magico, a "magical neighborhood" by Mexico City's Secretary of Tourism.
It's easy to see why: San Angel is a beautiful colonial-era neighborhood filled with colorful buildings, old churches and narrow cobblestone streets.
One Saturday morning, after I'd bought my usual coffee and concha (shell-shaped pastry) from a local bakery, I found the small park where I usually sat to enjoy my breakfast filled with artists.
The market is held in a triangular park which Lucio Ramirez Villanueva, the former president of the art market, calls a knife garden.
Villanueva, who sells antiques at the market and has a wealth of information about local history, said the market began informally in 1960 when Jim Tillet, an American, opened a small store from which he sold traditional crafts.
The store became popular with tourists and more artists, some of whom traveled from other states to sell their goods, began setting up stalls nearby. This market was formally organized into the Tianguis Artesanal Tenanitla in 1964.
"Our intention is to continue and preserve traditional arts," said Villanueva. "We have art that represents all of Mexico."
Some artists travel from as far away as Chiapas and Oaxaca (10-12 hour bus rides) while others come from states that are much closer.
Every Saturday, Teresa Martinez and her son Armando travel two hours by bus from Santiago Tianguistenco, a small city in the state of Mexico. "We have been coming here since the market began," she said.
Her husband was the first in the family to sell at the market, a tradition now carried on by her and her six sons. Teresa and her sons sell a wide-range of wool products. "Most of our family work making sweaters, socks and hats that we sell in the market," she said.
All of their goods are knitted by hand using techniques and designs that have been in the family for generations.
The President of the Market
The market's current president, Augustín Girón Mendez, is a textile maker originally from Tenejapa, an indigenous village in Chiapas. "I learned from my parents how to make these items," he said.
He and his wife Lucia are Tzotzil Mayans and, in addition to Spanish, speak Tzeltal. They pointed out the indigenous designs that grace their goods. "The designs have changed, evolved a little, but it is important to keep the concept," said Mendez.
"It is important for us to keep our native language and customs because through our language, through our art we keep our history, our sense of place. Through our products, we can teach people about Mayan Culture."
The stand run by Hectór Barra, an instrument maker, always attracts the largest number of shoppers. A natural-born showman, Barra uses his instruments to make sounds that are sweet enough—or interesting enough—to attract a crowd.
"I make my own version of primitive or traditional instruments," he said. "I believe there is nothing new under the sun. Take the tambor (a drum): it is found in many different cultures, many different variations. A tambor in China may have originally come from Africa
Visit to A Small Studio
Barra invited me back to his studio to see how he and his assistants turn a variety of natural materials into instruments. The flower of the maguay tree is used to make a trumpet, gourds are turned into drums and seeds into an instrument called the guere-guere.
His latest invention is called a radio intergalactica, which makes really weird sounds and also carries voices, the way that two tin cans linked by a piece of string can.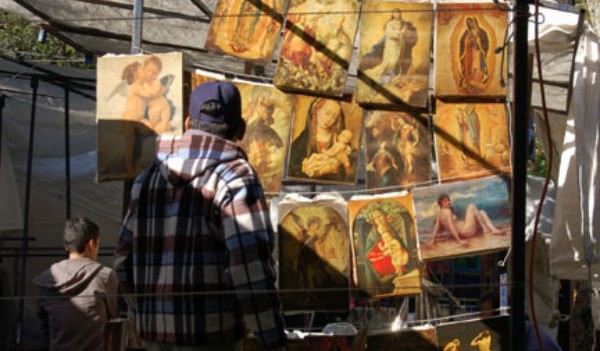 Barra's father was Oswaldo Barra Cunningham, a famous Mexican muralist who worked with Diego Rivera and behind a small stand of bamboo at his family's house is a hidden treasure: a ceramic mural fragment the two artists were working on just before Rivera's death.
When I asked him why he didn't become a muralist, he laughed and said, "Too much competition."
When it's time for a snack or a meal, there are plenty of choices both at the market and at nearby restaurants.
For the slightly more adventurous, the Melchor Muzquia produce market, which is ringed with food stalls, is only a block away.
The Churches
There are two churches in the area: San Jacinto is up the street from the market and dates from the mid-1500s. The Convent of San Carmen, built in the early 1600s, is located on Revolución, a five minute walk from the market.
It houses a small museum and in its basement, something a bit more intriguing: a dozen mummies, which formed naturally after burial due to the arid conditions of the soil.
There's also an interesting bit of history involving the U.S. Just around the corner from the market is a plaque dedicated to the San Patricio Battalion.
The battalion was formed by soldiers—the majority of whom were Irish—who had deserted from the U.S. Army during the Mexican-American War (1846-1848) and joined the Mexican Army.
They fought in several battles against the U.S. and, eventually, 70 of them were captured. One court-martial for 29 of the prisoners was held in San Angel.
Sixteen of the men were hanged in San Angel while the rest received 50 lashes and were branded with the letter "D", for deserter, on a cheek.
John Riley, the San Patricio's leader, was branded on both cheeks. A bust of him stands across the street from the plaque. While the San Patricios are viewed as deserters by the Americans, they're heroes to the Mexicans and are remembered with a yearly festival.
Villanueva, the market's former president, knows all about the battalion and is easily persuaded to take you on a tour of the places where the men were housed, whipped and hanged.
San Angel, with its tree-lined streets and quiet neighborhoods, provides people with a welcome break from the noise and frenetic pace of Mexico City.
And on Saturdays, there's the added benefit of taking in one of the city's treasures: the Tianguis Market.
If You Go:
San Angel: https://www.visitmexico.com/en/san-angel-neighborhood-mexico-city
Tianguis Artesanal Tenanitla: https://www.yelp.com/biz/tianguis-artesanal-tenanitla-m%C3%A9xico
Author Bio: Joseph Sorrentino is a freelance journalist and photographer who spends as much time as he can in Mexico. More samples of his photographs may be found at: www.sorrentinophotography.com
[mappress mapid="962″]