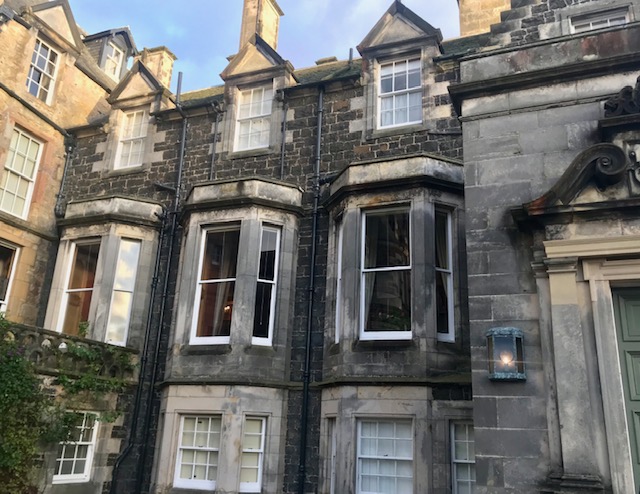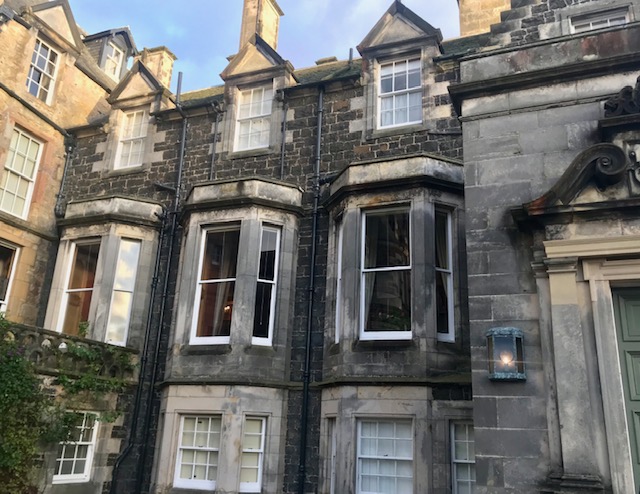 I began searching for peerage and protocol information the moment I'd received a special invitation and quickly accepted it. I needed direction in diplomacy since I would be visiting Lord and Lady Balniel at their Balcarres Estate House near St. Andrews, Scotland. Much like learning, out of common courtesy, at least some phrases in the language of any country to which I travel, I was determined to be sure I didn't exhibit any faux pas in protocol during the visit.
"You have nothing to worry about. I am told the Lord and Lady are low key people," I was assured by Jerry Rose, the erstwhile media relations professional who'd arranged for the invitation. As a travel writer who'd collaborated with him on stories for a number of years I'd learned to trust Rose's advice in all matters. But he is from the Arizona desert – not the British Isles – so I figured I'd better know my bows from my curtsies.
Who are Lord and Lady Balniel?
A web search indicated Lord Balniel is Anthony Robert Lindsay, a 61-year-old successful London-based investment manager. He is heir apparent to his father, the Earl of Crawford, a title which, having been created in 1398, is identified one of the "most ancient extant titles" in Great Britain.
I managed to find a paparazzi photo of the Lord and Lady seen making an appearance at a posh party thrown by Tatler magazine. Of course, Lord Balniel appeared very dashing and Lady Balniel was the picture of vibrant elegance, which only further intimidated me. Nevertheless, I Windsor-knotted my best necktie and presented myself in the lobby of the Fairmont St. Andrews Hotel to be driven to a social hour with his right honorable Lord and Lady.
The Balcarres House is on the southern slope of the Kingdom of Fife in Eastern Scotland – three miles from the Firth of Fourth. The mansion, which is the family seat of the Earl of Crawford, was built in 1595 and is situated with a view over the water and onward to Lothian and Edinburgh's towers. Its surrounds are on the national listing of significant gardens.
Arriving at Balcarres Estate
My first look at the grounds, but not the gardens, came when I was being driven through an opening in the walls, up the private road and onto the Balcarres estate. This, apparently, is a rare occurrence since the driver, unfamiliar with the estate, took a wrong turn and put us at what the British would refer to as the tradesman's entrance of the manor instead of the at the grand front doors.
"I don't think Lady Balniel will be very pleased that we're seeing the baronial laundry out flapping on the clothesline," I told the driver. "We may lose our heads."
We said nothing of the linens or our stumbling start when we finally found the tall, slender front door under the towering gables and were greeted warmly by the lord – I even shook his hand. He was comfortably, casually dressed in a vest over a shirt with his sleeves rolled up while wearing round spectacles. Lady Balniel had a traditional print dress with a light jumper over it.
Through the hour I found Lord Balniel was happy to chat about anything. At some point he told us of his participation in the London Olympic Games and about his visits to America and some history.
"My family came from Belgium in 1100 fighting William the Conqueror. They were great collectors of Renaissance Italian art. . . perhaps the finest collection in England," he explained as the requisite little warm house dog wandered around the room.
Talking and Taking a Tour
Lady Balniel was happy to show me and some the other attendees, including Jerry Rose, some highlights of the classically decorated home with those rare artworks, first-edition books, ornate carpets and just the right amount of squeak to give the antique floors character. The ceilings were high and the walls red. The furniture was colorful and cozy and the view of the topiary trees, hedges, gardens and lawn were stately.
It was not the lawn but rather a different patch of grass Lord Balniel wanted to talk about. It was the portion of acreage on his estate he'd recently agreed to convert to a links golf course.
The motto on the coat of arms for the Earl of Crawford is "Endure fort." It translates to "suffer bravely" – a phrase to which any golfer can relate. While Lord Balniel does not play golf, he suddenly finds himself in the golf business.
"To be honest he became obsessed with it," revealed Lady Balniel over a bite of haggis, neeps and tatties.
Birth of a Golf Course near the Birthplace of the Game
It was Clive Clark, an English professional golfer-turned golf course architect who approached Lord Balniel with the idea. Clark had competed in 10 British Open Championships from 1964 through 1974. In two of those years the Open was contested at the birthplace of golf – the Old Course at St. Andrews – just 20 minutes from the Balcarres Estate.
Despite the proximity of golf's hallowed ground Lord Balniel's only previous connection with the game was when the legendary retired golf star Gary Player stayed at Balcarres Estate while attending the 2015 British Open.
"A tenuous connection," Lord Balniel admitted.
Clark learned about the estate land from golf writer Malcolm Campbell who lives near the property and saw the terrain whilst walking on single-track a railway line near the beach.
"The land looked like it had been laid there by the almighty to play golf on," said Campbell, echoing Old Tom Morris, a golden age, founding father of modern golf.
Campbell and Clark approached Lord Balniel with the idea and convinced him – and then the local planning authorities – to allow them to gather investors and move forward with a plan to create an 18-hole golf course named Dumbarnie Links.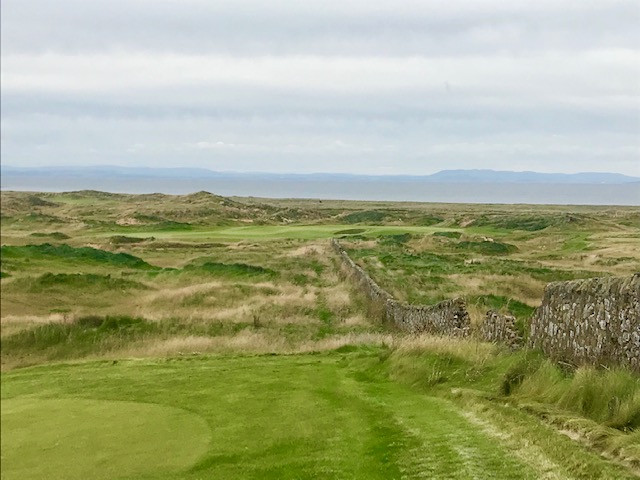 "We knew any golf course built within proximity of the St. Andrews would have to be special," said Campbell, who also referenced nearby Kingsbarns as a popular modern links course.
"We will not compete with the Old Course and Kingsbarns – we will complement them," Lord Balniel insisted. "But it's true our course is more exciting."
That comment was meant to be cheeky, but even though he is not a golfer, Lord Balniel has come to know the terrain intimately. He emerged from Balcarres House to go down and quietly visit the construction of the course almost daily.
"It looked like Armageddon down there for a while," said Lord Balniel, who was sometimes unrecognized by the laborers and the landowner.
The reason the lovely land looked that way is because Clark, in construction, moved a half-million yards of dirt to design and build a links course with dunes and 80-feet of elevation change on what was a pasture.
Beastly Beauty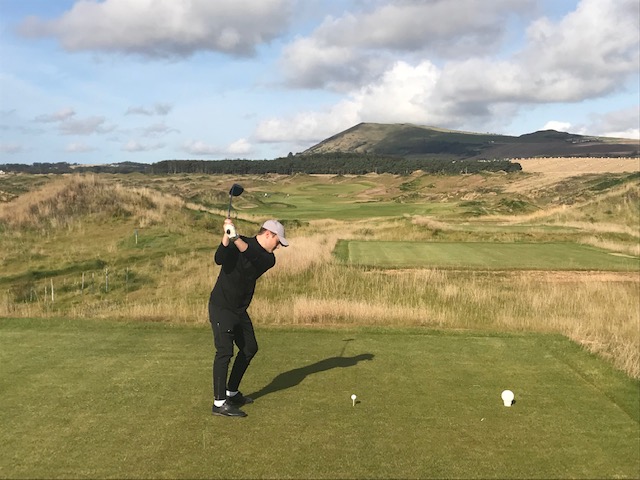 "I am a nerdy perfectionist, but when it was finished I was blown away by the beauty. There are nesting birds, orchids and wildlife," said Lord Balniel. "It's still a very natural setting. And when the wind is blowing I don't see how anyone will be able to play it."
While the unspoiled nature of any true links course may appear fearsome to a non-golfer such as Lord Balniel, Clark, who finished third in one of those British Opens and made a hole-in-one at the Masters Tournament, was able to calm his perception.
"Dumbarnie is an authentic links with a modern twist: there are some holes with dual fairways: one is very narrow and one is very wide. But if you hit your drive onto the wider fairway, you play the hole the longer way," said Clark in explaining the time-honored concept of "risk/reward" laid into most every golf course. Other elements at Dumbarnie are at play as well either directly or aesthetically. "Some of the par-three holes play right toward the ocean and some have tees so close to the sea you could toss a rock into the surf.
Ultimately Balniel's decision to allow Dumbarnie Links to be built on the estate land will benefit the local community, too, according to Clark.
"It's an international destination but we want to encourage the Scottish and local people to enjoy it as well. We have no memberships. All are welcome. There will be a lot of employment with wait staff, caddies, maintenance workers and increased opportunities for the local restaurants, taxi drivers, butchers and bakers," he said.
As Lord Balniel saw us to the door at the conclusion of our visit with him at Balcarres House I joked with about checking our pockets.
"We're having the silverware pieces counted as we speak," he joked.
Michael Patrick Shiels is a radio host and travel blogger. Follow his adventures at GoWorldTravel.com/TravelTattler. Contact Travel Writer Michael Patrick Shiels at [email protected]
Latest posts by Michael Patrick Shiels
(see all)