Editor's Note: We're all dreaming of travel ahead. Here's some inspiration for future adventures. We share places, products and activities we recommend. If you make a purchase using a link on our site, we may earn a commission.
If you like small towns, islands and rural landscape, then a trip to the beautiful Scottish isles of Mull and Iona might be just want you're looking for.
Your journey to the islands, which are just off the west coast of Scotland, starts in the small town of Oban (just a 2-hour drive from Glasgow). From there, you can take a short 45-minute hop on one of the regular ferries to Craignure on the isle of Mull.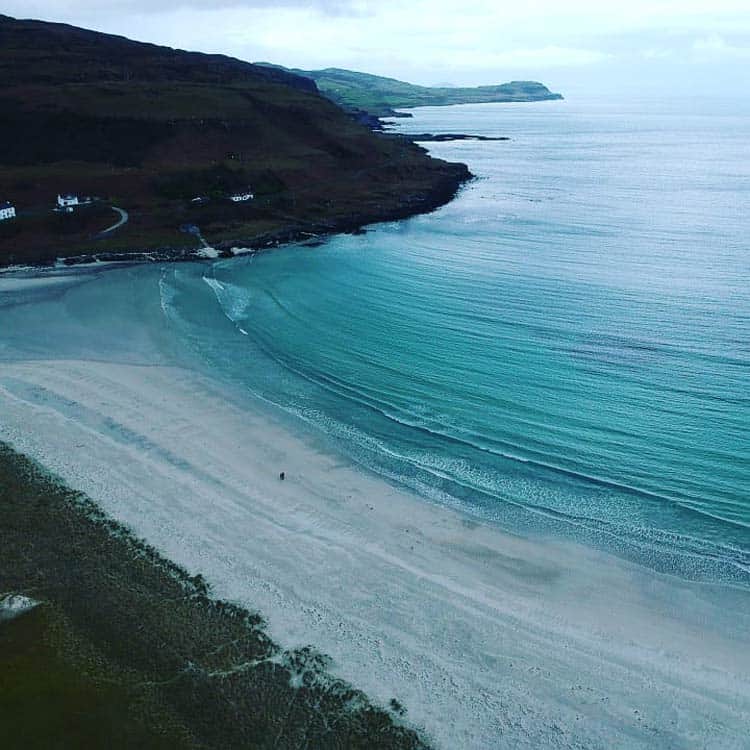 Scotland's numerous island ferries are always a fun experience, but make sure to pack a warm jacket so you can stand on the deck and marvel at the sparkling waters as you sail slowly into Craignure Bay.
Mull really has it all in one island, castles spectacular enough to be featured in Hollywood movies, white sandy beaches that stretch for miles, stunning azure seas, hills and mountains with fantastic summit views, colorful little harbor towns and then it's a short sail to the tiny Isle of Iona, the last resting place of kings and clan chiefs.
Sounds like a lot? Indeed, it is! If you are on a two to three-week visit to Scotland, you probably won't have the time to visit every nook and cranny of Mull and Iona. So, I have devised a 2-day itinerary for these amazing islands to include as part of your vacation in Scotland.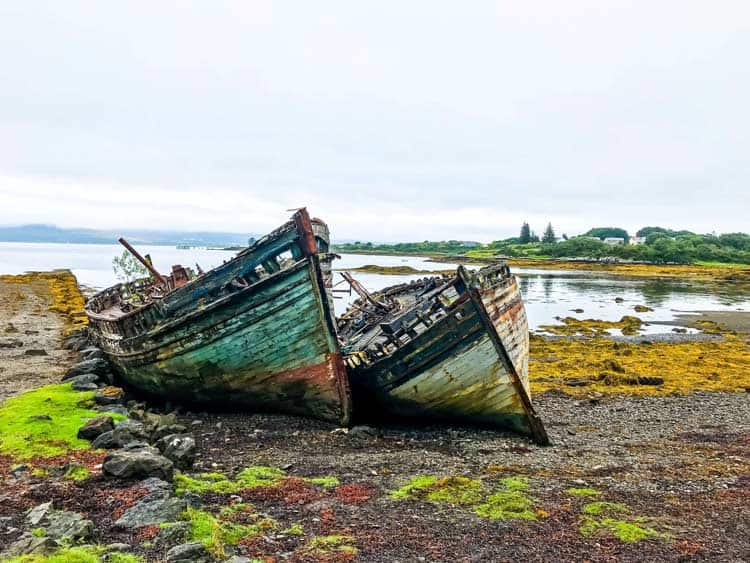 Day 1 Morning: Scotland's Northern Loop
Arriving in Mull on the early morning ferry gives you plenty of time to drive the northern loop of the island and visit many sites along the way. But make sure to book your ferries to and from the island well in advance to ensure you get the best sailing times.
Salen Shipwreck
Three shipwrecked fishing boats lie in eerie silence in the bay at Salen. They must be some of the most photographed wrecks on the planet.
Many artists have traveled to Mull just to paint these famous boats. I did wonder, of course, if they would look as interesting in real life, and if its reality would live up to all those Instagram posts?
I am glad to tell you that, yes, this is a site well worth visiting. The algae and vegetation on the boats has given them a vibrant green color and their tranquil location on this quiet beach creates a charming scene.
Eas Fors Waterfall
Water cascades down the side of the island, building up speed over the 100ft drop before crashing into the green waters below.
There is parking space for the waterfall on the main road near a couple of nice viewpoints. Eas Fors is a collection of several waterfalls. To reach the largest and most spectacular waterfall, you will have to take a short 20-minute walk back towards the Ulva ferry terminal – just head down to the beach, where you will get the best view.
As a side note – the nearby island of Ulva or 'Ullfur' was named by Viking invaders, translating to 'Wolf' island. At one time, Ulva was home to hundreds of farmers, but less than 20 live there today, and there are no wolves anymore.
It is also a car-free island, so if you'd like to visit, make sure to bring your walking shoes.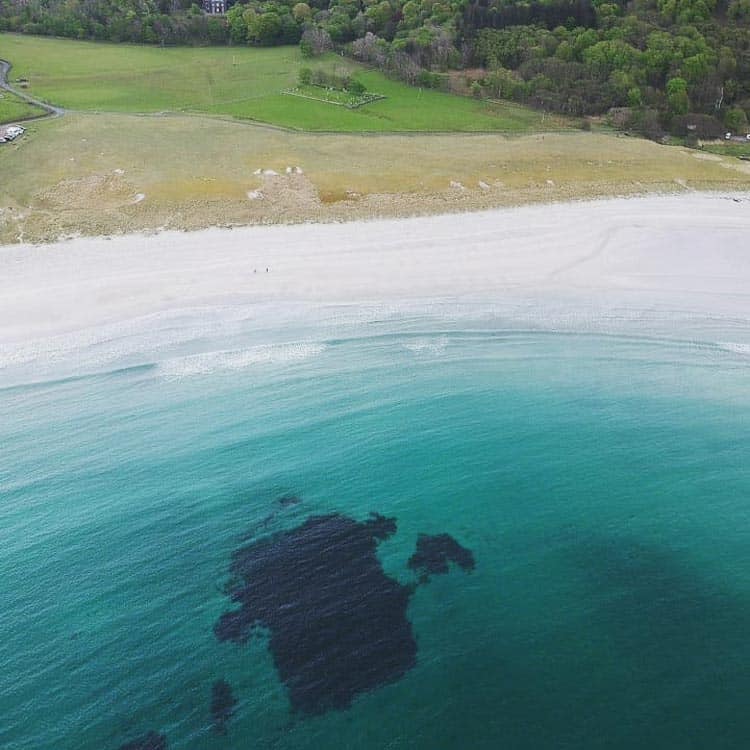 Calgary Bay
I think everyone who takes a vacation in Scotland spends some time marveling at the beautiful remote beaches. Calgary Bay definitely belongs on Scotland's top 10 list.
I was fortunate enough to visit on a sunny day and it felt like I had been transported to a Caribbean island. I loved wandering across the glistening white sands, taking in Mull's beautiful Northern coast.
If you have the time, another nearby beach well worth visiting is the remote Langamull Beach. It isn't as well-known as Calgary, so you may even have the whole beach to yourself.
Getting to Langamull Beach involves a 30-minute walk through a rough forest track but you will be rewarded with spectacular views over to the rocky isle of Rὺm.
Tobermory
If you have ever seen a photo of Mull, chances are it was of the brightly painted houses in the tiny seaside village of Tobermory.
Tobermory was the setting for a children's TV show in the early 2000s. Within a few minutes of wandering along the seafront, you will see why this charming little place was able to inspire children's stories.
There are plenty of cafes where you can have lunch and recharge, to get ready for an afternoon touring the south of the island.
If you have some extra time in this quaint village, you can take a boat tour to go in search of the local sea life – basking sharks, whales, seals, dolphins and porpoises swim in the waters around Mull. If you aren't able to fit in a boat trip, you might get lucky and see them from the shore, so keep your eyes peeled!
Day 1 Afternoon – Sites in the South
Eagle Spotting
Scotland is home to a wide variety of birdlife, and by far, one of my favorites is the sea eagles, many of whom spend their time in the skies around Mull.
Even if bird watching isn't for you, I'd recommend the guided walk along the beach at Craignure for the chance to spot some of these magnificent birds. The guides are very friendly and knowledgeable about the local area and taking the tour will increase your chances of spotting the sea eagles.
If cute mammals are more your thing – this is also a great place to see the local otters.
Duart Castle
No trip to Scotland is complete without a visit to a few castles. There are several on Mull, but if you are taking just a couple of days to tour the island, I'd recommend the A-lister of Mull's castles, Duart Castle. It was built in the 14th Century by Clan Maclean and made famous by the films Entrapment (1999), When Eight Bells Toll (1971) and I Know Where I'm Going (1945).
You will find a real mix of castles in Scotland – many are a ruined reminder of their former glory, although I always think this gives them a haunting atmosphere. Duart, however, is one of our well-preserved castles, which, despite having fallen into ruin around 100 years ago, was rebuilt into the splendid fortress it is today.
Once you see its dramatic location on the edge of the sea, you will understand why film directors have transported their casts hundreds of miles just so they can include this as the backdrop to their film.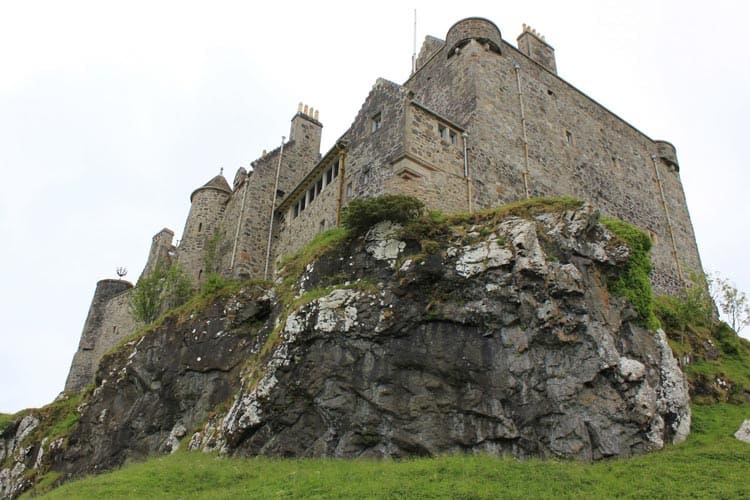 Day 2 Morning – A Spiritual Experience
Fionnphort
After a good night's rest, it is time to travel right down to the south of Mull to Fionnphort where you can catch the 10-minute passenger ferry to Iona. (Note: you can't take your car to this little island either).
While I'd always recommend booking your ferry to and from Mull in advance, there is no need to book the ferry across to Iona. Before you make the crossing, why not explore Mull's southern coastline, home to lots of tranquil bays perfect for a leisurely stroll.
Iona Abbey
Iona is at its heart, a religious island. For Christians, it is a place of pilgrimage and Iona Abbey is the center of the island's spirituality.
It is said to be the most religious site in Scotland, founded as a place of worship by St. Columba in AD 563. Despite being such a holy site, the history of The Abbey involves violent struggles between the protestant and catholic churches; it was once plagued by Viking raids.
However, it is very well looked after today; it is a beautiful building, with much of the 13th and 14th century stonework still standing. Even if you are tight for time on your trip, make sure to leave at least an hour to early take in the atmosphere and spirituality of this ancient monastery.
There is a strange peacefulness about the Abbey and it is the kind of place that calms the mind.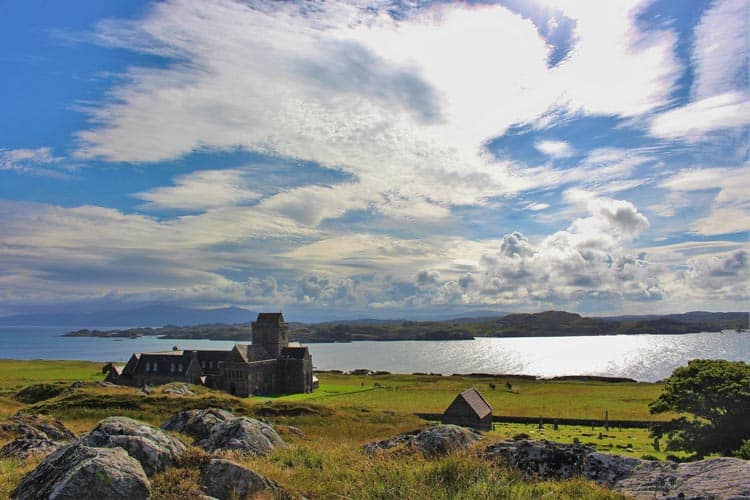 St. Columba's Bay
This is also a deeply spiritual place and to get to the bay you must walk across the Hill of Angels. Legend says that St. Columba sailed into this bay the first time he visited Iona. He walked to the top of the hill, kneeled and clasped his hands. Onlookers said that angels began to gather around him as he prayed.
As well as its spiritual significance, the views from St. Columba's Bay out across the sea are breathtaking.
Day 2 – Afternoon
And sadly, this is where I have to start the journey back to mainland Scotland, after a magical two days exploring Mull and Iona. To catch the evening sailing from Mull to Oban, you will have to make sure to leave Iona by mid-afternoon. The last sailing back to the mainland is $19.15 most days or $17.55 on Sundays (but check before you go).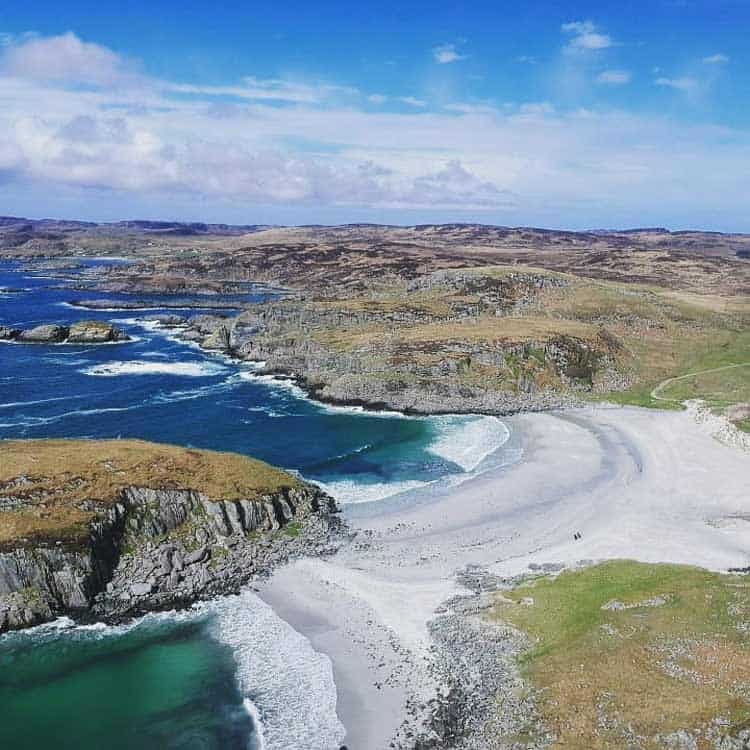 Hiking to the Top of Ben More
Why not take an extra day to hike to the top of Ben More, Mull's largest mountain? I am a keen hiker and I am trying to 'bag' all the mountains in Scotland over 3,000ft which we call Munros – I have bagged 82 of the 282 mountains.
I first visited Mull to bag Ben More. The views from the top of the mountain can be spectacular – you can see across to Ulva in one direction and back to the mainland in the other. Sadly, it was a day of rain and mist when I chose to hike Ben More!
I am sure I will be back soon to do it on a clear day. This is something you could include in your tour if, like me, you love hiking, but you will have to set aside a whole day which is why I haven't included it in my two-day itinerary.
Make sure you bring proper hiking equipment, including boots, full waterproofs, maps, compass and a first aid kit. There are also plenty of lower-level walks to be enjoyed on Mull.
Book This Trip

I'd recommend checking out the Walk Highlands website, which lists many of the routes: I hope you have found this itinerary guide to two wonderful days touring around the Isles of Mull and Iona useful. If you are planning a trip to Scotland take a look at Best Scottish Tours who have many great tours to choose from.

Find more information on our Scotland Travel Guide and the Top 10 Things to Do in Scotland.