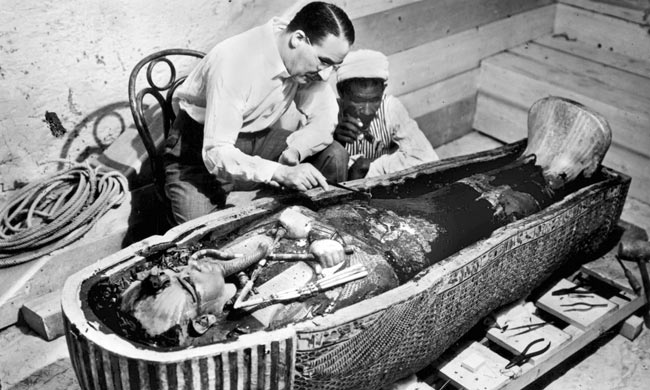 At 4 p.m. on November 26, 1922, British archeologist Howard Carter lifted an iron rod and hammered it through a stone wall, creating a small hole into an underground chamber that had been sealed for 3,300 years. Beside him was his friend and patron, George Herbert, 5th Earl of Carnarvon.
The two of them had spent 10 years together in the Valley of the Kings near Luxor, Egypt — shifting sand, moving boulders, digging excavations, studying maps and poring over documents, all in the hope of finding an ancient pharaoh's tomb.
They had a few small successes, but not enough to keep going. This was their last expedition. With Lord Carnarvon's health and money running out, it had all come down to this. If this new chamber was empty? Well….that would be the end.
His hand trembling with excitement, Carter lit a candle and pushed it through the hole. He wrote: "At first I could see nothing, the hot air escaping from the chamber causing the candle flame to flicker, but presently, as my eyes grew accustomed to the light, details of the room within emerged slowly from the mist, strange animals, statues and gold – everywhere the glint of gold."
The sight struck him speechless. Lord Carnarvon could stand the suspense no longer and blurted out, "Can you see anything?"
"Yes," Carter said. "Wonderful things."
They had just discovered the greatest archeological treasure in history – the almost intact tomb of King Tutankhamun.
Over the next four years, Carter would painstakingly remove from the tomb some 4,000 items of incredible beauty. Alabaster vases, baskets, sculptures, solid gold headdresses and daggers, games, weapons, model ships, jewelry, chariots, a 243-pound solid gold sarcophagus (coffin) and the most priceless of all Egyptian artifacts – the solid gold death mask of Tutankhamun himself.
With all this excitement, what did our two British explorers do after discovering the most priceless treasure in history? Well, being proper Englishmen, Carter and Lord Carnarvon went to have a cup of tea at the nearby luxurious Winter Palace Hotel in Luxor.
And you can too.
Today, it's possible to walk down the same 16 steps leading to King Tut's tomb in the Valley of the Kings just as Carter and Lord Carnarvon did on that fateful day, and then follow in their footsteps and have high tea on the banks of the Nile River in one of the most historic and famous hotels in Egypt.
Continued on next page