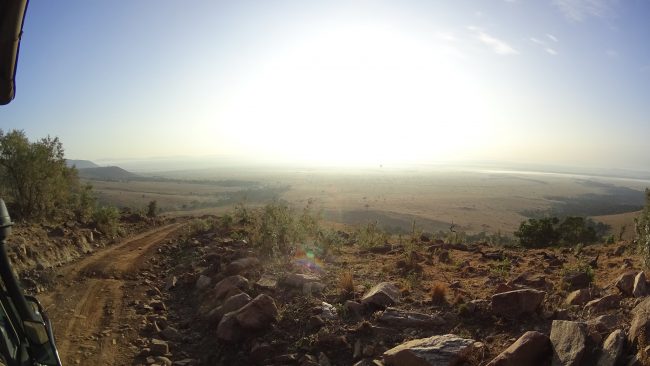 Breakfast in Africa
One of the highlights of my amazing luxury safari in Kenya at Angama Mara was the food, especially our African picnic breakfasts. Each morning started early, around 5 AM as my butler would wake me by putting a tray of muffins and some hot chocolate inside the foyer of my luxurious villa-like tent. Yes, each of the 30 luxurious tent accommodations at Angama Mara comes with its own butler.
By 6 AM, my friend / driver / guide and Maasai tribeswoman Alice would be waiting with one of the safari camp's custom LandCruisers. I would climb aboard and we would set out on our morning photo safari. With the extreme African heat, most animals are active at night and in the early morning. By 9 AM I would start to feel a bit peckish and Alice would select a suitable, Instagram-friendly location to set up our picnic. The LandCruiser was outfitted with a heating box and cooler and each morning would be packed with my breakfast, along with snacks and water.
Eating on a Safari
Alice would first make sure the spot was free of leopards or lions in trees and then set up a picnic table. She would then serve the wonderful breakfast which included muffins, yogurt and granola, bacon, sausages, hot chocolate (my request instead of coffee) and a refreshing sparkling homemade passion fruit drink. The main course was like an African Egg McMuffin, a sandwich with eggs and cheese. It was beyond amazing to enjoy the meal in the middle of nowhere, surrounded only by beautiful vistas and the animals of the Mara.
After breakfast we would continue our game drive, some days traveling all the way to the border of neighboring Tanzania. By about 1 PM, we would head back to the lodge for lunch. Another cool thing, as we drove back to the lodge, Alice would call ahead on the radio and the day's menu would be read to me. I would make my selections and they would be prepared and then served to me upon my return to my tent.
Getting to Kenya
I flew to Africa in the really nice Business Class cabin of Turkish Airlines. Kenya isn't easy to get to from the US, although Kenyan Airlines does now have a direct flight from NYC. I flew from LAX to Nairobi, via Istanbul. Once in Kenya, I flew on Air Kenya to get from Nairobi to the Masai Mara.
Another great experience I had in Kenya was having Maasai women sing to me. You can watch a video of that HERE.
Read more of Freddy Sherman's take on travel on his Go World Travel Blog. You can also follow more of his adventures at luxuryfred.com, on his luxuryfred Instagram feed and on his YouTube channel.