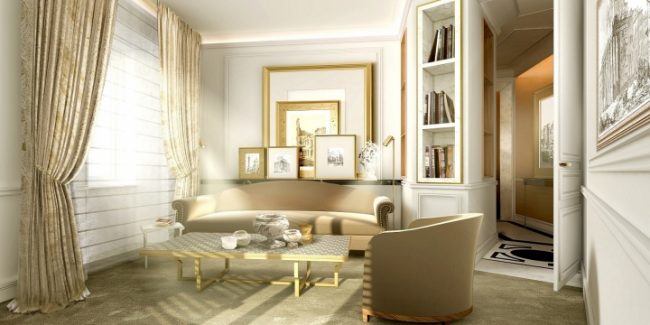 After an extensive, 18-month renovation, Rome's Hotel Eden has again opened to guests. First opened in 1889, the luxury hotel is now part of the Dorchester Collection. I've been fortunate enough to visit the hotel twice, first in 2014 and again in April of 2017. The transformation is dramatic and what was already one of Rome's best hotels is now, quite simply, the best. Rooms and suites were enlarged, the overall inventory was reduced and the entire property was overhauled and renovated. The new rooms and suites are just beautiful and the attention to detail throughout the property is nothing less than perfect. Here's a tour of one of the Hotel Eden's most beautiful suites, the Aurora Terrace Suite.
The luxury hotel now offers the city's newest, most luxurious accommodations, legendary Dorchester Collection service, Michelin-starred dining and now a spa. The location is also perfect, near the Borghese Gardens and a few steps from the Spanish Steps. The neighborhood is very cool, with a lot of shops, bars and restaurants only a short walk away. I particularly like the Via Sistina and Piazza Barberini area, filled more with locals than tourists.
The Aurora Terrace Suite is special in that it was once the home of actress Ingrid Bergman. The suite boasts an enormous outdoor terrace, with chaise lounges and outdoor entertaining or dining for you and ten friends. There's a spacious bedroom, a spa-like, or Roman bath-like bathroom and a large living room.
A big part of the Hotel Eden's renovation was the creation of new rooftop restaurant spaces and the expansion of the penthouse suite. The two restaurants, the casual La Terrazza and the Michelin-starred Il Giardino have been redesigned and upgraded as has the hotel's kitchen. The Eden's talented executive chef, Fabio Ciervo, helped with the kitchen redesign, which includes broad windows, something rare in an commercial kitchen. Ciervo and his cooks can look out over Rome's landmarks as they chop vegetables and do other prep work. During the 18-month time the hotel was closed, Chef Ciervo went back to school and got his masters degree in nutrition.
Read more of Freddy Sherman's take on travel on his Go World Travel Blog. You can also follow more of his adventures at luxuryfred.com blog and on his YouTube channel.