Editor's Note: Travel is complicated right now. Please check local regulations and location openings before you go. We share places, products and activities we recommend. If you make a purchase using a link on our site, we may earn a commission.
It was to be a free date. "Free RV show!" My husband and I love to tour model homes. Why not check out the RVs? It would be a fun afternoon date. Little did I know how it would change everything.
Why Did We Even Buy That RV?
I guess I should back up and tell you a little history. I grew up in Colorado. I'm a native and proud of it. I love Colorado. At 23 years old, I met a man from Alabama and we were married the next year. Marrying me, he was stuck in Colorado. He did love Colorado and we raised our family in Littleton, CO.
One by one our children left for college in Phoenix, AZ. We would visit our children in Phoenix during the winter and let me tell you those winters were looking pretty nice! My husband was getting pretty tired of the cold and snow, and I admit that warm winter had a certain lure for me.
Soon we bought a second home in AZ and began traveling back and forth; we were snowbirds. My husband had a remote job, and this enabled us to do this. For two years, we managed both houses. But, in September of 2017, we decided to sell our longtime CO home and look for a condo or town home.
This brings us to this part of this story. As we were walking through the RVs, some were pretty nice. "How about trying to live out of an RV in Colorado this summer," my husband suggested. "We could just see what we think."
The condo prices in Colorado are a bit outrageous, and we really didn't want to be burdened right now with a mortgage. I took the bait and that day we purchased a 40 foot 5th wheel – a 2014 KZ Durango Goldrush. It was beautiful, and the price was under $30k, since it was four years old. The price drops dramatically on RVs as time passes.
I felt a little crazy and adventurous.
What Have We Done?
I admit, there were times I freaked out a bit – like when we first realized you just can't call and get a long-term RV site for the summer. Most anywhere along the Front Range near Denver, they almost laughed when I called to ask about a spot for this summer. I couldn't even be guaranteed anything for next summer! I had to piece-meal the summer together, which meant a lot of packing up and moving sites for the summer.
I had to keep telling myself that this was an adventure! I needed to keep a positive outlook. I freaked out a bit when we immediately had issues with the 5th wheel and we were no longer a priority to the company who sold us the RV. (Do your homework on the company.)
Once you choose the right RV, get everything else you need from Camping World here: Take $10 off orders $75 or more! Use code CWSAVE at checkout!
In the end, I figured if we hated it, we would sell it. We wouldn't know if we didn't try.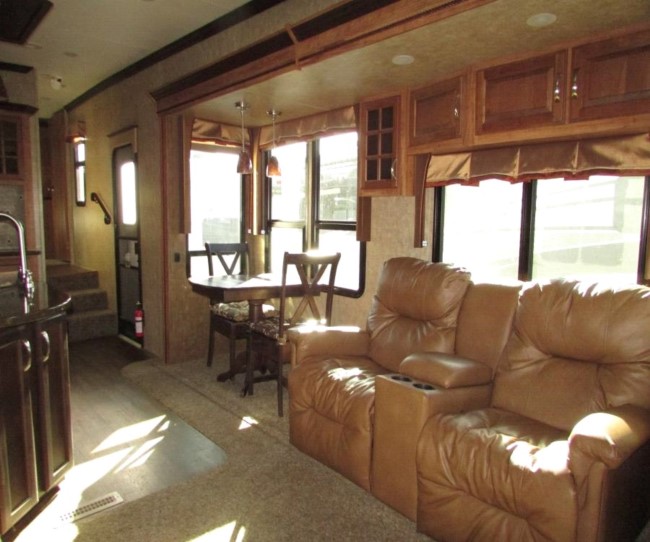 Thinking of Buying an RV? What to Buy
There are so many different recreational vehicles out there. If you are thinking of buying one, I suggest not doing it the way we did. It's wise to do your homework and check out the different types of tow-able RVs and motorized RVs.
In motorized RVs, there are Class A, Class B and Class C recreational vehicles. Towable RVs can be detached and include travel trailers, truck campers, expandable trailers, pop up trailers, toy haulers, and fifth wheels. Visit www.goRVing.com for more information on the different types. Also check out stores like Garmin to find all the accessories you need to keep your investment safe, like this Garmin Dash Mini Cam, which keeps an eye out on your dashboard when you can't be there.
We liked the fifth wheel option. A fifth wheel is an RV that requires a special towing hitch in the bed of a truck. The advantage is these types of RVs typically have more living space, and we found the towing somewhat easier than a travel trailer.
It's a wise idea to look at insurance for roadside assistance that is specific to RVs. Good Sam's offers unlimited towing of your RV and vehicle to the nearest service center. This is beyond what typical insurance offers. They also offer travel assist for medical issues that might occur on the road. This assists with emergency medical transportation of person and of RV if unable to drive.
Find more Good Sam's plans here: Fall Savings Event! Plans Starting at $59.99!
Since we were going to live in it for the summer, at least five months, we chose a 40-foot RV. Let the adventure begin!
Next in the series Life is An Adventure, Enjoy the Ride: The Maiden RV Voyage
Author's Bio: Debbie Miller Pond is a freelance travel writer for Go World Travel Magazine, a digital publication covering travel in more than 90 countries. A Registered Nurse, Debbie writes frequently on travel health, as well as travel in North America. Read more on
Debbie Miller Pond Blog