Editor's Note: We share places, products and activities we recommend. If you make a purchase using a link on our site, we may earn a commission.
Little Passports: Kids Meet the World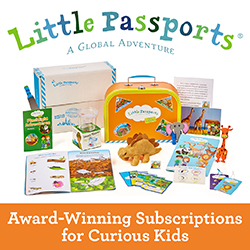 When I first heard about Little Passports I was intrigued, and when I received my package in the mail, I felt giddy, anticipating what was inside. Here at Go World Travel, we believe that travel opens our eyes and broadens our views. Introducing our kids to the world at an early age is important. Little Passports seemed an excellent way to do that, so I ordered the World Edition kit to see for myself.
Little Passports is an award-winning subscription program that inspires children to learn about countries around the globe. Their kits, which are sent via the mail, include Early Explorers for ages 3-5, World Edition for ages 6-10, US Edition for ages 7-12, and Science Edition for ages 9+.
The subscription includes hands-on activities, activity sheets, stickers, passports, online games and crafts and recipes from around the world.
This kit is especially exciting for kids now, since travel options have been minimized during COVID-19. Children can still get a spark of curiosity for seeing the world by learning about different cultures and landscapes with the bundles from Little Passports delivered to your home.
What fun to open my first box of the World Edition and find a small suitcase with a new passport, a map, luggage tag, activity sheet, online activities and a letter from my pen pals Sofia and Sam. Now I was excited to get my first country package.
The first Little Passports country package I received was Egypt. It contained a sticker to put in the passport and a sticker pin to put on my large map to let me know where I would be going.
There were several activities on my Egypt activity sheet. My hands-on activity was to do an archaeological dig of a pyramid.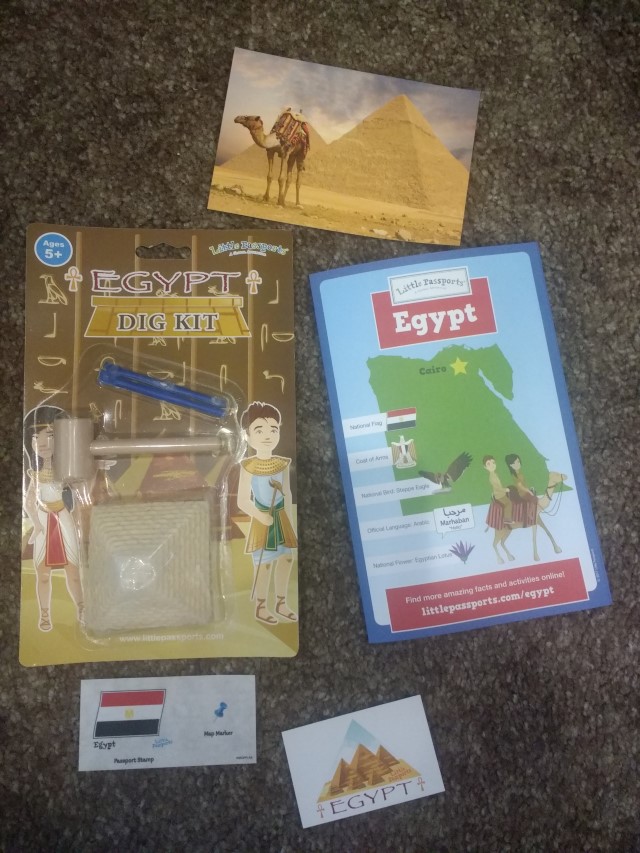 Excavating the Little Passports Parcel
I took the pyramid outside so I didn't get sand/plaster all over my table. The plastic tools provided were sturdy and none of them broke as I hammered away at the pyramid. I do have to say however, I was tempted more than once to get out a hammer and get it done in one fell swoop.
But, I knew that would defeat the purpose of learning about archaeological digs. They are time consuming and require patience. This may be a project you do over time if your child loses interest. But I would much rather them spend half an hour working on this, than watching TV.
My next package was England. It also included the stickers, activity sheets, online games, a hands-on 3D Tower of London puzzle. This one also included a luggage tag for my suitcase. I assume that my Egypt package should have also had the luggage tag.
Inspire and Entertain the Kids on your List
Little Passports is a great value for your money. Each package includes hours of fun learning that you can do in one afternoon or spread out over the month. It can spur your children on to do more research about the country or state that is highlighted.
This is a great gift for grandparents to give to their grandchildren or parents to give to their children. I'd also recommend Little Passports for homeschooling and there is even a classroom teacher edition. Check out their gift guide here.
Great job Little Passports!