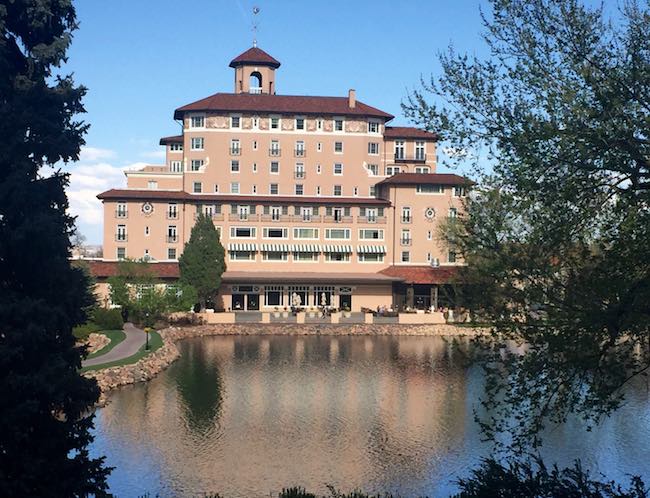 The Broadmoor is so much more than a luxury resort. It's an experience in gentility and graciousness that have been its hallmarks since Spencer Penrose declared in 1916 he was going to build "the finest hotel in the United States." He spared no expense in construction of the Italian Renaissance building with the trademark pink hue; and his wife Julie chose only the finest European and Oriental antiques, chandeliers and artwork to fill it. Along with elegant decor and exquisite architectural design details, and now adventure excursions, the standard of excellence has never wavered in nearly 100 years. The resort in Colorado Springs, Colorado will celebrate its centennial next year.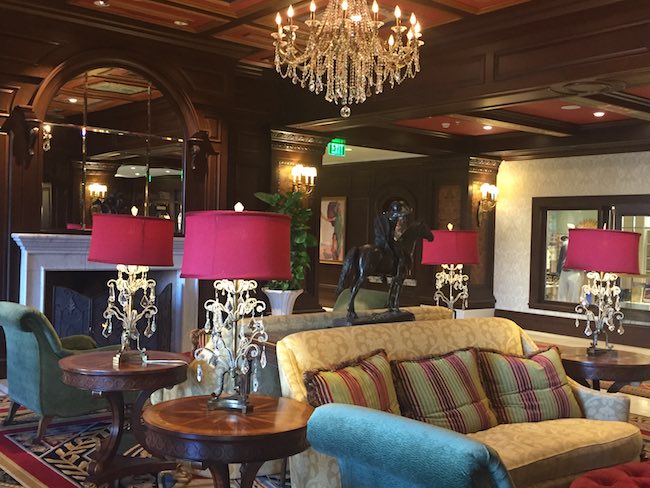 World Class Service at The Broadmoor
I've been going to The Broadmoor since childhood when, even then, I knew it was someplace special. Family dinners in the elegant Lake Terrace Dining Room is where I learned about gracious dining. Our server got to know us and called me by my name. That impressed even an eight-year-old.
Today, the service is as outstanding as ever. On my most recent visit, as we drove under the porte cochère, valets swarmed around our car like rock star fans to help with luggage and escort us to the lobby. There, a bevy of bellmen stood "on call" until Anthony from Jamaica stepped up to show us to our room. Anthony is one of approximately 150 employees in The Broadmoor's international training program for students in the hospitality industry. They not only add diversity to the resort but also bring heartfelt enthusiasm to their jobs in all fields from reception to room service. The result is one of the friendliest staffs anywhere. Did I mention they give every guest a box of chocolates at checkin?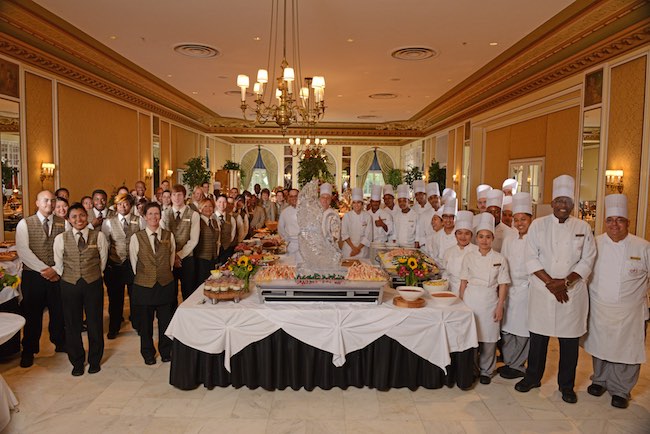 Art at The Broadmoor
When the current owner purchased The Broadmoor, he brought more than 300 pieces of his American Western art collection—originals and replicas of paintings and sculptures—to be displayed extensively around the buildings. The Anschutz Collection depicting the American West from the early 1800s to the present is believed to be the largest of its kind in the world. This artwork enriches the resort's position as one of the American West's top historic hotels. I have spent hours looking at the masterpieces; docent-led tours are free to guests.
Rooms at The Broadmoor
The Broadmoor stayed true to its original character during a $140 million renovation a few years ago. Julie Penrose's vision of "simple elegance" for the guest rooms has been upheld without sacrificing any modern amenities. The spacious double rooms in the West building are perfect examples. Traditional furniture is comfy but not fussy, and everything you need is there: TV in an armoire, desk and chair, Wi-Fi, lounge-chair sitting area and even a men's butler stand (so genteel!). In the foyer is a minibar, coffee service and ice bucket. The large closet holds an iron/ironing board, umbrella, safe and two thick bathrobes.
The bathroom has two wide sinks (so many double rooms have only one sink, a sticky point with me), a large mirror with built-in TV, a deep soaking tub, large separate shower, separate room for the toilet, hairdryer and more fluffy towels than you'll need. Old-fashioned turn-down service with two squares of chocolates is still practiced. The balcony overlooking the lake is the perfect spot for in-room breakfast. Other lodging options are suites, cottages, brownstones, a five-bedroom estate house, and cabins on the wilderness properties (more about these below). ADA rooms are available. Resort charge is $32 per day; pet fee is $50 per night.
Dining at The Broadmoor
So many choices, all different and delicious! I'll start with the Penrose Room, a refined dining experience that recalls the lavish dinners the Penroses threw for their friends. This top-floor dining room consistently earns Forbes Five Star and AAA Five Diamond awards and embodies the essence of the hotel's commitment to excellence.
My favorite is Ristorante Del Lago overlooking the lake. It replicates Northern Italy's lake region, and the food is just as authentic. La Taverne is a steakhouse with an oyster bar. Eat in the dark-wood tavern where a band plays on weekends or in Le Jardin, a cheery indoor patio amid flowering plants and trees.
Play is a casual family eatery with a four-lane bowling alley for dessert. Tons of fun. Another fun place is The Golden Bee, a genuine English pub (really, it came piece by piece from England) where ales and food are distinctly British and Irish, as are the rowdy piano sing-alongs every night.
Natural Epicurean is committed to fresh, local organic foods served on recycled dinnerware in an informal room and adjoining patio. A French bistro, Summit also sources locally for its seasonal menu. Its contemporary decor takes inspiration from the Pike's Peak Hill Climb car race founded by Penrose before he built the Broadmoor.
Lake Terrace Dining Room used to be the main dining room I remember as a child. As exquisite as ever, it now serves only breakfast and a legendary Sunday Brunch for which people drive from Denver to enjoy. Over at the Golf Course, the dining room and grille offer clubhouse fare to guests and members during warm months.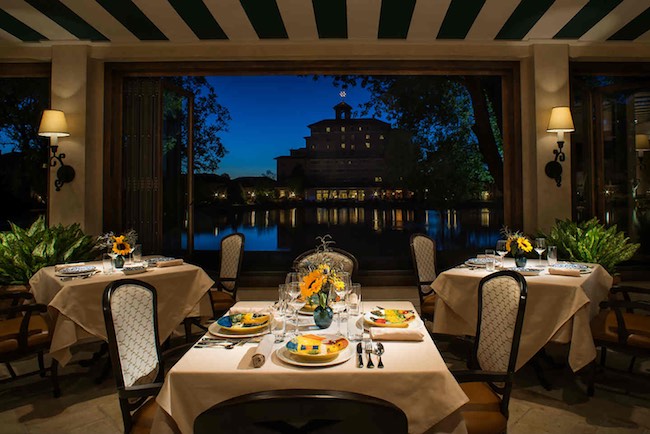 Activities at The Broadmoor
Traditional activities you find at luxury resorts are here in spades: swimming (two outdoor pools and one indoor), tennis (five tennis and three Pickleball courts), golf (a top-ranked club with three courses with a celebrity-studded storied past), an elaborate fitness center and programs and an award-winning spa. Additionally, the Shops at The Broadmoor feature 26 unique stores and galleries, and free family movies run nightly in the theatre.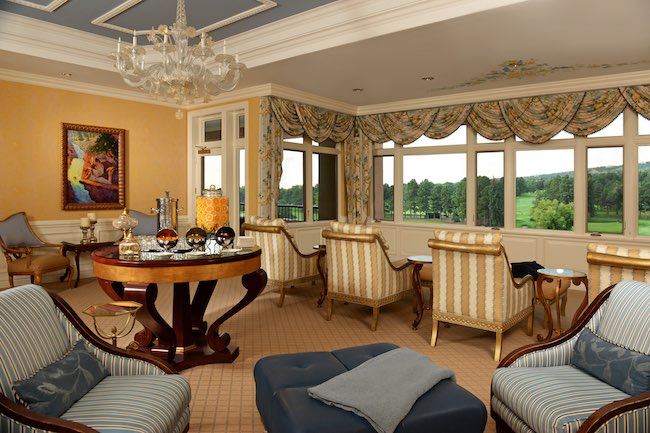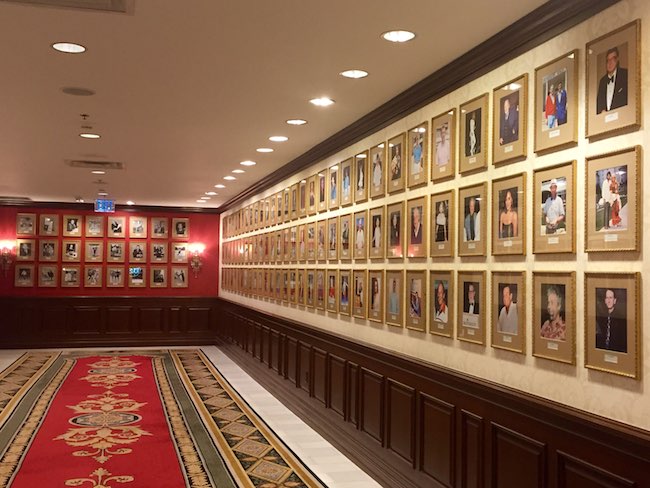 Wilderness Adventures at The Broadmoor
In 2014, the resort released its wild child with the opening of The Ranch at Emerald Valley, a wilderness hideaway with luxury cabins tucked in the forest eight miles from the main campus. After that came Cloud Camp, a mountaintop retreat 3,000 feet above The Broadmoor. Also off-site is Fishing Camp, a cluster of 1880s restored cabins along the Tarryall River with guided fly-fishing on private waters.
The Broadmoor also owns the iconic Seven Falls—a spectacular waterfall a mile from the hotel where 10 ziplines fly you over the deep canyon—and Pikes Peak Cog Railway, the world's highest cog train that travels to the 14,115-foot summit of Pikes Peak. I have done all of these adventures as well as those offered by Broadmoor Outfitters like tomahawk throwing (really!), archery and falconry with birds of prey.
Getting to The Broadmoor
It's an easy 90-minute drive from Denver International Airport and a 15-minute drive from Colorado Springs airport. The resort runs a shuttle to and from each; call 719-362-3276 to arrange. Valet parking is $29 per night; self-parking is $22.
The Broadmoor, 1 Lake Avenue, Colorado Springs, CO 80906; 855-634-7711; www.broadmoor.com
Claudia Carbone is an award-winning travel writer based in Denver. Read about other hotels she's visited in Sleepin' Around.