Forget the Fourth of July, Halloween or the day we were born. For most of us, Christmas was the crème de la crème when we were kids. Yet as adults, somehow this celebratory season that seems to start earlier and earlier each year, can be more stressful than magical.
If that's the case for you, keep reading! My family and I recently discovered holidays at The Broadmoor: a one-stop shop – well, technically it's a hotel – that makes this time of year so fun and seamless you'll be looking forward to it like never before (or at the very least, like you did when you still believed in a flying reindeer).
Planning a last-minute trip to Colorado?
Top Experiences and Tours in Colorado:
Where to stay and transportation in Colorado: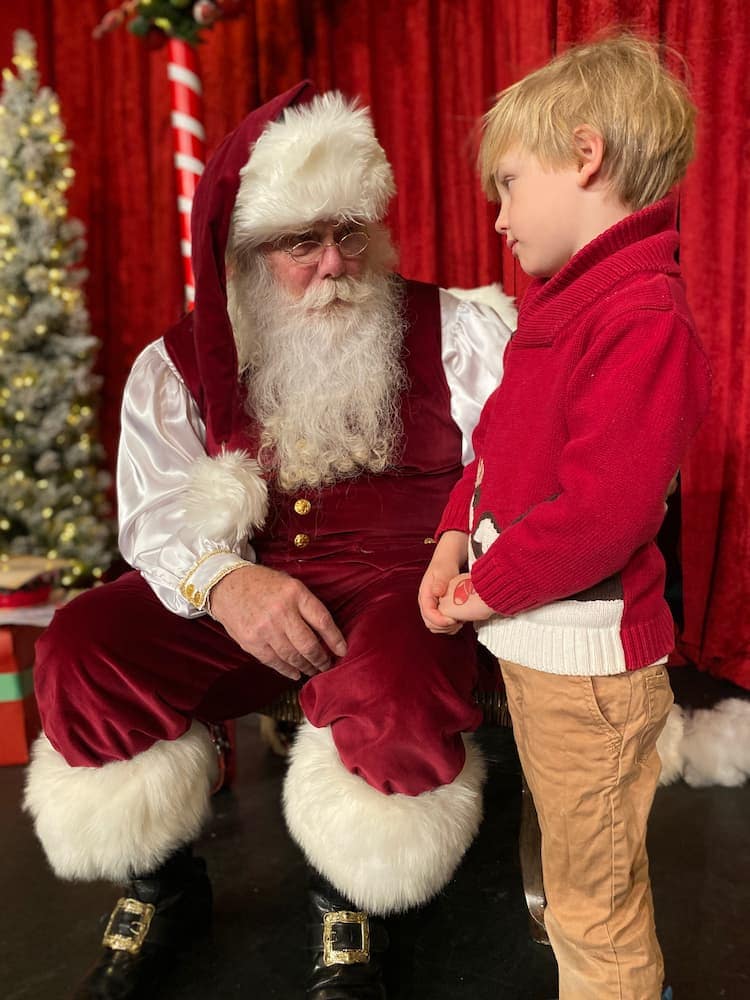 First time may be a charm. But often the best experiences come from experience. Since The Broadmoor has been hosting guests for the holidays for more than 100 years, it's one of the best places to be at Christmas-time. How do I know? From experience of course!
A Visit to The Broadmoor
Last year, my family had the pleasure of visiting The Broadmoor in early December. It wasn't our first time at the beloved Colorado Springs landmark. However, it was our first time there together (as a family with two kids under the age of six in tow) during the holidays.
Our first day at the resort started with Breakfast with Santa. Don't be fooled by the name of the event though. Jolly Old St. Nick's better half, Mrs. Claus, made an appearance, too.
And instead of breakfast, it gave serious brunch vibes. We're talking about a massive spread of mouthwatering waffles dusted with powdered sugar, fruit so fresh we thought it was still summer and enough bacon, eggs and pastries to feed all the hungry hard-working elves in Santa's workshop.
Best Tips & Tools to Plan Your Trip
Our five-year-old son, Everett, had fun embracing his inner barista at the DIY hot cocoa bar. Meanwhile, our two-year-old daughter, Alena, embraced her inner ballerina when they started playing classic Christmas songs.
From dance parties (including waltz lessons as part of its 12 Days of Christmas celebration) to arts and crafts (think ornaments you'll actually keep), The Broadmoor pulls out all the stops for its holiday programming. For example, during our visit, we signed up to learn the art of making the perfect Christmas cookie.
Spoiler alert: there is no such thing as flawless when you're baking with kids. BUT that's what makes it fun! Plus, The Broadmoor has a foolproof recipe for gingersnaps so irresistible you'll find yourself craving them even if you're not a fan of the seasonal spice.
Since baked goods, especially those that come from The Broadmoor, don't last forever in our house, we also enjoyed making holiday-themed arts and crafts. Yes, you can make pipe cleaner wreaths and pom pom snowmen in your kitchen at home. But, if you go that route, you have to shop for supplies and supervise.
At The Broadmoor, I was able to relax and watch the kids get their hands sticky without worrying about the mess I'd have to address later. In fact, because I didn't have to put on my maid hat, we were able to transition directly to bowling and bingo where I definitely donned my competitive cap.
In addition to having no shortage of activities to eliminate the word "bored" from your kids' vocabulary, The Broadmoor has plenty of places to eat, and their halls are all decked for the holidays. We especially loved the concept at Play.
The plates are whimsical meets Americana, and the drinks include everything from Colorado microbrews to adult milkshakes. (The menu also has Shirley Temples and other age-appropriate mocktails for the kiddos.)
When we wanted a white tablecloth and the best Wagyu beef on either side of the Mississippi, we wined and dined at La Taverne. For a quick cup of hot cocoa to-go, there was always Café Julies, and for distracting views of the winter wonderland outside, we got reservations in the Lake Terrace Dining Room.
Of course, our most memorable meal was had on the night of The Holiday Show. Our steaks and salmon were cooked to perfection, and the kids polished off their chicken dinners faster than they could rattle off their Christmas lists.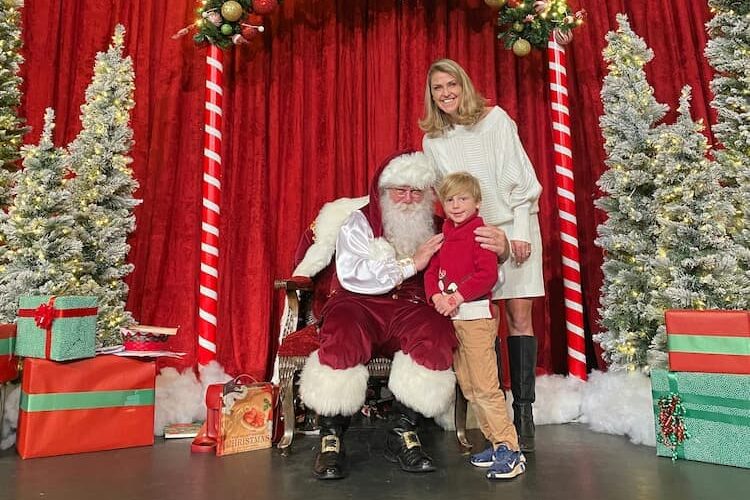 In addition to our entrees, we were served up an unforgettable night of family-friendly world-class entertainment. The littles even got to climb up on stage for a surprise visit from the man, the myth, the legend.
While my husband and I will never say no to a Kris Kringle encounter, our favorite part of the show was watching Broadway veteran Marcus Lovett perform with his equally-talented daughter. (We also may or may not have gotten a little emotional while listening to Emmy Award-winning songwriter Jim Salestrom.)
The climax for the kids, besides seeing Santa again, was singing along with the Colorado Springs Children's Chorale and dancing the night away like they didn't have to get up early the next morning.
Fun fact: All of us got to sleep in. While you can attend The Broadmoor's holiday festivities without reserving a room, we recommend spending the night if you can swing it.
Our Lakeside Junior Suite was the perfect size for our family of four, and it came with a balcony boasting beautiful views of Cheyenne Lake and the surrounding mountains. Plus, it had an oversized soaking tub and an inviting gas fireplace where we could curl up at night and share our highs and lows for the day.
The only problem is you don't really have lows at The Broadmoor, especially come Christmas-time. In fact, this quick trip was the highlight of our entire 2022 holiday season. When the kids ask if we'll return this year, I already know what my answer will be. Actually, technically, it will be another question.
Is Rudolph's nose red?
Inspire your next adventure with our articles below:
Author Bio: My passion for travel was unlocked when I spent some years living across Europe and South America. I've never been one to shy away from a new adventure, be it swimming with pigs in the Bahamas, bird watching in the Galapagos or Heli-Hiking in British Columbia. And while I used to mostly travel solo, I now like to hit the road with my 6-year-old son, 3-year-old-daughter and husband in tow. The best part of travel to me now is getting to see the world through their eyes. Whether they are petting goats during an Oregon farm stay or making their very own pizza in Idaho, their enthusiasm and joy never fails to remind me of why I love travel.