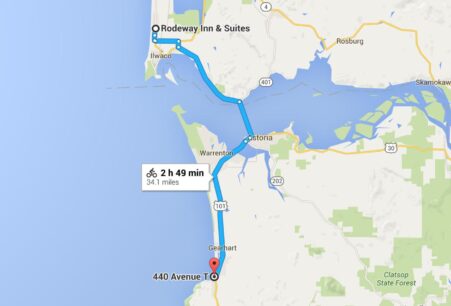 It's hard to decide exactly when it happened. It was probably an amalgamation of opportunity, confidence and a desire for freedom. Or maybe it was fate, if you believe in that sort of thing. Either way, in just two months' time in the spring of 2015, I went from not knowing I wanted to ride a bicycle across the country, to quitting my job, buying equipment and beginning to pedal my way more than 4,000 miles across rural America.
Although I had not been on a bicycle since childhood, crossing the country at an average of 10 miles per hour seemed like a completely reasonable thing to do without any kind of training. The magnitude of what I was preparing to do didn't set in until I was already in the thick of it. I had done some research online, watched a YouTube video on how to change a tire and decided that I would figure the rest out on the road.
The first time I rode my bicycle with 65 pounds of gear was a two-mile ride right before I began the drive to Oregon to embark on the adventure of a lifetime. Call it naivety or stupidity, but if I had truly grasped what was ahead of me, I might have lost my confidence and abandoned the idea.
The 20-hour drive to Astoria on the northern coastline of Oregon gave me a glimpse of what I was about to do, albeit without the average cruising speed of 75 miles per hour and the company of my mother and sister. The endless roads in the middle of nowhere that stretched across mountains and valleys sent shivers up my spine. I started looking at the width of the shoulder along the road and noticing when it became more narrow and sometimes non-existent. Doubts raced through my mind and I started second guessing myself, but I couldn't turn back now.
End-to-end the TransAmerica Bike Trail runs a total of 4,228.5 miles coast to coast through 10 states from Astoria, Oregon to Yorktown, Virginia. Despite my trepidations, I decided this wasn't daunting enough, so I decided to start north of the official starting point in Long Beach, Washington. In a state per mile comparison, the choice was particularly economical. I added another state on my list for only about 20 more miles of pedaling. It also meant that would make my way across the Astoria-Megler bridge, the longest continuous truss bridge in North America coming in at just over 4 miles long.
It was a rainy inauguration as I headed out into the unknown and made my way across the bridge. I knew in the beginning of my trip was going to start out slow. It would take time to build up the strength and stamina to traverse long distances. I was planning on just over 30 miles for my first day's ride. That would take me south of Astoria to Seaside where I had made arrangements with a fellow by the name of Neil Branson. I made contact with him through warmshowers.com, a site similar to couchsurfing.com but designed for touring cyclists.
Trudging my way slowly through the rain on the tiny shoulder of the Pacific Coast Scenic Byway, I was scared and alone. About eight miles out from Neil's house, cars were cruising by spraying the mist from the road at me and I hit a tiny screw on the road and punctured both my front and rear tire. Now I was in the thick of it. And I felt completely out of my element and ironically, screwed.
My brief YouTube lesson for changing a tire seemed entirely inadequate now that I was on the side of the road in the rain, cars rushing by inches away, with a 100-pound bicycle that was utterly useless until I could get the tires fixed. I struggled my way through replacing both tubes remembering the instructions from the video. I loaded my gear back onto the bike and made another 150 feet before I had another flat.
Amid the feeling of helplessness and attempting to fix my third flat in my first day (I have heard rumors of some people have completing the entire TransAmerica Trail with no flats), a woman pulled off to the side and asked if she could give me a hand. Before I set out on this trip I had told myself I wasn't going to accept rides because hitchhiking was cheating. She told me about how a cyclist had been hit and killed recently on this stretch of highway. So I decided to give myself a break and took a ride down the road, but I swore to myself I wasn't going to make a habit of it.
After a 10-minute drive, a feat that would have taken me another two hours, I arrived at Neil's house. I knew I was there not because I had looked at the address but because of the large smiley face he told me I would find painted on his garage door.
Neil wasn't home yet, but he had instructed me to lift open the door and that I could find a key hidden inside. The trust he had in me, a complete stranger after a five-minute phone call, was truly mind-boggling. When I made my way in, I ran into another couch-surfer who was staying there for the evening as well. She showed me to a room with a bunk bed and told me to make myself comfortable.
When Neil got there he could tell that I had a rough first day. He is a retired high school guidance counselor so I think it came naturally. He listened to what I had been through and offered his advice.
"It always works out in the end and if it hasn't worked out you're not at the end," Neil said.
This was the first day and it was more difficult than I could ever imagined. I had many more difficulties ahead of me, but I took Neil's words and made them my mantra to persist.
Author Bio: Sterling Stowe is a 26-year-old Colorado native and journalist with a passion for the wild. Follow his solo bicycle trip across the United States in his blog: America at 10 MPH