Independent travel is kind of like improvised cooking—you choose the essential ingredients, add some special spices and, ultimately, you design your trip according to your taste.
Planning your entire trip independently is an adventure well worth the effort. And, by following some valuable recommendations on independent travel you can ensure that you will get the most out of your trip. Let's dive right in, shall we?
The Joys of Independent Travel
Going with a thoroughly planned agency on a trip has its advantages. You won't be worrying about your daily itinerary and you won't have to compare transport and accommodation prices. Most of the time, you sit down and let others decide for you.
In contrast, when you take your fate into your own hands, you gain freedom of choice and the ability to improvise. Traveling independently, you can experience your holidays exactly as you want.
This means putting a unique itinerary together and exploring various places, cultures, and exciting activities at your own pace and taste. Instead of simply ticking the box of popular tourist spots, you get the chance to maximize your time with things you genuinely enjoy.
Furthermore, budget and time are in your full control. It's up to you to select your preferred mode of transport, the duration of your trip and accommodation type.
Lastly, planning your trip by yourself gives you the chance to contact local people and guides who are offering experiences. Discovering the culture of a place accompanied by a local expert will reward you with an authentic, intimate and immersive travel experience.
Now that you know about the joys of designing your trip, let's check the steps that help you create an unforgettable travel journey.
Top Tips for Independent Travel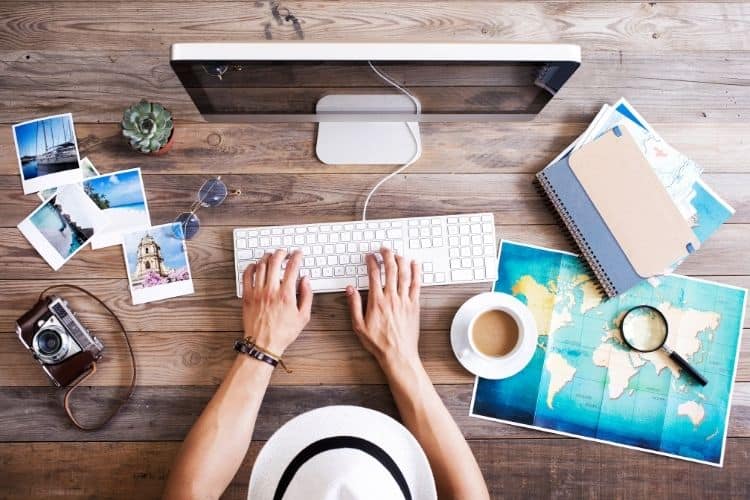 1. Research Destinations & Activities
Start by doing some initial research and choosing your destination. Talk to friends who have traveled to places you think you'd like to visit. It's also helpful to look for inspiration from other travelers on the internet through blogs and groups.
Another important thing to do is ask yourself what you want from your travels. Do you want to focus on nature and outdoor activities? Are you interested in visiting cities and immersing yourself in culture? Identifying your interests prior to the trip helps you to find suitable travel destinations.
When you've narrowed down or chosen your destination, the next step is to search for activities you might be interested in. Use keywords such as "top adventures in Iceland," "best scenery in Namibia," "pristine beaches in Sydney," or "cultural activities in Mexico City." 
You may have also thought about volunteering or working during the journey. In this case, you need to research options for doing so. Again, start with searching online and asking for advice from anyone who has done it themselves.
Additionally, keep in mind that as an independent traveler you are responsible for the practical aspects of your trip. Research things such as visas, weather conditions and safety considerations (including vaccinations, security, and health risks).
This information is usually made accessible by your country's foreign office. You can also ask other travelers on forums and social media travel communities. However, always confirm advice with the appropriate official sites.
2. Plan Local Experiences
Once you've decided where you want to go and generally what you want to do the next thing is to plan a few experiences.
When planning your independent activities you can start by reaching out to local tour operators or guides for more information. They will tell you about the time cost, and gear needed. You can then make a more informed decision.
Once you've decided on the activities you want to do, you'll need to make sure you're prepared. Consider how much time your desired activities might take and if you will need to prepare physically ahead of time.
For example, let's say you want to climb a volcano in the Atacama. Before you start the hike, you need to acclimatize for a few days. You may also need some resting time when you come back from your walk. 
3. Set Your Itinerary and Transportation Options
Once you have selected your destination and experiences you can plot them on the map, figure out the hubs to access your activities and build your itinerary.
It's always helpful to check traveler reviews and message boards for tips on best routes, the times of travel in between hubs and transportation options. Make sure to figure out how long traveling in-between your chosen activities takes so you won't get surprised when it takes you 12 to 14 hours to reach a city.
Google Maps can help you map distances and advice from other travelers will help you figure out the fastest and most budget-friendly transportation options.
4. Check Available Accommodation
Now, it's time to look for the perfect accommodation at your chosen destination. Again, it's time to ask yourself some questions. Start with determining your budget and then decide what type of place you want to stay in and what area you want to be.
Staying in the most popular areas usually comes with a higher price tag. But if you're ok with hostels and more basic hotels you can often still find something in your price range. It may just take more searching.
Once you've decided your budget and the general area you can start narrowing down even further by type of accommodation. Are you fine with a basic hostel or do you need full amenities? Do you prefer large, familiar chain hotels or small, character boutique hotels? Or, maybe you are in an adventurous mood and want to check out where to rent an RV or camping gear?
When to book accommodation is another question. It generally depends on whether you are going during the high or low tourist season and how popular or how large the accommodation is.
If you're going in high season and are staying in a small, popular hotel it's always good to book further in advance. If it's low season and you're not set on a specific accommodation there's more flexibility to wait.
5. Remain Flexible
Independent traveling can come with many surprises. You might miss transportation, or it may be delayed. You may need to change accommodation last minute or find what you've booked isn't suitable once you arrive. Or maybe unexpected weather comes in causing a change of activities.
The key is not to panic. Showing flexibility and switching experiences or taking a later bus is part of the fun of traveling independently. In fact, many independent travelers say this is often when they have the most memorable experiences.
Besides, typically an agency won't be able to turn around and pivot to last-minute changes as quickly as you can on your own.
6. Get Ready for Your Trip
A few weeks before your trip, it's time to run the last errands and make a checklist. Do you have all the necessary gear? Will you need rain jackets, portable battery chargers for phones or a book list for long bus journeys?
What about vaccines, health insurance, medication and necessary documents such as passports and credit cards?
Make a thorough list of items and do a test pack. Make sure you can fit everything in your luggage and still have space left for purchases. Remember, in most places you can easily find items you've forgotten or didn't think you'd need.
7. Enjoy Your Independent Travel Adventure
Now comes the fun part. As soon as you are on the road, your long-planned ideas become a reality and turn into unforgettable memories.
When your trip comes to an end, and you look back on the unique experiences you had you'll know that independent travel is just what you needed.
Author Bio: Alok Singh is the CEO of Fernwayer, a travel experience marketplace that is getting ready to launch post the pandemic. Alok built a strong career as a corporate tech executive before realizing that he is happiest when turning insights into business ideas. Over the past 20 years, he has also discovered a passion for traveling to distant places – like Patagonia and Papua New Guinea, Greenland and Galapagos – and connecting with local people and culture. In Fernwayer, he has brought together his love for travel with his tech and strategy background to create a marketplace to connect independent travelers with passionate experience makers.