Do you dream of relaxing on a Colombian beach?
Or maybe you'd rather hike Mount Picchu in Peru or walk through huge Chinese cities.
Even though all these activities are possible, let's be a bit realistic. Where will you get the money to pay for all these trips? Wouldn't it be nice if somehow you had a means of making money while traveling?
Well, that's possible. Although employers will never pay you to travel, they will certainly pay you to work while traveling.
Thanks to technology, you can now become a digital nomad. Digital nomads are individuals who travel the world and still do their work on the internet–all they need is a laptop and a destination.
In this article, we're going to explore four traveling destinations in the world that support the life of a digital nomad.
Best Remote Jobs for Digital Nomads
Here's a list of some of the most popular nomadic lifestyle jobs:
Virtual Assistant
Copywriting
Taking online surveys
E-commerce Business
Teaching Languages
Translations
Programming
Blogging
Transcribing
QA or Tester
Front-End developer or designer
Affiliate Marketing
Video Production and Editing

What Makes a Place Great for A Digital Nomad?
Before selecting a place to work remotely, you must conduct some research to figure out what makes a destination great for freelancing.
Tech Support
Find a place that offers you constant, fast, and reliable high-speed internet so you can make deadlines.
Way of Life
Live in a place where you can do something when you're not sitting in front of your laptop. Find places with stunning scenery, exciting nightlife, exotic culture, etc.
Affordability
The life of a digital nomad will not make you a millionaire, so look for a place that provides you with well-priced accommodations and affordable local food. This way, you will remain financially stable throughout your trip.
A digital nomad lifestyle is also convenient for students, especially those with free time. However, it's only possible when they've completed their assignments. If you need help with writing your essays and research papers, visit Edubirdie. They will help you complete your school assignments in time, and you can submit them before the deadline. As a result, you can have enough time on your hands to tour the world and take jobs that can provide you with money.
Students can easily become digital nomads because their education gives them an upper hand. For instance, students who take a course in English stand a higher chance of landing a career in copywriting. They can also become bloggers or content writers.

4 Best Destinations To Be A Digital Nomad
Bali, Indonesia
Those searching for a great summer and early fall destination will love Bali, specifically the city of Ubud. Between June and September, the city comes alive, but the cost of things remains low. Furthermore, you can easily walk around the city and their plenty of rental taxis and motorbikes. Although you might find Wi-Fi a bit spotty, fiber optic is everywhere. The restaurants are reasonably priced, and you can enjoy several sumptuous meals for under $20.
Ho Chi Minh City, Vietnam
The Ancient City of Hon Chi Minh in Vietnam has a French Vibe, and it is home to friendly locals, exciting nightlife, and excellent street foods. Digital nomads will enjoy exceptional Wi-Fi and inexpensive lodgings. Most of the apartments will offer you the option of having a housekeeper who will not only cook your food but also do your laundry. Getting around the city is cheap and easy, you can use city buses or taxis.
Buenos Aires, Argentina
Buenos Aires, the capital of Argentina, provides digital nomads a central location in South America. Besides being closer to other cities, Buenos Aires features personality-filled neighborhoods, history, art, reliable Wi-Fi, plenty of day trip opportunities, public transportation, several co-working spaces, and many outdoor activities. This amazing city also offers visitors great value for money compared to other large cities.
Make international friends, wherever you go! Discover InterNations, the community for global minds with over 4.2 million members worldwide. Enjoy events, join groups, and more!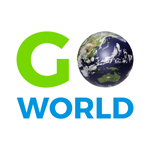 Latest posts by Go World Travel Magazine
(see all)