A Brief History of The Carolina Inn
The Carolina Inn sits amidst old-growth trees on the beautiful University of North Carolina campus in Chapel Hill, an iconic reminder of the alumnus who built it in 1924, John Sprunt Hill, and the architect who designed it, Arthur C. Nash. It incorporates antebellum Southern plantation style with George Washington's home Mount Vernon.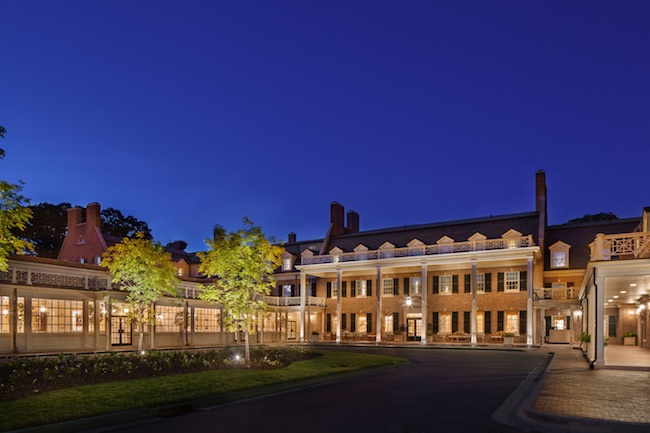 When Hill gave the hotel to UNC in 1935, he asked that all proceeds go to the school's library. His wish has been honored. Not only does the hotel continue to support the Wilson Library, its walls are a veritable library of their own. Throughout the halls on each floor hang an impressive collection of photos of notable UNC alumni, faculty and significant events. When I learned the university's alumni association had its offices on the hotel's main floor from '35 until 1970, I could see how easily it must have been to collect vintage artifacts and images with which to furnish the hotel. The association still maintains an office on the property in a separate building.
Today the 185-room hotel is operated by international boutique hotelier Destination Hotels & Resorts.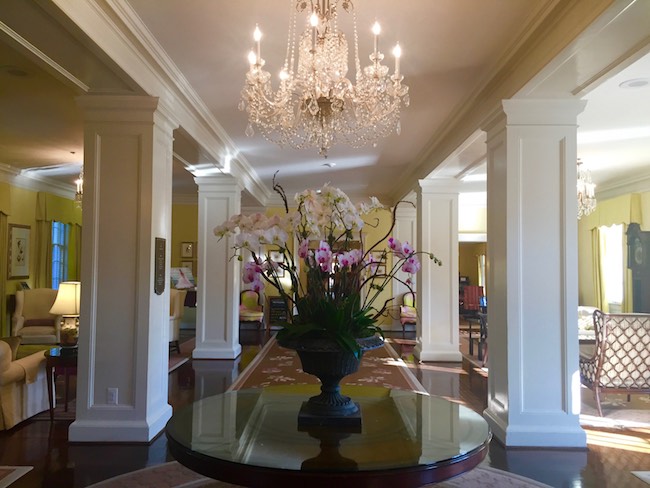 The large lobby is filled with antiques, crystal chandeliers and cozy groupings of comfortable traditional furniture.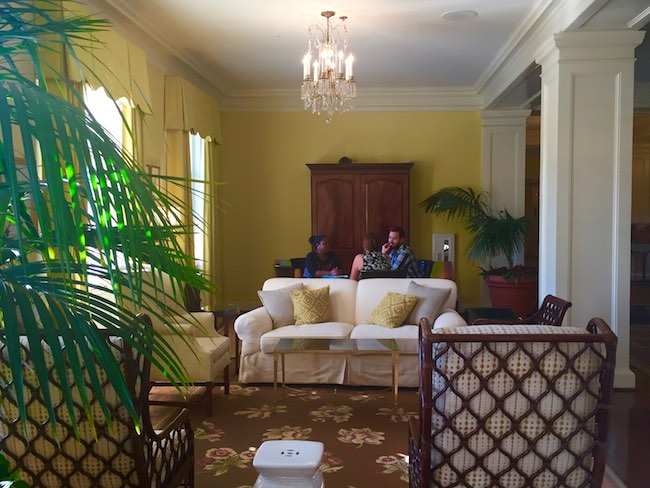 The Carolina Inn Meeting Space
Three large ballrooms, several parlors in traditional decor and two courtyards overlooking lush yards offer elegant meeting space.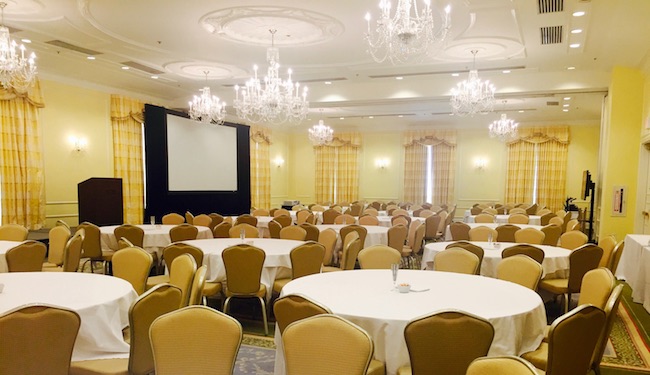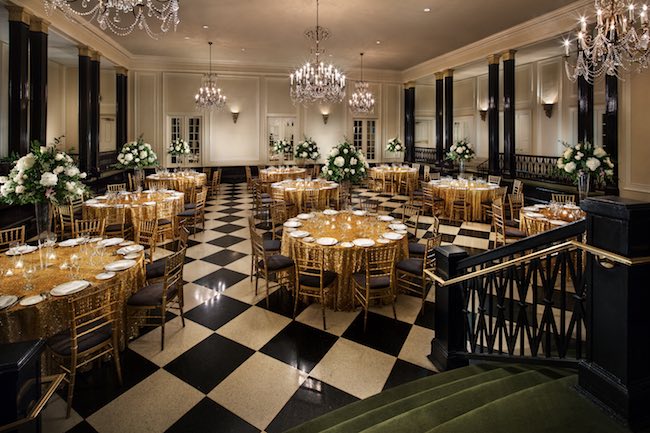 One of the most charming rooms is the South Parlor, originally used as a "ladies' lounge" in 1924 with delicate furniture upholstered in satin and velvet. Its two Czech crystal chandeliers circa 1910 formerly hung in New York's Carnegie Hall that gave them to the University to be placed in this room in 1971.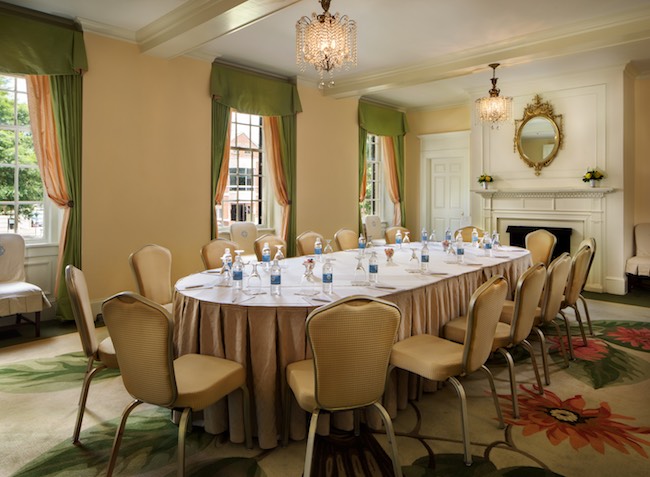 Guest Rooms at The Carolina Inn
Half the guest rooms and suites were renovated in 2010, keeping the traditional look but upgrading contemporary amenities. Rooms are beautifully appointed with dark wood furniture in the colonial style, much of it custom-made in North Carolina. Each has a lounge chair, mini-fridge, safe, full-length mirror, TV, clock radio and docking station, desk with phone and ports, free WiFi, and coffee/tea service. In the closet are bathrobes, iron/ironing board. White-tiled bathrooms are a throwback to the 1920 era. Each has a makeup mirror.
At the end of each themed corridor, there's a comfy sitting room filled with memorabilia and photos that represent the various academic departments and schools, such as "library science." As I mentioned above, the hotel pays homage to the university, the first public university in the nation, and the people associated with it from 1795 to 1965. It was founded in 1789, four years before Chapel Hill became a town. The majority of the images are courtesy of the North Carolina Collection and the General Alumni Association.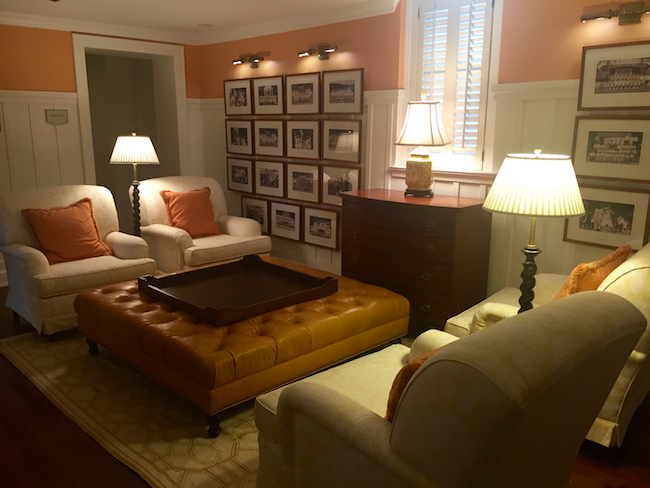 Dining at The Carolina Inn
Crossroads, the main dining room, has a more contemporary feel than the rest of the hotel. The space is divided into three distinct rooms. It has the look of a vintage house made into a restaurant with its fireplaces and doorways. The first room houses the bar, TV and tables and booths for casual dining. The second and third rooms lend themselves to more formal dining. For warm months, a lovely patio awaits just outside the doors. Crossroads serves breakfast, lunch and dinner plus Sunday brunch. Menus change with the seasons.
The food is fantastic. Chef Brandon Sharp, a born and raised North Carolinian, prepares authentic Carolina cuisine with regionally sourced ingredients and much attention to detail. The flavors of this fish entree were exquisite!
Miniature Carolina biscuits were delightful spread with Carolina honey butter.
There's also Provisions, a Grab 'n Go food bar; a small business center; a fitness center and gift shop.
About Chapel Hill
Chapel Hill is one of three small towns (with Hillsborough and Carrboro) in Orange County, N.C. It grew up around the University of North Carolina, and the gorgeous campus with its forest of old trees looms large in the center of downtown. it's a vibrant college town—the country's first —with museums, art, music, theater, a planetarium, North Carolina Botanical Garden, and of course, college sporting events. The town has an award-winning organic distillery, two craft breweries, and a cache of bars, as well as award-winning chefs and restaurants, both fine dining and casual eateries. Franklin Street is the main drag (I strolled it in 15 minutes), making room for Carolina Square, a development of retail, office and apartments opening summer of 2017. Chapel Hill is one of the corners of Research Triangle Park, a major technology and business center. It's a 20-minute ride from Raleigh-Durham International Airport. More information at www.visitchapelhill.org.
The Carolina Inn, 211 Pittsboro Street, Chapel Hill, NC 27516; 919-918-2777; www.carolinainn.com
Claudia Carbone is an award-winning travel writer based in Denver. Read about other hotels she's visited in Sleepin' Around.