To be honest, Switzerland was not my intended destination. COVID denied me entrance to New Zealand, and with time waning on my airline credit, I had to make alternate plans. As an avid Montana hiker, I initially thought the Tour du Mont Blanc would be just the ticket to fill my mountain trail wanderings.
However, upon seeing my cousin's pictures from a trip to Zermatt, Switzerland, I discovered the Haute Route. With some apprehension, I changed course.
What is the Haute Route?
The Haute Route is a beautiful, but demanding summer hike from Mont Blanc in Chamonix, France, and the Matterhorn, in Zermatt, Switzerland. The route is 117 miles (188 km) of rugged Alpine terrain. It crosses 11 mountain passes, some almost 10,000 feet in elevation.
The Haute Route is not for the faint of heart. With steep ascents and descents, exposed sections, and challenging terrain, it's important to have good physical fitness and a head for heights. But for those who are up for the challenge, the rewards are immense.
I have done a great deal of hiking in treacherous mountain terrain, sometimes with grizzly bears monitoring my plodding progress. So, hiking seemed a natural fit, but this trek had me worried. I am closer to fifty than forty, and my knees remind me of that frequently.
After translating the meters and kilometers into miles traveled and feet gained in elevation I realized this was not going to be an easy stroll. We would hike for eleven days, with one day of rest, and the elevation gain was daunting, to say the least.
I watched every video I could find. Then read and re-read posts and reports from hikers who had gone before, gathering all the information I could.
Two thoughts saved me:
1. With the trip being in September, I knew I would have all summer to get my hiking legs under me.
2. if I needed a break, on any given day there would be the option to take public transport to the next destination. Not the ideal way, but if desperate, I could make it. I would make it! Knees be hanged.
Solo vs Group Tour
In deciding to make the trip alone, I chose to go with a tour group so as to make the already daunting task easier. I wouldn't have to worry about finding my way, meals would be provided and luggage would be transferred.
And if the worst should happen, (Goat attack? Twisted ankle? Missed turn? September blizzard?) I would have companions to suffer through with. Plus, family and friends back home wouldn't worry so much if I were with a group. Not that that would have stopped me from going it alone, as it never has before.
Best Tips & Tools to Plan Your Trip
Chamonix, France
The hike would start in France, so I arrived a day early to give myself a chance to acclimate. Chamonix itself was worth the trip.
I awakened in the Pointe Isabelle (so named after Isabella Straton, a pioneer in mountaineering who climbed several of the nearby peaks repeatedly, long skirts and all). Then I stepped out onto my balcony to be greeted by some of the most beautiful mountain peaks I'd ever witnessed.
The small mountain town was busy, with tourists and shoppers and hang gliders. I spent a restful warm sunny day already enchanted, gathering anything I would need for the days ahead. That night, I met my tour group and guide. Early the next morning off we went, quickly leaving France behind for the duration of our trip.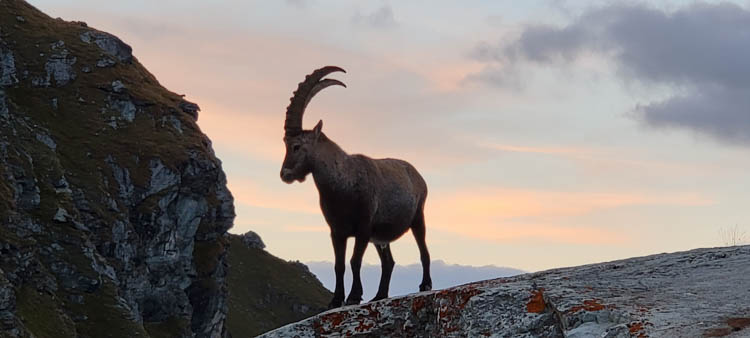 Beauty and the Beast
For the next ten days, I was immersed in a world of green pastures and high mountain passes (cols, to the locals). I saw beautiful creatures such as ibex and chamois as well as domesticated goats and cows, with their accompanying bells of varying sizes and sounds.
Also, I witnessed some of the most stunning lakes and villages that could only be described as magical. The entire trip was an absolute dream and looking back over the pictures it still doesn't seem real.
Fenettre d'Arpette
The trek was challenging. For all of the hiking I had done, never had I done such strenuous hiking on back-to-back days, with no time to recover.
On the second day, we hiked the Fenettre d'Arpette, up 5,760 feet of rocky terrain. We then dropped unrelentingly down the same into the lakeside village of Champex.
It was a punishing day; one hiker skipped this portion due to an already swollen knee. Another one cried halfway through. It was an introduction to what we were in for.
An icy swim in Champex Lac in the rain at the end of the hike provided just enough relief to walk somewhat normally down to dinner.
If this day was to be the judge, I had been correct: this was going to be tough. Still, what an incredible adventure.
Support System
We met each day with excitement and a little apprehension for what lie ahead. There were nine of us, hailing from Scotland, Germany, Kuwait, Australia, Ireland and Belgium, and what a time we had.
While hiking, there was a lot of encouraging each other along with trail chatter. Followed by laughter around the dinner table at the end of long days, recounting all the happenings of the day. We all got on well, and hope to reconnect in the future for more hiking trips. This was an unexpected gift of booking with a tour group.
A Hike Beyond Expectations
I had hiked a great deal prior to this trip, but these vistas truly bested anything I had witnessed before. The 14,154-foot Grand Combin playing peek-a-boo in the clouds.
Breathlessly pulling myself up the steep final ascent to the Col de Reidmatten to witness the first look of the Matterhorn. Spying Edelweiss in the limestone descent to beautiful Arolla.
Falling asleep at Mont Fort to the sound of cowbells tinkling in the distance. Drinking an ice-cold coke in a bean bag chair after a three col day watching ibex chase each other up and down mountainsides. Lac du Moiry's effervescent teal color. Standing on a cliff looking down the Mattertal valley. The barely tolerable icy cold swim in Lac Bleu and the ten-minute walk across one of the longest suspension bridges in the world.
It was all capped by cozy and comfortable accommodations, greetings from friendly fellow hikers and welcoming little villages pristinely maintaining the charm and authenticity that is not elsewhere replicable. This felt like truly being in the mountains of old, the way it once was. Except, almost, unfortunately, having internet access most days, just to let the rest of the world briefly in.
My only regret is not having booked an extra day in Zermatt to hike around the Matterhorn, which only gives me a reason to go back as soon as possible.
Would I Hike the Haute Route Again?
Was I right to be worried about physically being able to do the hike? Absolutely. A steady diet of Alleve and Tylenol coupled with some well-placed Kinesiotape kept me going. But by the end of hiking, my legs were shot.
Was it worth it? Yes, times a thousand. Would I do it again? Possibly, with some consideration for choosing a few different alternates, as there is more than one way to hike this route.
I loved not having to worry about which direction to go at any point, as our guide had the way well-versed having done the hike 60 times. I also loved getting to know the rest of my group, getting to experience their culture and swapping stories on the long trail days.
If you have any desire to immerse yourself in authentic Swiss Alps mountaineering and culture and can push through some physically demanding days on the trail, I cannot recommend this experience enough.
Tips on Hiking the Haute Route
Mont Blanc Treks has both guided and self-guided treks. With local knowledge of the area and high response rates to any questions or concerns, they would be my go-to again in a heartbeat. It is doable solo; we certainly met many folks doing the trek alone.
However, I recommend having at least conversational French and German language skills, as those are the prominent languages spoken and written along the trail.
There are Facebook groups for the Walker's Haute Route. Haute Route Q&A and Hiking the Haute Route are both great resources for questions that helped me tremendously. I also recommend the Kev Reynolds book Trekking Chamonix to Zermatt: The Classic Walker's Haute Route if you plan to do the trek unguided.
In addition, I recommend booking well in advance. Many of the accommodations fill quickly, and luggage transfer service makes for easier days on the trail, not having to haul all your gear every day. Whichever way you decide to do the trek, if at all possible, do the trek. It is well worth every ache, pain and blister.
Author Bio: Erica Pogel is an avid hiker in the Northwestern United States, spending time as a Physical Therapist Assistant in between hikes. She has lived and traveled throughout the United States and is in constant pursuit of her next grand adventure.