After several hours following paths through the trees, Wilbur took a message on his radio, paused to unsheathe his machete, and veered from the path to hack through the thick scrub of Uganda's Bwindi Impenetrable Forest. We had little option but to follow, as I finally understood why the jungle had got its name. We had come in search of the mountain gorilla, and Wilbur had just received word that we were close.
Fewer than a thousand mountain gorillas remain in the world, inhabiting a thin strip of territory stretching across Uganda, Rwanda and Democratic Republic of Congo (DRC); the survival of one of our most iconic relatives is precariously balanced.
Gorilla Trek
The opportunity to trek the East African mountains in search of the gorilla is the privilege of the very few, and consequently one of the world's ultimate ecotourism experiences. Each of the few dozen permits available each day across the region costs $500. This allows you one hour with the gorillas, should you find them at all. In dollars-per-minute terms, this is probably the single most expensive activity I will ever undertake.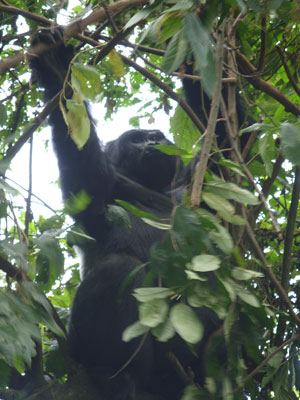 The gorillas are a big tourist draw, but the hefty price tag plays a crucial role in restricting the number of visitors who come to this remote corner of the Rift Valley in search of their own 'David Attenborough moment'.
This octogenarian British broadcaster famously recorded a calm and professional to-camera piece, while being groomed by an enormous gorilla directly behind him. The permits and the attendant tourism also generate vital income for local communities, helping to ensure their essential support for conservation.
Rwanda is a popular place to trek the gorillas. This small country with a tragic recent history combines shocking visits to the genocide memorial and other sites associated with the terrifying events of 1994 with hiking in the stunning Virunga mountains.
Continued on next page