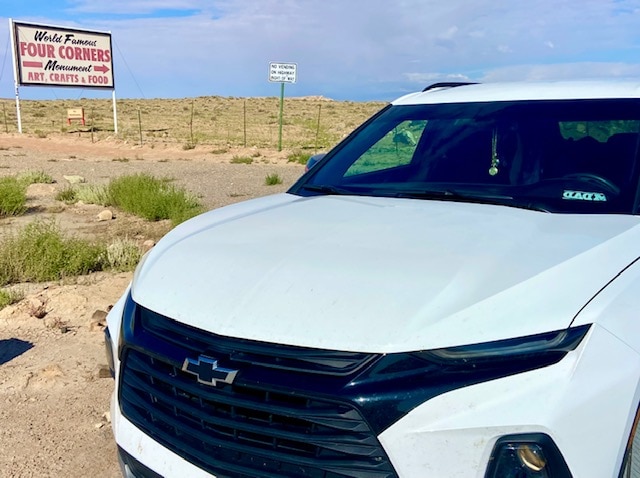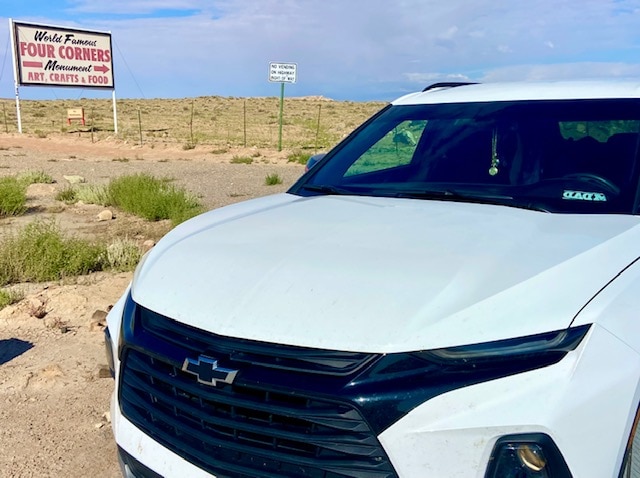 The Million Dollar Highway; Durango-Silverton Railroad; Four Corners Monument; are reachable by a combination of planes, trains and automobiles.
I stood at the shore and watched Max McKee's Aquastar day cruise boat set out for a sunset cruise on Lake Michigan from his harbor in Muskegon, Michigan near the same shipping dock a Ponant Cruise Ship had slipped away from to make a crossing to Milwaukee.
I dreamt of what it would be like to travel by boat to Belize and beyond – my next destinations on my latest "Sea to Shining Sea" cross-country driving tour. But it would be miles over land and air before I would sleep in the Central American embrace of Sirenian Bay Resort and Villas beside the brilliant blue Caribbean Sea.
Instead, due to scheduling circumstances, I would be cruising by car from Michigan to Denver International Airport to catch a flight to Belize via Miami. I set out, like a seat-belted sea captain, at the helm of a Chevrolet Blazer on "new roads," as the General Motors advertising suggests, for the 18-hour drive to Denver and on to Durango.
Flyover States
There were stops and sights I could not resist on my all day and overnight "cruise" across westbound I-80 through Indiana (the worst little stretch, by far, due to traffic, construction, and the industrial views), Illinois, Iowa, Nebraska, and Colorado.
I saw the birthplace of President Ronald Reagan and the resting place of President Herbert Hoover.
I rolled through the evening pre-game tailgate parties for the University of Iowa Hawkeye football game.
After dark, during a dramatic, lingering lightning storm, I spotted a sea of red lights – hundreds of them – dotting the distance along the highway. The eerie sight, in daylight, would have revealed itself as a widespread windfarm.
And in honor of television character Saul Goodman, I bought my first-ever Cinnabon when I passed through Omaha. Baking the sweet treats was the Breaking Bad lawyer's job when he was hiding in Nebraska during the spin-off series Better Call Saul.
Paved Pathway
Every once in a while, usually in the middle of a many-mile drive, I doubt whether my nomadic travel lifestyle is necessary. Often at those times, an angel appears to ease my mind.
At a gas station convenience store somewhere in Illinois, I approached the counter to pay for a great big Diet Coke I poured myself from the soda fountain machine.
"Anything else?" the woman behind the counter asked.
"No thanks. That's it."
"Then have a nice day," she said.
I looked at her quizzically with my open wallet in hand.
"Have a nice day," she repeated with a wink and head nod toward the door, to make her point.
I thanked her for the gesture, tipped her, and went back to the road.
The next night, at Denver Airport, it was nearly 11 p.m. and I was hustling to a red-eye flight to Miami as the food court and gate restaurants were all closing. I approached the counter at my only option, Panda Express, and asked the young man behind the buffet window what I should have?
"Want me to make something up for you?" he asked.
"Sure, thanks. You know best," I answered, having never been to a Panda Express.
He put scoops of rice, pork, beef, shrimp and vegetables into a molded carry-out plate and plopped an egg roll atop it all before handing it to me.
Once again, I took out my wallet.
He waved me off.
"Really?" I asked.
"Yeah, man."
I tipped him and sat down with my gift of a pre-flight dinner as the Panda Express lights went out.
Paying it Forward
Landing at Miami International Airport at 7 a.m. with a five-hour layover left me with time to trifle. A TSA gate guard told me the terminal was designed for shopping and advised me to do that rather than exit and then have to return through screening. With the sun shining, a morning of retail didn't seem right, so I hopped the free hotel shuttle to the off-airport Hilton Blue Lagoon, a resort-like hotel I knew to be nearby. The airport property is known as the "Gateway to the Americas," so before I flew to Belize, I enjoyed a morning of Miami sunshine on the Hilton Blue Lagoon's pleasant pool deck.
Speaking of sunshine, I met "Sunshine," a Hilton Blue Lagoon overnight front desk attendant seven months earlier when I'd stayed at the hotel. Her real name was Trasa Glass, and even at 6 a.m. she was friendly and enthusiastic. On that occasion "Sunshine," showed me her closed fist and then opened it at me with a fling. "I'm just throwing some joy your way," Trasa said with a smile!
This exchange was memorable so, during my layover visit, I sought out Trasa to say hello, but, due to working overnight, she was already gone. I left my business card and asked the attendant to let her know I'd been back through and to thank her again for her nicety.
The card and sentiment were apparently passed along to her because I received an email, about a week later after I'd returned from Belize, from Trasa:
"I am honored and pleased my small gesture went a long way! Honestly, I do try my absolute best to leave everyone with a small sense of sunshine. I think about how rough the world is and it is sad but it does make for more opportunity to turn people's day around. I think about all the 'no's' people get and try my best to give them a 'yes.' Sometimes I never know if I am getting the job done, but you are now proof!"
I was touched by Trasa's email, which went on, and would prove prophetic with the weather that would hit the Sunshine State a month later:
"The hotel industry is like a hurricane in itself. You never know what kind of wind will sweep you off your feet. I just try to stay 10-toes down with my kite in hand. It was my pleasure to be a part of your journey."
Believe it or not, I was reading Trasa "Sunshine" Glass's email during a gas station fill-up while driving between Denver and Durango, Colorado.
She inspired me, so I was extra kind after filling the gas tank and subsequently emptying my bladder. On my way out of the gas station I thanked the cash register attendant for having such a nice bathroom.
"Glad you noticed. We won the 'Cleanest Bathroom Award!'" she proudly pronounced.
I laughed and asked her who decided that.
"I'm not kidding. Let me show you," the attendant excitedly insisted. Her genuine enthusiasm was adorable when she turned to the shelf behind her and presented an actual trophy. "Yep…we have the cleanest crapper in the county!"
She had a genuine, million-dollar smile. And it turns out I was driving on what's known as the "Million Dollar Highway."
There's Gold in Them Thar Hills
It was a seven-hour drive down from Denver to Durango, but Rich Grant told me it would be a compelling one, with part of it on the "Million Dollar Highway." Grant is a colorful Colorado tourism official. We met over cheeseburger egg rolls and one (or two) of his prized Colorado micro-brewed beers at Don Redlinger's 5280 Burger Bar in Downtown Denver's Pavilions Mall. It was along the 16th Street Promenade, just a few blocks walking from my digs at the stylish Le Meridien Hotel.
The white-bearded Grant, in his Western hat and neckerchief, explained the origin of the name "Million Dollar Highway," with some irony since he, professionally, represents "Golden," Colorado.
"They used gold ore in the making of the road. There is probably a million dollars-worth of ore in the grading of the highway, but it was just too expensive and difficult to extract it. It's 30-miles of sheer cliffs. The road is narrow," Grant warned.
Then, without mentioning the "Cleanest Crapper in the County," he described the danger in the drive I would undertake. "You'll go over Monarch Pass – that's nothing; you'll survive that. But you'll also pass through the Black Canyon of the Gunnison National Park. No canyon in America is as steep – straight up and down 2,000-foot walls. Then you'll go through Ouray, which, at 7,800 feet elevation, is surrounded by waterfalls and old mines."
The drive, at least in Autumn, wasn't so scary. What's better than a ghost town at Halloween time? Don't be frightened by the intimidating locations you'll see on the Colorado map and navigation: Crazy Woman Creek; Wolf Creek Pass; Bear Creek; Lake Nighthorse; Purgatory Resort; Electric Peak, Chimney Rock, and more.
Downtime in Durango
I asked Grant what to expect if I successfully navigated those fearsome roads 342 miles down to Southwestern Colorado and reached Durango?
"Durango is a great, old west town with a historic railroad with vintage steam and diesel locomotives that run year-round and connect the Durango and Silverton mining towns. They're narrow gage and they've been in every movie you can think of including Butch Cassidy and the Sundance Kid and Around the World in 80 Days," said Grant who, himself, looked like he came from central casting.
I was looking forward to getting off the travel stage after all those miles and flights to some "Durango downtime." Thanks to my two-night stay at the DoubleTree by Hilton Hotel Durango, that's exactly what I was blessed to encounter.
Before I tell you about the hotel's soothing, lovely location right along the gurgling, picturesque and pleasing Animas River and its paved trail, it's practicality I have to share. Having been on the road as long as I had, I was overjoyed when the desk attendant named John walked me to my room at the very end of the bottom floor corridor.
The room looked over the river and had sliding door-wall access to the trail, but it was, more importantly, right next to a hotel exterior entrance about 10 yards via a covered walkway from my parking space! My room was also right across the hall from the guest laundry room! For someone who'd been on the road for weeks and thousands of miles, these convenient amenities were, at that point, more exciting than any imaginable luxury!
The Double Tree also has a nice, small workout room overlooking the river and an indoor swimming pool and jacuzzi with the Colorado flag hanging over it. My God I could launder my clothes and renew and refresh my cramped body in sight of nature's glorious river and mountains!
I didn't have to touch the car during my visit because the old west town of Durango, with its restaurants, shops, entertainment and museums, was just across the street and tracks. It's easy to see why Hollywood made movies here because the authentic village-type town has the feel of a film set.
Going Further West, Young Man
I set out early on an 11-hour drive west from Durango to Palm Springs. The lush landscape quickly opened up to vast vistas and, after 84 miles, my Chevy Blazer had reached the World Famous Four Corners Monument, miles in the middle of stark Martian moonscape.
For a nominal fee you can park your car and walk into a small amphitheater surrounding a slightly sunken, special spot. A marker indicates the exact point where a cadastral survey by the U.S. Department of the Interior's Bureau of Land Management has determined four states – Utah, Colorado, Arizona and New Mexico – meet.
People politely maneuver to get their photo with a foot and hand in each state at one time. There is some souvenir shopping around the perimeter, but otherwise it is a low-key, simple-but-super-scenic experience.
The rest of the ride was a rocky riot during which I had to make numerous stops to take photos of the astonishing desert landscapes and open skies. It pained me to pass the Grand Canyon but that was too big a bite and needed its own future trip.
With 400 miles still to go, I rolled through Flagstaff on I-40 in the afternoon, so parts of the drive were on historic old Route 66 and there were plenty signs for curious, quirky roadside attractions and cultural experiences in places such as Kingman and the transplanted London Bridge in Lake Havasu City.
Down the Stretch
My long drive got the benefit of recouping a clock hour when I entered the Pacific Time Zone – but that didn't make it any shorter!
For me, the freakiest, most nerve-wracking portion of the entire journey was on narrow, two lane/two-way, tumbleweed roads, especially one called Rice Road, between Needles, Arizona and Desert Center, California. The suspenseful horror movie The Hills Have Eyes came to mind!
While the lonely, 100-degree Fahrenheit trip across the empty desert floor provided a panorama of jagged, distant mountains, one could see the dark clouds of a storm approaching. I knew the sun would soon set behind those peaks. I'd be left in the dark with no streetlights, no roads signs and no cellular service. And believe me, with no options, I still kept a fruitless eye on my gas gauge.
You might think seeing another car would be comforting, but the sight of two bright headlights coming from the other direction blurred my road weary eyes and given the narrow road, I was more comforted when they successfully whizzed by without a collision.
I began to nervously count the last 30 miles until I would reach the next town. When the "civilization" you're hoping to reach is a shuttered-up town called Desert Center (population 285) you're desperate!
It was fully dark when I white-knuckled through Desert Center. When cellular service suddenly reappeared, Facebook tagged my location as "B-F-E, California!"
Though the majesty of nature gave way to the modern, commercial-lined Interstate 10, I was happy to rejoin society, get gas, and roll into the comforts of the Hyatt Indian Wells Golf Resort near Palm Springs…2,178 miles from Muskegon, Michigan.
Read more on Michael Patrick Shiels' travel blog, The Travel Tattler. Contact Travel Writer Michael Patrick Shiels at [email protected]
Latest posts by Michael Patrick Shiels
(see all)