Sugar-white sand and aqua blue waters along the barrier islands of Florida's Gulf coast make for stunningly beautiful beaches – from well-recognized hot spots such as Sarasota's Siesta Key to favorite shelling destinations, Captiva and Sanibel Islands.
In between, there are lesser-known gems including Manasota Key, one of several islands that make up the Charlotte Harbor Gulf Island Coast.
Englewood and Punta Gorda, Florida
The area comprises several communities including Englewood and Punta Gorda, in addition to islands (sometimes called keys) with unspoiled beaches and protected parklands.
As Florida's second largest marine estuary, Charlotte Harbor spills into the Gulf of Mexico, and its estuarial system of tidal creeks, bays, and salt marshes provide a rich environment for aquatic life.
Sport fishermen have called the waters, "Tarpon Fishing Capital of the World," and the area is equally attractive for paddling, boating, and birding.
Stump Pass Beach State Park
Eager to get my toes in the sand, I walk out of my beachfront accommodation, the WannaB Inn on Manasota Key, and turn left into Stump Pass Beach State Park, with nothing but expansive beach ahead of me.
Soon I come upon a few beachcombers bent-over looking for seashells and fossilized shark's teeth, which are plentiful on the island.
I spot seagulls, sandpipers and snowy egrets, which make their home here along with royal terns, herons and osprey. Scrub oak branches poke out from the dunes and I notice two bushes that are ornamented (covered) with hanging seashells – apparently the seaside equivalent of coins tossed into a fountain for good karma.
I discover a nature path over the dunes through a small patch of wilderness that opens to another body of water, Lemon Bay, which separates Manasota Key from the mainland. Strolling this narrow strip of wild land between the bay and the Gulf, I'm struck by the diversity of the natural habitat and suddenly I understand the area slogan, "Real Pure Florida."
Nature-Based Activities in Punta Gorda and Englewood Beach

The Punta Gorda/Englewood Beach communities offer a variety of eco-activities and interpretative programs. And throughout Charlotte County, there are naturalist-led tours and outings on a network of waterways called the Blueway Trails, which provide many opportunities to learn about southwest Florida's native flora and fauna.
Charlotte Harbor Environmental Center
Charlotte Harbor Environmental Center offers hands-on educational experiences, both land-based and on the water. My group took a short Seagrass Adventure Wading Expedition from Cedar Point Park, during which we netted shells and tiny seahorses and crabs to examine up close before returning them to sea.
Sea Turtles in Manasota Key
Manasota Key is one of Florida's prime nesting areas for threatened sea turtles, mainly the loggerhead species. During turtle nesting season, May 1st to October 31, local sea turtle patrol volunteers invite visitors to learn about sea turtle habitat.
I rose before dawn to join a group from the Coastal Wildlife Club to check for turtle tracks and evidence of new nests on Stump Pass Beach.
The volunteers identify and mark off each nest to help protect it from damage, though the greatest threat to the eggs is from natural predators such as armadillos and raccoons.
Midsummer, at hatching time, visitors can sometimes see hatchlings scrambling instinctively in the dark towards the water. There are strict guidelines to deter human interference with the natural phenomenon, as biologists estimate that less than 1 in 1000 hatchlings survive to reach maturity.
Beach Yoga at Englewood Beach
Beach yoga anyone? Up the coast from Stump Pass Beach, Englewood Beach offers the opportunity to greet the morning in nature everyday with "Gentle Yoga for Every Body."
Held year-round, the class focuses on gentle stretching while breathing fresh air amid the sights and sounds of lapping waves.  Sunset yoga is offered every Wednesday.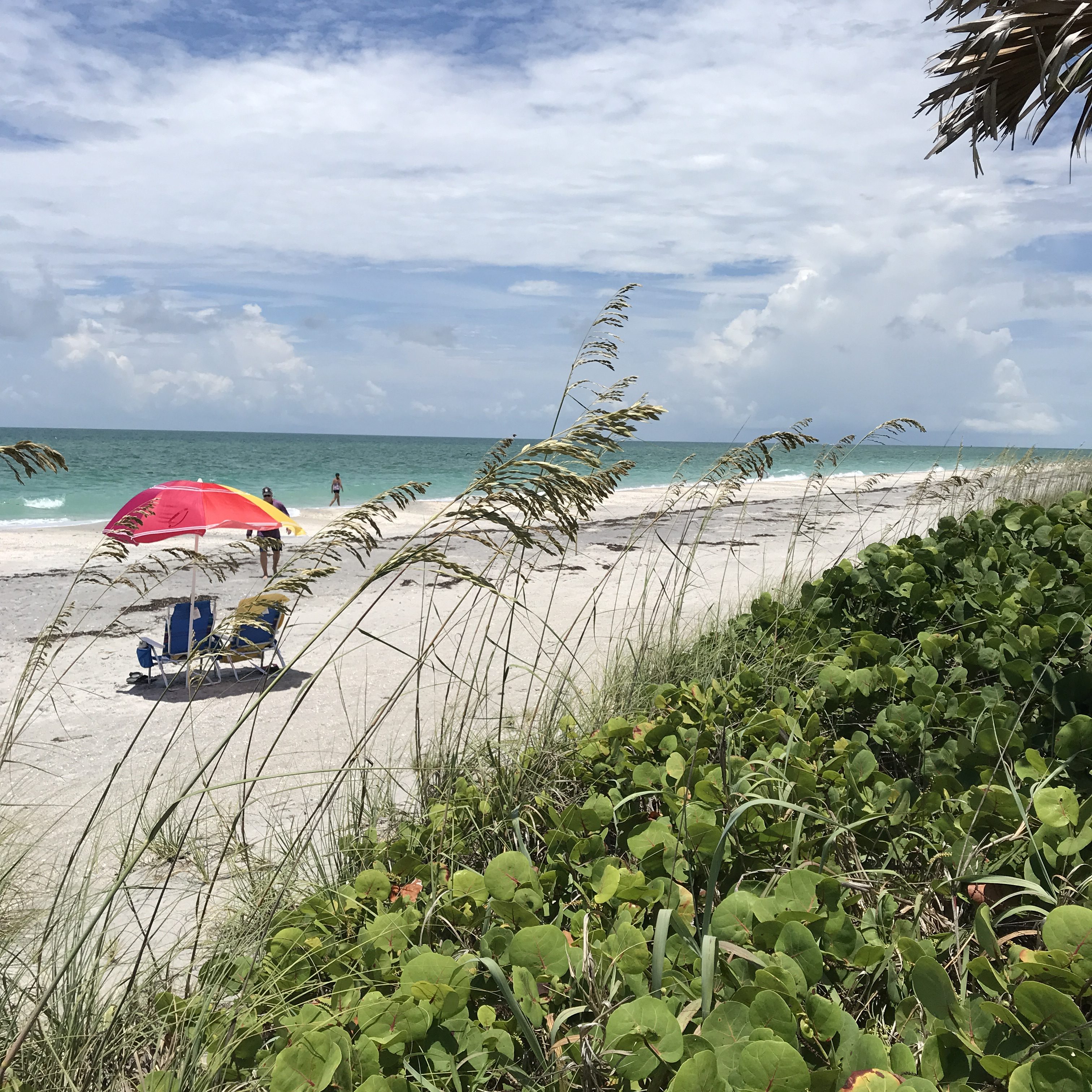 On the Water with Hooked On SUP
Englewood outfitter Hooked On SUP leads a wonderful standup paddleboard/kayak tour to Don Pedro Island State Park. The island is only accessible by boat and makes an excellent half-day trip for enjoying the secluded beach and picnicking under pavilions.
Our guide, a Florida Master Naturalist, pointed out starfish, crabs and other aquatic species as we paddled into lagoons and through dense mangrove forests, which meant paddle-boarders had to get low sometimes to navigate.
On the return, we paddled among dolphins in the bay and watched them feed by running schools of fish against the shore. What a great adventure to discover the diverse coastal habitat!
Palm Island Resort
The next day we spotted manatee and osprey nests while taking an excursion by water-taxi to Palm Island Resort for lunch. The island getaway offers villas, cottages, and resort activities including nature walks and kayak tours with the resort's master naturalist.
While exploring the shoreline, participants learn about the delicate ecosystem of the estuary and how the protective habitat serves as nesting sites for shorebirds and nursery ground for many species of fish and marine mammals.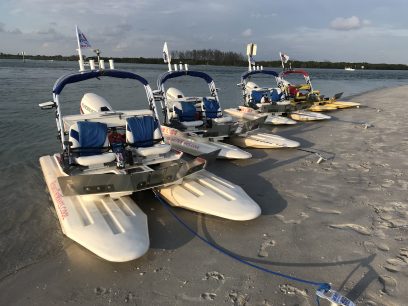 Riding The Waves
For a unique experience on the water, try a motorized personal catamaran with the outfitter, Riding The Waves. We took the guided sunset eco-tour, which began with instruction on how to pilot these novel two-seater boats.
We then zipped around the waterways and stopped at a remote beach to enjoy the sunset hour before speeding back to beat the darkness.
Punta Gorda's Fisherman's Village: A Taste of Old Florida

Area residents talk about a strong sense of community, great fishing, and other attributes of Charlotte Harbor including abundant art and music festivals, a famous farmers' market, boutique shopping in Old Englewood Village, and waterfront dining at Punta Gorda's Fisherman's Village.
Fresh seafood is a given on area menus, and we sampled grouper, cobia, redfish and crab at longtime favorite restaurants Farlow's on the Water, Lock-N-Key, and Sandbar Tiki & Grill.
Locals like to say "our best side is outside," and whether you're strolling a quiet beach, paddling at sunset, or dining on a breezy terrace, it's easy to buy into that.
Getting to Punta Gorda and Englewood Beach
Punta Gorda/Englewood Beach – Charlotte Harbor Gulf Island Coast is a short drive from five airports. Punta Gorda (PGD) is the closest, followed by Sarasota (SRQ), Fort Myers (RSW), St. Petersburg (PIE) and Tampa (TPA). Visit https://www.pureflorida.com/
Author Bio: Ann N. Yungmeyer lives in Tennessee and is a member of Society of American Travel Writers. She contributes to regional print and online travel publications. Hiking, biking, and cultural quests are usually on her agenda, and always in search of postcard vistas, her mantra is, "On a clear day, get to the top!"