Finding quiet among the chaos in Kathmandu, Nepal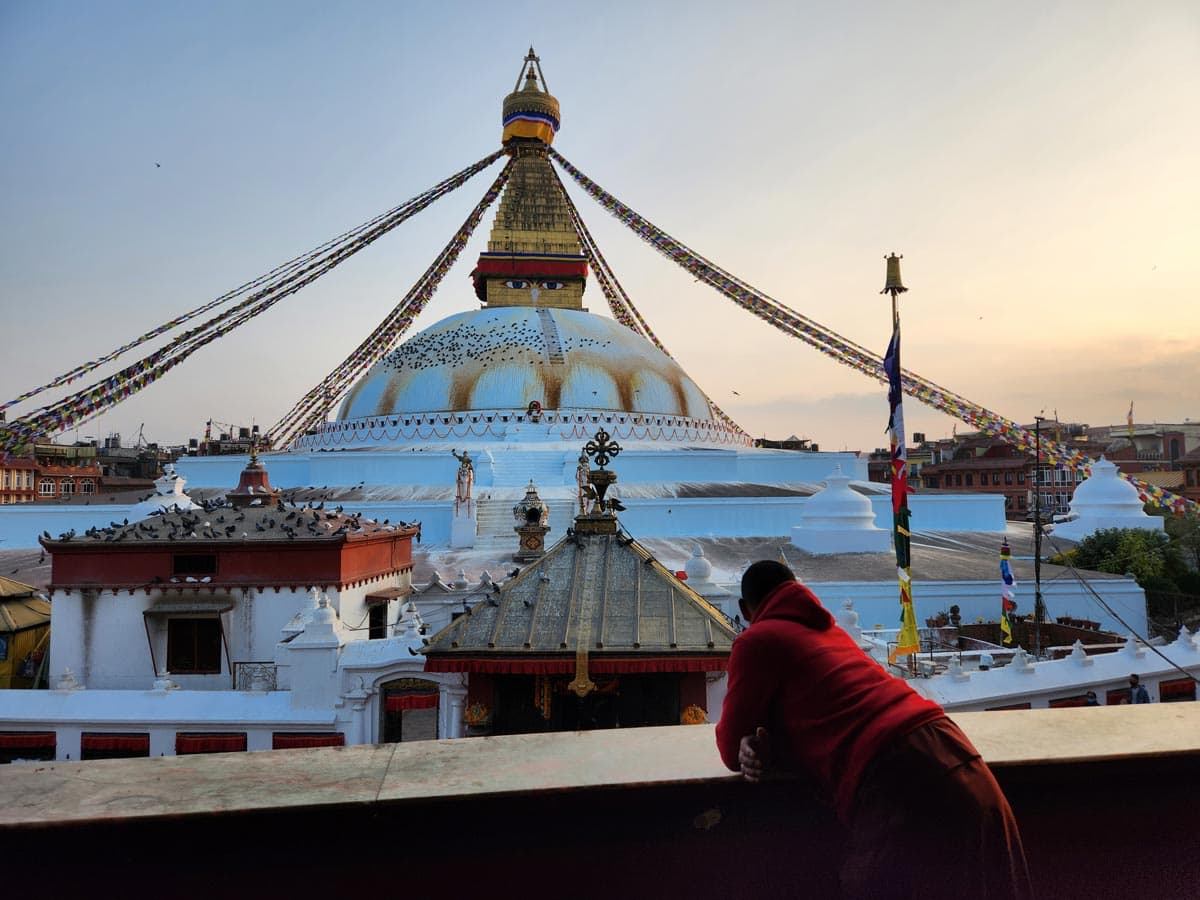 After a warm greeting at Kathmandu International Airport by my travel guide Nora, we rushed into a Nepali ride share car.
"They don't have traffic lights here," Nora casually mentioned. "It can be a little unnerving."
Let's Ride
Groggy after traveling halfway around the world, I didn't fully comprehend her comment until we were on Kathmandu's chaotic streets. They were bumper to bumper with cars, trucks, and busses and in between motorcycles squeezed into every inch of space.
Lanes were nonexistent and left turns a combination of luck and shear will. With the streets so congested, however, we couldn't go much faster than 35 mph, so I was more overwhelmed by the incessant honking and smell of exhaust.
Best Tips & Tools to Plan Your Trip
All that changed when we arrived at the Green Palm Boutique Hotel, a small family-run hotel in Budhanilkantha in the foothills above Kathmandu.
My third-floor room had a queen-size bed with access to a wraparound balcony with stunning views over the terraced hills of the Kathmandu Valley. The hotel was a breath of fresh air, literally, above the city smog.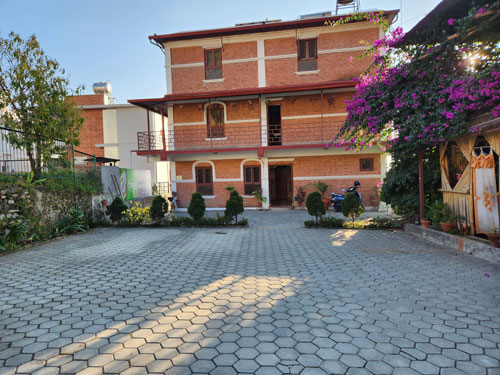 Sunset, Sunrise
That evening I had dinner with my travel companions, Nora Livingstone, founder of volun-tourism agency Animal Experience International and her business partner and wildlife veterinarian Dr. Heather Reid. In the hotel's quaint courtyard, we enjoyed a traditional Nepalese meal of dal bhat (lentil stew over steamed rice) from the hotel's vegetarian café.
After dinner we relaxed by sipping Carlsberg beers and watching the hazy sunset behind Chandragiri Hill. I thought Chandragiri was a Nepal mountain, but when I asked, hotel staff quickly corrected me. In the land of the Himalayas, Chandragiri was merely a hill.
No need for an alarm the next morning because barking dogs and prayer bells announced the sunrise. Breakfast was included with our rooms, but when I met my travel mates down in the courtyard, the sun hadn't climbed high enough to warm the patio yet. Our server, who was also the chef, brought us a large green thermos of hot water.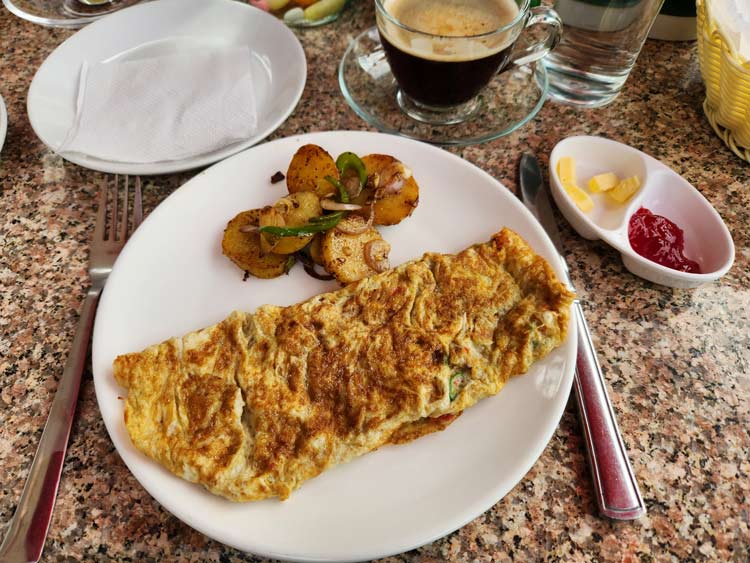 The water wasn't hot because we were chilly, however. It had been boiled to kill germs since Nepal's tap water is notoriously unsafe to drink. I poured the steaming water into a glass and held it to warm my hands.
Today's breakfast of a large veggie omelet with toast and jam was delicious, but the best part came last – slightly sweet Nepalese coffee. It would become our morning ritual the rest of our weeklong stay: lingering over warm coffee while watching the playful antics of the hotel's house dogs, puppies Ruby and Kali, and elder stateswoman Pepper, in the courtyard.
The pastoral mornings at the Green Palm would become a peaceful contrast to our evening excursions into the city. Nora chose this hotel because it was within walking distance to the animal shelter we volunteered at during the day.
However, staying in this location was possible thanks to Pathao, Nepal's version of Uber. Nora used it to summon cars when we transformed into tourists to visit Kathmandu's historic sites.
Mantras and Momo
Our first major site was Kathmandu's most famous, Boudhanath, or Boudha Stupa, one of the largest, most active Buddhist temples in South Asia. Despite its popularity, Nora noted how calm the atmosphere around the temple was compared to the bustling city street we had come from.
Surrounded by tall buildings – the entrance felt like an alley – the stupa wasn't quiet, but instead of revving motorbikes and blaring horns I heard more organic sounds like the flapping of flags, the squeaks and creaks of wooden prayer wheels, and the clanging of bells.
From street level, it's hard to take in the entirety of the massive white mound that makes up most of the stupa. At the top, a golden cap featured Buddha's mysterious eyes looking out in four directions.
Nora led us around the 5th century stupa counterclockwise, the same direction as the hundreds of pilgrims turning row after row of prayer wheels releasing their mantras to heaven. A monastery on the opposite side allowed visitors to walk up to the third-floor balcony for a bird's eye view of this impressive structure. From up top, the people circumnavigating the stupa flowed like a stream.
We had dinner on the rooftop patio of the Himalayan Café as the sunset behind Boudhanath. Here Nora introduced us to momo, or Nepalese dumplings. I called them doughy pillows of deliciousness.
She said every Nepalese restaurant had their own version, but usually they came either steamed or fried with a choice of fillings – chicken, buffalo, or veggie – and a tomato-based sauce to dip them in (the level of heat in the sauce would also vary by restaurant). If ever unsure about what to eat, she said, we couldn't go wrong with momo.
We paired our veggie momo with Gorkha Strong Ale, also brewed by Carlsberg, a premium pilsner named for the Gorhkas, a fierce fighting ethnic group that was part of the Nepalese army.
Monkey Business
The following evening we took a Pathao ride to Nepal's oldest Tibetan Buddhist temple, Swayambhunath on Kathmandu's northwest side. Also known as Monkey Temple for the hundreds of monkeys who occupy the complex, Swayambhunath isn't as large as Boudhanath, but its location was the city's highest point and pilgrims must walk up 365 steps to reach it.
Similar in architecture to Boudha, Swayambhunath also had a white round base with a golden pyramid on top with those mesmerizing eyes. Monkeys swarmed the complex – all over the stupa, sitting on statues, hiding behind prayer wheels, and chasing each other through the plaza. Not sure what I took more photos of, the monkeys or the stupa.
Behind the busy stupa were cafes and shops featuring Nepalese arts and crafts. One shop owner waved us into the Swayambhu Art Gallery to show us his beautiful metal Tibetan singing bowls. He demonstrated their quality by rubbing a wooden mallet around the outside edge of the bowl, which was filled with water.
The mallet vibrated the bowl which then vibrated the water causing droplets to jump out onto the floor while a calming low-pitched hum filled the shop. It was beautiful, but the bowls were too big for our carry-on luggage. We purchased much smaller, yet equally gorgeous metalwork earrings instead.
After returning down the steps, we searched for a restaurant for dinner. We hadn't gone more than a city block when a modern 3-level bistro with a glass front called Lamee Coffee House caught our eye. We walked up to the second-floor balcony and were given menus in both Nepalese and English where the word 'nachos' caught our attention. Curious about the Nepalese version of this Western dish, we couldn't resist ordering it.
We also ordered momo for backup. The 'nachos' were topped with cheese, copious amounts of sour cream, and what looked and tasted like pico de gallo. Even though the momo turned out not to be necessary, they were so good we ate them too.
Closer to Home
Budhanilkantha had its own areas worth visiting. A 1.8 km walk from the hotel was Budhanilkantha Temple, a Hindu shrine dedicated to Lord Vishnu. As we walked Nora told us about its ancient legend of a farm couple who discovered a fully formed statue when their plow ran into it drawing blood.
Sometime in the 7th century, the statue was set in a small pond where the massive stone structure is said to "float." Since only clerics can touch Lord Vishnu, no one has been able to prove or disprove that.
Regardless, the statue is gorgeous – an onyx-black figure lying flat with an ornate metallic headpiece and adorned with vibrant orange garlands of marigolds. As we circled the fenced statue, a steady stream of worshipers entered the shrine while children chased pigeons in the plaza.
A short walk from the shrine on Golfutar Main Road is Himalayan Java Café, a modern eatery in grey and white tones with soft seating around the perimeter. Gorgeous desserts were on display in a glass counter.
We each ordered a decadent piece of cake (red velvet for me) with an equally decadent mocha latte. If not for the Nepalese pop music in the background, I would have thought we were in a French patisserie or an Italian caffe bar.
Uncrowded House
One afternoon the animal clinic's director took us to lunch at a new restaurant, Imago by Rachael, owned by his friend and Scottish expat Rachael Manley. A restauranteur for over 15 years, Manley was famous in Nepal for her cheesecakes. When we asked how she ended up here, she said she has lived in Nepal for 26 years.
"I've been away for so long," she laughed, "Scotland is like a mythical place to me now."
Her restaurant was in a former residence with elegant indoor spaces that showcased Nepalese art and decor. After a busy morning volunteering with street dogs, Imago's outdoor patio was a little oasis. The upscale menu had French and Italian influences, but with fresh, local ingredients.
We started with an appetizer of garlic brioche and pesto. Then I savored a dish of fresh seasonal Waldorf salad with sliced apples, chickpeas, and honey roasted walnuts, while Nora and Dr. Heather shared a mushroom thin-crust pizza. We ended our meal with Manley's dreamy tiramisu.
Another rideshare took us to Kathmandu Durbar Square. A UNESCO World Heritage site, the pedestrian-only square was once home to generations of Nepalese ruling families and held not one, but two durbars or palaces; one in the ancient Newar style and a newer one built in 1908 in classical European style.
Surrounding the palaces were elaborate temples, plazas, courtyards, and baths. Founded in the 3rd century, most of the square's structures were built by successive rulers, each trying to outdo the previous one.
Because of earthquakes, many structures were rebuilt more recently (and by recently, I mean 1600-1700s). Even today many areas were off limits or held up by buttresses because of damage from a major 2015 earthquake.
The ancient square wasn't a hushed museum, however. It was alive with people going about their daily business walking dogs, having coffee, and pushing baby strollers. I was surprised at the number of young people hanging out in the historic square doing what teenagers everywhere do best, sitting on temple steps taking smartphone photos and videos of each other or performing TikTok dances in the plaza.
In contrast, an older crowd gathered around the ferocious-looking Hindu statue of Kal Bhairav, a fierce avatar of Lord Shiva, to receive blessings from a holy man, a blending of Kathmandu's old and new.
Last Blessings
My last afternoon in Nepal was spent in modern comfort at the Fairfield Inn by Marriott in Kathmandu's Embassy District. Since my flight didn't depart until midnight, I needed a place closer to the airport to freshen up before my long flight home.
Using my Marriott status, I was able to check-in an hour early and enjoyed a complimentary beverage and fruit plate while gazing at the Budhanilkantha foothills from my eighth-floor room as the sun set over the city. 
My neatly appointed room was almost too quiet; having gotten used to Kathmandu's noisy soundtrack, I now missed hearing it. Though I was only in the hotel for a few hours, it was long enough to relax and reflect on the peaceful chaos that is Kathmandu.
What to know
This trip was taken with Animal Experience International, a Canadian company that arranges safe and ethical volunteer travel experiences involving animals, both domestic and wildlife, around the world.
A certified B Corp, Animal Experience International, run by Nora Livingstone and Dr. Heather Reid, offers both individual travel planning and group tours to highly vetted animal organizations along with site seeing and meals.
Learn more https://www.animalexperienceinternational.com/
Visitors to Nepal must apply for a tourist visa upon arrival at the airport. The process is simple, but lines can be long. Fees are $30 US for 15 days, $50 for 30 days, and $125 for 90 days and paid in US dollars so bring enough cash to pay the fee at the airport.
Kathmandu temples and world heritage sites require a modest fee for foreigners to enter. Non-Hindus are allowed entry to some shrines, but must adhere to dress codes, such as removing shoes and keeping shoulders and knees covered. Ask before you enter.
More Helpful Links:
Nepal Tourism Board – https://ntb.gov.np/kathmandu
Pathao – https://pathao.com/np/
Green Palm Boutique Hotel – http://green-palm-boutique-resort.kathmandubesthotels.com/en/
While breakfast is included with hotel stays, dinners cost extra, and the hotel's vegetarian café does not serve lunch.
Imago by Rachael – https://www.tasteimago.com/
Fairfield by Marriott Kathmandu – https://www.marriott.com/en-us/hotels/ktmfi-fairfield-by-marriott-kathmandu/overview/
Author Bio: Carrie Dow is a freelance writer based in Charlotte, NC, whose work has appeared in regional and national magazines. She founded What's Pawsitive, a website that profiles animal-based travel, animal rescue organizations, and animal welfare advocates around the world.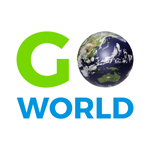 Latest posts by Go World Travel Magazine
(see all)