Editor's Note: As of early December 2020, Fiji is COVID-free and travel is allowed between the islands. However, international borders are closed. Please check local regulations and location openings before you go in the future. We share places, products and activities we recommend. If you make a purchase using a link on our site, we may earn a commission.
When Can I Visit Fiji?
So when can you plan a trip to the beautiful islands of Fiji? The course of the pandemic will determine the date for resuming travel, which will likely begin in 2021 within the Australia/New Zealand/Fiji "bubble" before traveling from other countries. Visit Fiji.travel for the latest info on travel to Fiji.
History of Fiji
Less than 153 years ago, the natives of Fiji were a cannibalistic society. Eating the enemy was a time-honored practice of this South Pacific island nation. As late as 1867, villagers made a meal of missionary Thomas Baker because he touched the chief's head—a cultural faux pas.
Fiji Today
Today, Fijians are a genuinely warm, loving people, deeply religious and faithful to traditions (except feasting on flesh; that disappeared as Christianity spread).
They believe in "living for the day" and "keeping positivity in your pocket," said Eroni, our native guide who called himself a Mighty Fijian and a Chocolate Man.
Indian Influence
Eroni may have been distinguishing himself from the Indo-Fijians, East Indians whom 19th century English plantation owners imported as indentured servants to work the sugar cane fields.
They now comprise the country's second-largest population group (44 percent to 51 percent native Fijian and 5 percent European and other Pacific Islanders).
The Indian influence is obvious as I saw women dressed in colorful saris, Indian names on countless storefronts, Indian spices in local markets and ornate Hindu temples in towns.
So, I shouldn't have been surprised at the meals that included both delicious Fijian specialties like kokoda (raw fish marinated in lime juice and fresh coconut milk), as well as some of the best Indian cuisine.
Village Life
Bula! Fijians use this word incessantly. It means everything from Hello to Wassup to Cheers! Even the brave "warriors" we watched walk on hot coals started their tribal ceremony with a deep and hearty "Bula!" The word embodies the spirit of Fiji.
The best way to learn the Fijian way of life is to visit one of 1,601 small villages scattered throughout the islands. Each village has one church and one chief, whose house is the largest and sits on the highest ground in case of a flood. About 200 families comprise the typical village; an average family has five or six kids, all fluent in English required in school and spoken throughout the islands.
We visited Lawai Village on the Sigatoka River on the largest island of Viti Levu. Known for its hand-made pottery (no wheels used), Lawai once was the richest village in Fiji. It's not far from the Sand Dunes, Fiji's first national park, where archeologists traced the first inhabitants' arrival to 2600 years ago.
In Lawai, houses are made of concrete with open doorways and windows. No fences or borders, just lush grass, tropical flowers and foliage surround the buildings. The climate is tropical year-round with ideal weather from May to November. Both men and women wear a flower tucked behind the ear, which serves a purpose besides adornment. When worn on the left side, it means, "I'm single." Both sexes have equal chances for relationships as the male/female ratio is nearly one to one.
Eroni briefed us in traditional village protocol: no sunglasses, hats, bare legs or shoulders. Modesty is premium. At our hotel, we were given sulus (a sarong-like wrap) to wear for such occasions. We left our shoes outside and entered the meeting house.
Kava Ceremony in Fiji
It's customary to give a gift of waka, the dried root of the yagona plant, to the chief upon entering the village. The ancient Kava ceremony follows this formal presentation.
It goes like this: visitors sit yoga style and barefoot on a grass mat facing the chief and villagers. Singing and chanting goes on while the yagona gets crushed into a powder, put into a pouch and squeezed in a big bowl of water that eventually turns muddy brown and becomes Kava juice. Then each person in the circle takes a solemn turn at drinking it from a coconut shell. The ritual involves clapping your hands once and saying (here it is again), "Bula!" Then in one gulp, you down the liquid, hand back the empty cup and clap your hands three times.
I could barely swallow the smoky stuff, but it would have been really bad form to make a face or, worse, gag! No one seemed to mind the nasty taste, and by the end of the visit, everyone—natives and visitors alike—were singing and dancing (meke) and sharing a bountiful feast of local food laid out by the village women.
The other ceremony I loved was Mass at the local Catholic Church. Men and boys, dressed in colorful native shirts and grey sulus, and women and girls in their finest dresses sat cross-legged and barefoot on hand-woven mats while the priest said the service in Fijian. Many tempered the heat with hand-held grass fans while singing hymns and retrieving babies who occasionally crawled away from their parents.
Residents also practice Hinduism and Islam in this peaceful multi-cultural society. One can't imagine crime or disrespect among these gentle, affectionate people who hold tradition, culture and nature above all else.
"I can only keep my culture if I share it," Eroni said.
Stay at Jean-Michel Cousteau Resort
Tropical birds squawking in the trees woke me every morning at my bure. That's what they call the 25 luxury thatched-roof bungalows set village-style at this idyllic retreat on the shores of Savusavu Bay on the island of Vanua Levu, the second largest of some 300 islands in the Fiji chain.
Named after the son of famed French ocean explorer Jacques Cousteau, the resort enjoys award-winning status as both a luxury property and an eco-friendly resort. That is not an oxymoron. As the "environmental architect" of the resort, eco-filmmaker Jean-Michel set the standards for sustainability, resulting in a lovely balance between lavish comfort and conservation.
The entire property is an impressive garden of tropical flowers, medicinal plants and organic fruits and vegetables. It's ideal for families, with its daily themes of Fijian culture and a separate children's area for meals and activities in the complimentary Bula Club. For divers and snorkelers, its waters hold some of the world's most interesting coral reefs; indeed, Fiji is the "Soft Coral Capital of the Word."
Famed marine biologist, Johnny Singh, leads diving explorations and heads up educational programs at the resort, as well as answers lots of questions from inquisitive journalists. Singh is a native Fijian passionate about environmental conservation, sustainability practices and educating guests and school children about the environment.
Couples won't find a more romantic setting—lantern-lit dinners, escapes to a nearby private island, massages on the beach, and cuisine and wine from around the world. The bures are true havens for relaxation, free from TVs and phones. A staff member gives wake-up calls with raps on your front porch door.
This Pacific gem was everything I expected from an island paradise. When the staff sang the national farewell song IsaLei in Fijian at our departure, I knew I'd return one day:
O, forget not, when you're far away. Precious moments beside dear Suva.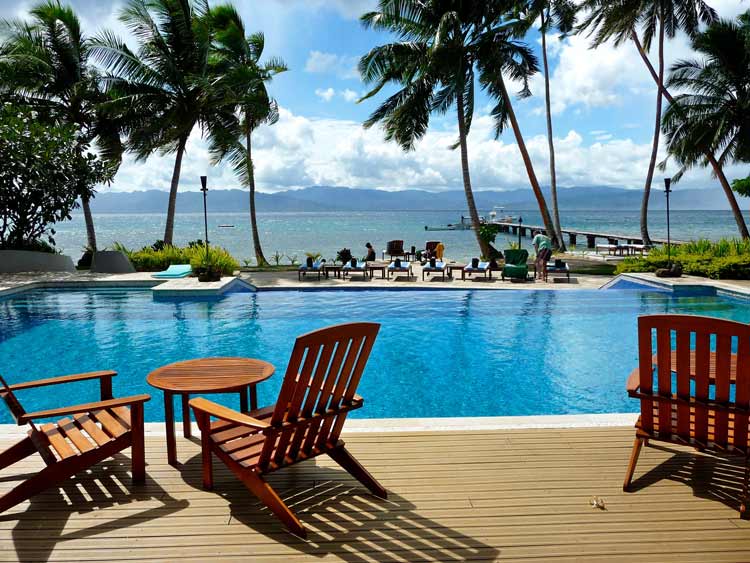 Fiji Travel Tips
Fiji is a 10-hour non-stop night flight on Fiji Airways from Los Angeles to Nadi, the largest city of about 43,000 people. Because you cross the International Date Line, you lose a day going but arrive in the U.S. on the afternoon of the same day of your evening departure from Fiji. Currently, because of the pandemic, the airport is closed until further notice.
Tourism Fiji – Fiji.travel
Jean-Michel Cousteau Resort – fijiresort.com
Fiji Airways – Fiji airways.com
Author's Bio: Claudia Carbone is an award-winning travel writer and member of Society of American Travel Writers, North American Travel Journalists Assoc. and Denver Woman's Press Club. Currently, her work is published in The Denver Post, Colorado Expression Magazine, London Sunday Telegraph's Hotelegraph, GoWorldTravel.com, RealFoodTraveler.com, MtnTown Magazine and The Villager Newspaper. Her blog Sleepin' Around covers any place you can sleep on vacation.