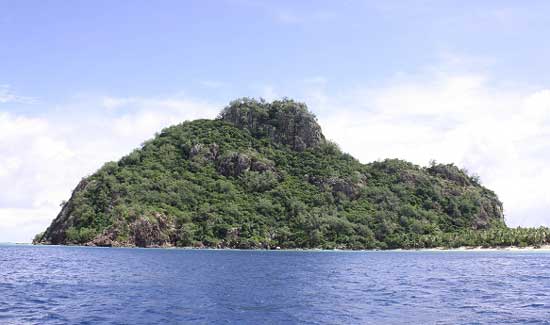 Our charter boat rocks on steep Pacific Ocean swells as we approach Monuriki Island. Rounded and rugged, the island is covered with trees and with steep rocky ledges. As we approach the shoreline, I can see the small palm tree-shaded beach and the nearby cave from one of the unforgettable scenes in the movie Cast Away. It is the waterside cave where actor Tom Hanks' character took shelter while stranded on the fictional uncharted island in the South Pacific.
"It was like Hollywood shifted to the island," says Kini Saukuru, my tour guide on this adventure, recalling the film's production in 2000. "Monuriki Island is pristine and isolated, untouched in a gorgeous setting. As we approach, you can see it's lush and rich with vegetation."
Seeing Monuriki Island was just one part of my half-day sightseeing excursion along Fiji's Mamanuca Island group, off the western shores of Fiji's main island of Viti Levu.
We had left just an hour or so earlier from Malolo Lailai Island's Musket Cove Resort, where I am staying on this visit, then passed the adjacent and mountainous Malolo Island, smaller Qalito Island, and backpackers' Mana Island on the way to Monuriki. Most of these islands have resorts with beachfront lodging.
Back on Malolo Lailai, I visit the actual raft used in Cast Away, the prop on which Hanks' bearded and emaciated character escaped the island. Made to look like wood, parts are also made of steel and plastic-like tubing, all bolted together.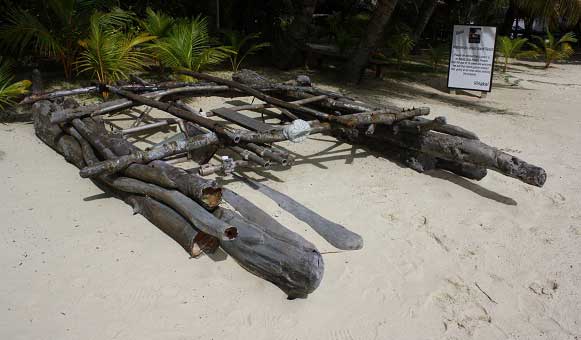 Attached is "Wilson," the volleyball that Hanks' character made into a companion to ease his loneliness. It was on the raft where currents washed Wilson to sea, one of the movie's most dramatic scenes.
The raft sits on Malolo Lailai's Plantation Island Resort, where staff members will tell you it's the original Wilson ball used in the movie. "We love this raft and we're very proud to have it," says resort staffer Miri Soqosoqo.
Once known as the notorious "Cannibal Isles," Fiji is now a tropical paradise of 333 islands, with only 100 or so inhabited. Home to the foot-scorching fire walk traditions, the country's population stands at about 900,000, with most residents living on Viti Levu.
There's another way to island hop between Malolo Lailai and Malolo islands – you can almost walk on the water. During low tide, I see people wading knee deep as they walk the few hundred or so meters between the islands. "It takes me 30 minutes to walk from Yaro," one woman tells me, referring to a village on the northern end of Malolo, "and 15 minutes to cross the water."
Another woman I meet says she's waiting for the tide to pull out altogether, so the path is just wet sand and puddles.
Although my island hopping adventure is one way of exploring Fiji, speeding between islands by boat over aquamarine seas is a way of life. "It's a totally different feeling – the weight of the world just slips off your shoulders," says Kini, who's on staff with Musket Cove Resort. "It's just you and the ocean, uninterrupted and peaceful."
Fijian Firewalking: A Toe-Curling Experience
It may be bad enough walking on scorching sand on the beach, but Fijian firewalkers firmly step on heated rocks with ease and seemingly without pain. Dressed in traditional warrior garb, they do so during the many chanting-filled rituals now performed at resorts along Fiji's Coral Coast.
"I started practicing 10 years ago, and it was passed on to me by my father and my grandfather," says Waisake Ratuloaloa, the tribal leader of one such ritual I witnessed. "This is passed on from generation to generation."
So how does firewalking not burn his feet?
"I'm already used to it because I practiced a long time. When I did it the first time, it burned but I continued doing it until it didn't bother me anymore."
To prepare for the event, the firewalkers heat up the stones until hot with a fire and then spread them out into a small pathway for walking. The men must abstain from sex and not eat coconuts for two weeks before the ritual. Before walking across the rocks, they motivate themselves with powerful chanting.
After the ritual, I took a closer look at the bottom of Chief Ratuloaloa's feet. They were not burned, but in fact just wet from the grass, with no apparent calluses or blisters. "It feels hot, but nothing happens," he says. "It doesn't burn my legs or feet."
Spelunkers Beware: Cannibals Once Ate Here
It might be the lowest I've ever bent my 6'4" inch frame, dipping down and gripping the wobbly bamboo stick stretched under a two- to three-foot-high passageway for support.
In a foot of water, I'm squirming my contorted body through the so-called "pregnancy gap" of Fiji's Naihehe Cave, my shorts now drenched in the warm water as I must almost crawl under the jagged outcrops of rock.
It's a squeeze well worth it, however, as the passageway leads to a spacious subterranean cavern with glistening and chalky stalactites and stalagmites tinted in earthen hues, seemingly dabbed on the cave's walls with an artist's touch.
"This one looks like a flower," says Jona, one of our tour guides whose fluorescent lamplights provide a glimpse of the limestone formations in Naihehe Cave's Grand Cathedral Chamber. "Next to that is a turtle. You can see the head and shell go backwards. At the bottom is the formation of a big blanket." And there's also "bigfoot" – what looks like the imprint of a giant foot. "That's naturally formed as well," says Jona.
Naihehe Cave is situated deep within the "Salad Bowl" or farming region of Viti Levu. To reach the cave, we first float along the Sigatoka River on "bilibili" bamboo rafts to a trail on which we hike 15 minutes to the cave's entrance, all in view of a stunning panorama of Viti Levu's lush and mountainous tropical interior.
The most fascinating part of my spelunking journey is yet to come. We approach the cannibal oven, which is literally a hole in one side of the cave's wall. Naihehe Cave was used by the last known cannibal tribes of Fiji, in the mid 19th century.
"This is where they killed people, heated up stones and threw the stones and person in the oven," says Waqa, another tour guide, as he clutches a bone. "Cannibalism wasn't done for fun. It was done for serious occasions, like the installation of a chief, hosting another chief or to celebrate when warriors returned from the battlefield."
"When is the last time this oven was used?" I ask.
"It's not recorded," he replies with a grin.
If You Go
Naihehe Cave Tours
Tours leave from from Viti Levu's Coral Coast and Nadi area. www.sunvacationsfiji.com
Musket Cove Resort
I awaken to the soothing sounds of rustling palm leaves as breezy South Pacific winds blow along the beachfront. The 55 rooms that make up this resort are actually a mixture of beachfront, garden and canal-front bungalows along a tranquil cove on the northeastern edge of Malolo Lailai Island.
The resort has a fine dining restaurant, lounge and bar, and offers a wide range of water activities including windsurfing, kayaking and snorkeling, to name a few. Day excursions, including scuba diving and fishing trips, leave from the Musket Cove Marina. It's also a popular stopover for yachts and other vessels as the resort has a well-stocked grocery store, fuel pumps and laundry facilities. For more information: www.musketcovefiji.com
Air Pacific offers direct flights to Fiji from Los Angeles LAX.   800-227-4446. www.airpacific.com
About the author: A former television news reporter, freelance travel writer Richard Varr is a member of the Society of American Travel Writers (SATW).  His work has appeared in publications and websites including Porthole Cruise Magazine, Islands, Good Sam Club's Highways, AOL Travel, the Dallas Morning News, Christian Science Monitor and Sydney Morning Herald.  Visit his blog at: varrtravel.wordpress.com