Editor's Note: The Dominican Republic is open to travel, but all travelers must fill out a Traveler's Health Advidatvit and undergo temperature checks and random rapid COVID tests upon arrival. Please follow all local safety guidelines. We share places, products and activities we recommend. If you make a purchase using a link on our site, we may earn a commission.
"Hold on, and let go when I blow the whistle," the man says.
I'm standing on a ledge high above an aquamarine pool at Scape Park, a natural adventure theme park near Punta Cana, Dominican Republic.
The man hands me a white rope with a knot. I hold on tightly and turn toward the water. My friend, Lesli, grips another rope beside me.
"Ready, set, go!" I yell, and we run off the ledge, zipping over the water. I hear the roar of nearby waterfalls, and then the blow of the whistle.
We let go and drop into the pool. Laughing, we climb up the ladder to do it again.
Dominican Republic Vacation
It isn't every day that you can plunge into an aquamarine pool, but that's just one way to spend the day in the Dominican Republic.
This Caribbean island of 10 million welcomes visitors from all over the world, and it's a popular winter getaway.
Travelers come for the sunny weather, friendly people and miles of pristine beach. Many top Dominican Republic resorts can be found in Punta Cana, which has its own airport.
This lush tropical island paradise is two hours by air from Miami, four hours from New York City and eight hours from most European cities.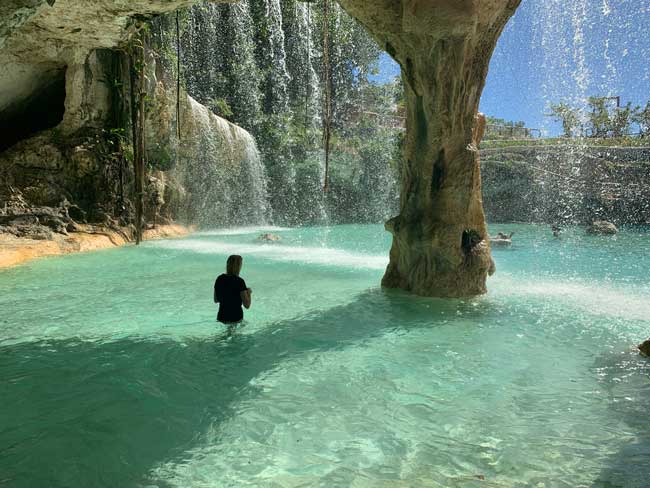 Scape Park
The Dominican Republic has a lush, diverse landscape, from mountains to tropical forests to beaches. Scape Park makes the most of that environment, turning natural land features into adventures.
At Scape Park at Cap Cana, my friends and I have swum in ancient pool-filled caverns and cenotes, hiked along a cultural trail and stood under waterfalls in the Saltos Azules.
The $149 park fee includes transportation from your hotel, along with a buffet lunch and a full day at the park.
Admission also includes access to Scape Park's private beach club. There, we have the pristine shore almost to ourselves.
We spend the afternoon relaxing in the water and sipping cool drinks from our beach chairs. It's a perfect escape from winter.
Dominican Republic Resorts
Many Dominican Republic resorts are all-inclusive, which means that meals, most drinks and some activities are included in the room price, making for an affordable vacation.
We've chosen to stay at the Occidental Punta Cana, a lovely all-inclusive resort on Bavaro Beach, less than 19 miles from the airport.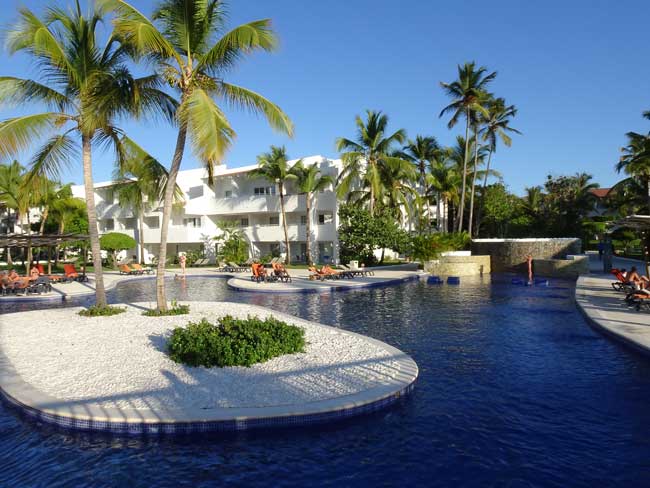 Occidental Punta Cana
For many guests, the Occidental Punta Cana is a one-stop shop for vacation, providing everything from entertainment to dining to accommodations. Three huge pools wind through the resort, and there are 11 restaurants and snack bars to choose from.
(The resort has two buffet restaurants, as well as ala carte restaurants specializing in Asian, Italian, Mexican, seafood or even steak.)
My room is large and comfortable, with a private Hydro massage tub on the deck. It's one of 52 "Royal Level" rooms, which includes access to a private area on the beach, a private ala carte restaurant, and free internet service.
Relaxing at the pool one afternoon, I see a mix of families, couples and groups of friends of all ages. The Occidental Punta Cana has an entertainment program just for kids, with a supervised kids' club for those aged 4 to 12.
Adults have entertainment options too, from dance classes and yoga to a "disco" and beach volleyball. A full schedule of shows and live music is offered in the evenings.
The Occidental Punta Cana also includes non-motorized watersports at no cost, including kayaking, boogie boarding and even a free scuba lesson in the pool.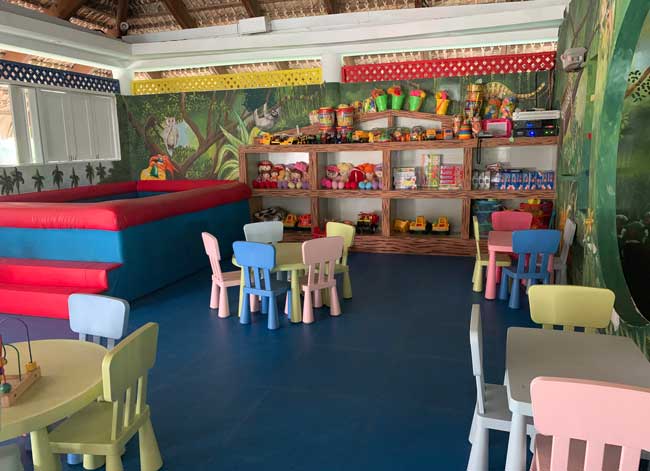 Saona Island
We want to see more of the Dominican Republic, though, so we book a day excursion to Saona Island, a small isle that lies off the southeastern tip of the Dominican Republic.
The tour, arranged through the Occidental Punta Cana, includes transportation to the boat terminal, a speed boat to the island, a buffet lunch on the island, and a catamaran trip back.
"Today, you're our guest in the Dominican Republic," says our guide, Ray. "Please set your worries from home aside. Just enjoy our hospitality."
Our lively excursion group, which includes Russians, Brazilians, Canadians and Americans, nods in agreement. We're happy to be vacationing in the Caribbean far from the normal stresses of life.
We board a speedboat that zips us toward the island. Yet, about a half mile from shore, we stop.
"Get out," our boat captain says with a smile.
Although we're far from the shore, we hop overboard. Sure enough, the water comes up to my shoulders. We're standing on a sand bank in the middle of the sea, and colorful starfish dot the soft sand beneath our feet.
The boat captain turns on some music as my friends join me in the water. We're handed cups of Dominican rum and coke, which we sip, soaking in the warm water.
After 45 minutes on the sand bank, we continue to the island. There, we find dozens of beach chairs and palm trees that offer shade.
The azure sea is clear and warm. For lunch, we have Dominican BBQ and enjoy more Dominican rum and coke.
After a relaxing afternoon, it's time to head back. This time, we board a catamaran. The crew raises the sails and we set out. Music plays onboard and the mood is light. The crew drums up a game of hot potato with some of the passengers.
Bring your camera and catch the family enjoying the tropical beauty. Canon has a great selection of cameras for travelers, from pocket-size to the more advanced gear, here.
(Only instead of a potato, they use a broom.) I watch from the sidelines, hearing laughter and comments in English, Portuguese, Russian and Spanish.
On this perfect day in the Dominican Republic, the stresses of life seem far away. The island has worked its magic on me, so I sit back and enjoy the view.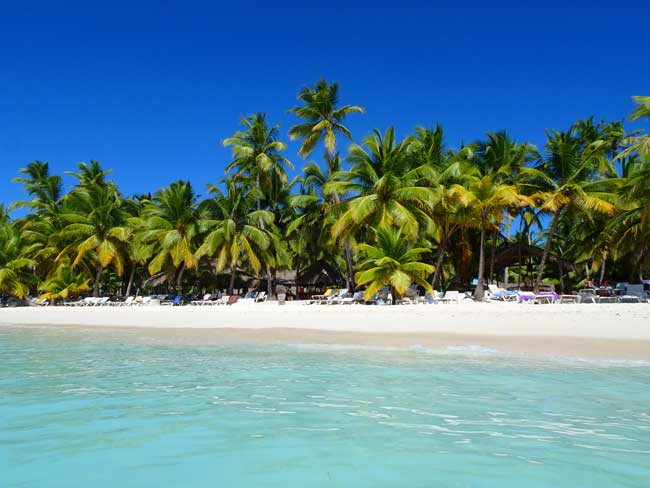 If You Go:
Resort Reservations: Occidental Punta Cana
Park Details: Scape Park
Find all of your accommodations from airlines to hotels to busses in one place with Travelocity. Make your plans for future travels here.