Dolly Parton is one of the world's most beloved celebrities. And no one loves this international superstar with the larger-than-life personality more than the folks in East Tennessee in the southern U.S. where she grew up in the Smoky Mountains. Even with all her success as a singer, songwriter and actress for nearly five decades, Dolly has never forgotten her people; and in 1986, she gave back to the community by launching her Dollywood theme park in Pigeon Forge, Tennessee.
More recently, in July, 2015, she opened DreamMore, a lovely, thoughtfully designed family resort hotel just two miles from the park.
DreamMore

As I visit DreamMore at the closing edge of fall, the Smoky Mountains still flaunt their red and gold colors, adding to the warm feeling I get the minute I step into the large foyer from the brightly lit porte-cochère. It's like a beautiful home! To the left is the Living Room with comfy chairs gathered round a stone fireplace with mantle decked out for the holidays. To the right is the Family Room, a more casual space also with a fireplace where families play cards and checkers. Straight ahead are steps leading to a wrought-iron balcony overlooking the lower level that houses the restaurant, spa/salon, fitness center and leads to the Backyard.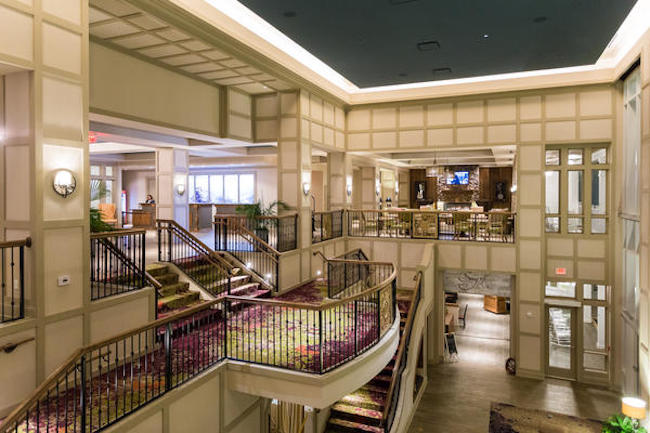 Dolly-inspired Decor
My room clearly was designed with a family of four in mind. A king bed with a bunk bed next to the wall—how clever! Of 300 rooms and suites, about 200 have the bunk bed setup. It might have been any hotel room, but a large pink framed mirror over the desk and a bed cover with butterflies are distinctive Dolly touches, as Ms. Parton was involved with the concept from start to finish.  As I roam around the hotel, the butterfly motif flies everywhere: in the garden, in the front entrance fountain, on the carpet throughout the halls. Why butterflies? They symbolize the star's metamorphosis from a child growing up "dirt poor" with 11 siblings in a one-room cabin to a living legend worth an estimated $500 million.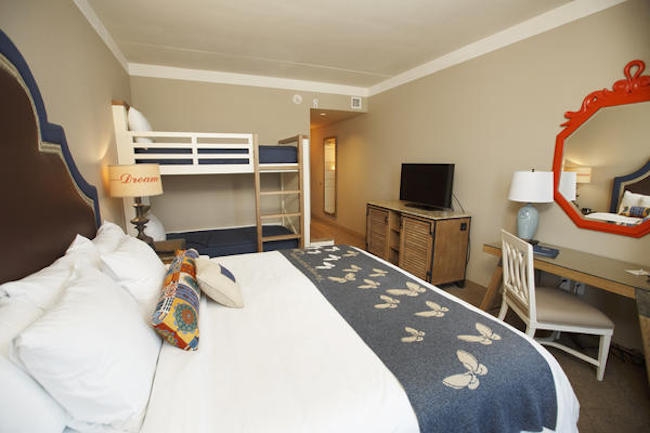 Dolly took all the good memories and traditions of her simple childhood and incorporated them into DreamMore. Storytelling was a big part of her life, so it takes place every night in the Family Room around the hearth. Her family cabin had a big porch, so porches with rocking chairs appear everywhere in order to encourage heart-to-heart talk.
The Backyard has a large grassy area, The Meadow, and gardens and paths for strolling, as well as fire pits for S'mores at night, an amphitheater for more storytelling, a playground and the Swimming Hole—a gorgeous pool with waterfalls, hot tub and splash pad (there's also an indoor pool). Little kids 4 to 11 can engage in arts and crafts at Camp DW, and older kids like the Family Game Room. The Dining Room—Song and Hearth, a homey southern eatery—is decorated with large quilts, patchwork booths, crockery and a chandelier made from cooking kettles. Throughout the hotel, plaques and pictures proclaim her home-grown wisdom, such as "If you don't like the path you're walking, start paving another one."
Dolly, the Superstar
Dolly's amazing career is celebrated throughout the hotel with a hallway wall lit up with her album covers (100 million sold), framed musical instruments, and bigger-than-life photo on the wall. She just became the first woman to received the Country Music Association's Willie Nelson Lifetime Achievement Award. I wouldn't be surprised to see that trophy displayed sometime soon alongside other memorabilia.
DreamMore, 2700 Dollywood Parks Blvd., Pigeon Forge, TN 37863, 865-365-1900
Dollywood Theme Park 
Guests at DreamMore received complimentary trolley rides to and from the park and time- and money-saving privileges. The award-winning park carries Dolly's theme of family and togetherness as well as the Smoky Mountains history and preservation. Besides more than 40 rides and attractions (Lightning Rod is the world's fastest wood coaster), there are demonstrations of turn-of-the-century crafts, theaters for live shows and entertainment, southern-style food, and the largest candy store you'll ever visit!
Author Bio: Claudia Carbone is an award-winning travel writer based in Denver. Read about other hotels she's visited in Sleepin' Around.