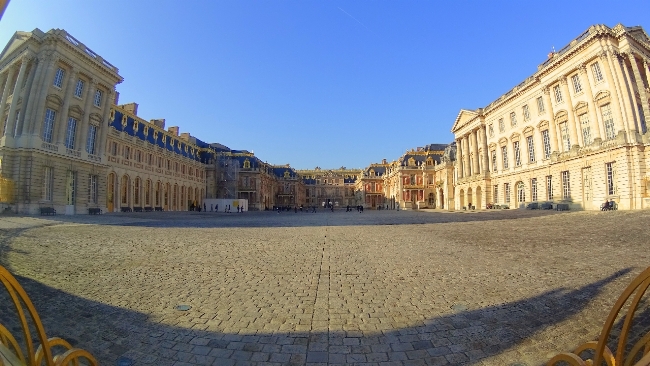 The newest restaurant from iconic French Chef Alain Ducasse is set in an amazing and iconic location, within the fantastic Chateau de Versailles. Ore Ducasse offers palace visitors (along with locals and Parisians) an excellent opportunity to experience the cuisine of Chef Ducasse in a unique and historic setting.
Ore, the Latin word for mouth, refers to the pleasures of the mouth, something so important to Chef Ducasse at all his restaurants. Ore Ducasse offers a seasonal evolving menu, highlighted by fresh, local ingredients. One of the highlights of my recent luxury foodie adventure to France was lunch at Ore Ducasse. The restaurant is run by Executive Chef Stephane Duchiron, who had his own celebrated Paris restaurant Les Fourgeres before Chef Ducasse approached him to open and run the Versailles location. Duchiron trained with another of France's modern masters, Guy Savoy, before opening his own spot.
I found the room casual, yet elegant, the menu wide-ranging yet focused, and the service true to a Ducasse restaurant. The wine list was also extensive and perfectly curated, with a nice variety of lower priced options. The overall pricing is quite reasonable with light meal options just around or under 20 euros. A pan-seared beef filet with duck foie gras is 36 euros and the steamed turbot is the menu's most expensive option at 48 euros.
Lunch started with some Selection Alain Ducasse Brut champagne to get us in the mood. The starter was next, we went with the Parmentier-style soup, served with croutons. This was a hearty, winter soup, with potato stock, cream and truffle oil, topped with crunchy croutons. As the chef would later tell me, he thought it was perfect to warm palace visitors on cold winter days. Next were the main courses. I had the lightly spiced, free-range, Guinea fowl breast, with tender pumpkin. Yes, it was similar to a chicken breast, but more wild and richly flavorful. The spices were quite delicate and the pumpkin was just smooth and delicious. My fiance (I had just proposed to her in Paris the night before!) had the seared sea scallops with rainbow cauliflowers. The scallops were just perfect, tender, fresh and lightly seared. The beautiful scallops just looked amazing complimented by the intense colors (purple, yellow and green) of the cauliflower. For dessert we enjoyed some vanilla ice cream and passion fruit sorbet. Ore features a number of wonderful desserts in tribute to the palace's former resident (and dessert aficionado) Marie-Antoinette.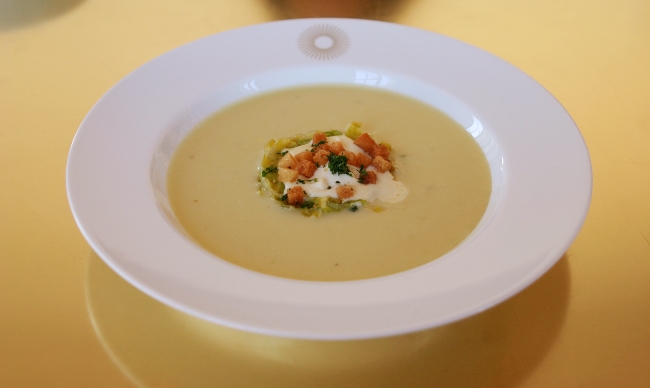 The wine was seriously on-point and we sampled each of the three reds offered by the glass on the menu. First was a 2014 Bourgogne (Burgundy) Pinot Noir from Fournier. Next up was a 2015 Cotes du Rhone Grandes Serres from Les Portes de Castelas (a bargain for 5 euros) and finally, a deeply mellow 2014 Bordeaux from Chateau Barreyre. The wine list had a very nice range of options, with more than a few full bottles under 30 euros.
After the sun goes down, Chef Ducasse has a complimentary space, known formally as Ducasse au Chateau de Versailles. This takes private dining to a whole new level for 2-124 people. Historic menus are prepared and served, in the restored palace dining room, by staff elegantly dressed in period costume. The formal service, a la francaise, is presented on recreations of Marie-Antoinette's porcelain. For those who don't know, service a la francaise is the practice of serving all the food at once. Service a la russe is the more modern style of serving one course at a time, one after the other.
Ore Ducasse serves breakfast, lunch and afternoon tea, timed to coincide with the palace's visiting hours. It was so easy to get to Versailles (this was my first time there), we took an Uber from Paris and it was about $35. There is also a direct train that runs about every 30 minutes from Paris. You do not need to purchase a palace admission ticket for access to the restaurant. The experience was perfectly matched to my hotel stay, as Alain Ducasse oversees the food at Le Meurice, my home away from home in Paris. Aside from running the two gastronomic restaurants at the luxury hotel, Chef Ducasse also oversees all the in-room dining, including the lavish breakfasts we enjoyed each morning.
Read more of Freddy Sherman's take on travel on his Go World Travel Blog. You can also follow more of his adventures at luxuryfred.com blog and on his YouTube channel.