I had never heard of Perpignan, France until I decided to spend my first nonworking year relearning French in the country itself. I looked at a map of France and my eyes went to the south, searching for a warm climate.
That is when I saw the name "Perpignan".  Then I looked at google images of Perpignan and saw palm trees, blue skies and the emblematic Castillet, the city's medieval gate. My decision was made.
Called by some the "second sunniest city in France", Perpignan has 250 days of sunshine and its own micro-climate. It might be overcast and grey in Toulouse, only a two-hour train ride away, but the sun will be shining in Perpignan.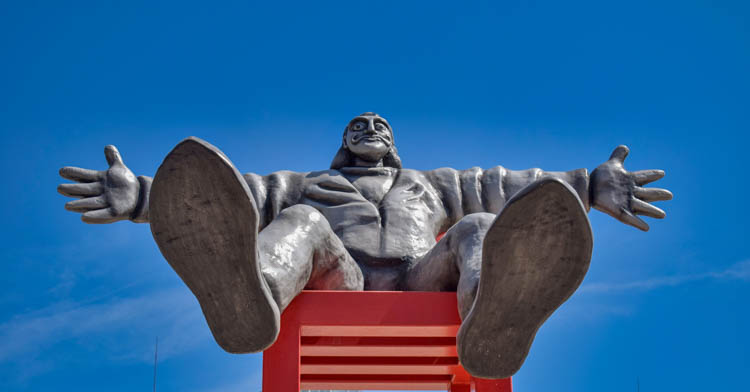 University Homestay
So off I went to the University of Perpignan which offered reasonably priced, full-time courses with the possibility of a homestay. My home was to be with a retired French couple.
To my great fortune, the husband was a chef. Therefore, I enjoyed a variety of French dishes every evening. This even included frogs' legs once, and only once for me. 
My son asked me what I had to do for my homestay family. I answered: "Well, uh, I have to make my bed in the morning." No housework, no laundry, no cooking.
I studied French with excellent professors. One of whom successfully spent eight hours on the study of the subjunctive mode in the grammar class and made it interesting. No small feat. My non-working years started with studying and enjoying my new surroundings.
The medieval city of Perpignan, France is compact so all the attractions can be easily walked to. It also has a wonderful café culture along with glimpses of Catalan and Gypsy culture.
Plus there is a one euro bus to Collioure on the Mediterranean making for an easy day trip. I had planned to stay in Perpignan just for the year. I stayed instead for three. Why leave?
Colorful Perpignan, France
When you visit Perpignan, you will not see any of France's famous monuments. But what you will see is lots of color. 
Photography has been a passion of mine for a long time so I loved Perpignan's vibrant colors. There are blue skies, pastel-colored architecture and the rich bricks of the Castillet.
Then there is the garnet-shaped theater, L'Archipel. This structure is a vibrant red inside and out, designed to symbolize the area's garnet industry.
Furthermore, there are the colorful fresh vegetables and fruits of the Casanyes Market.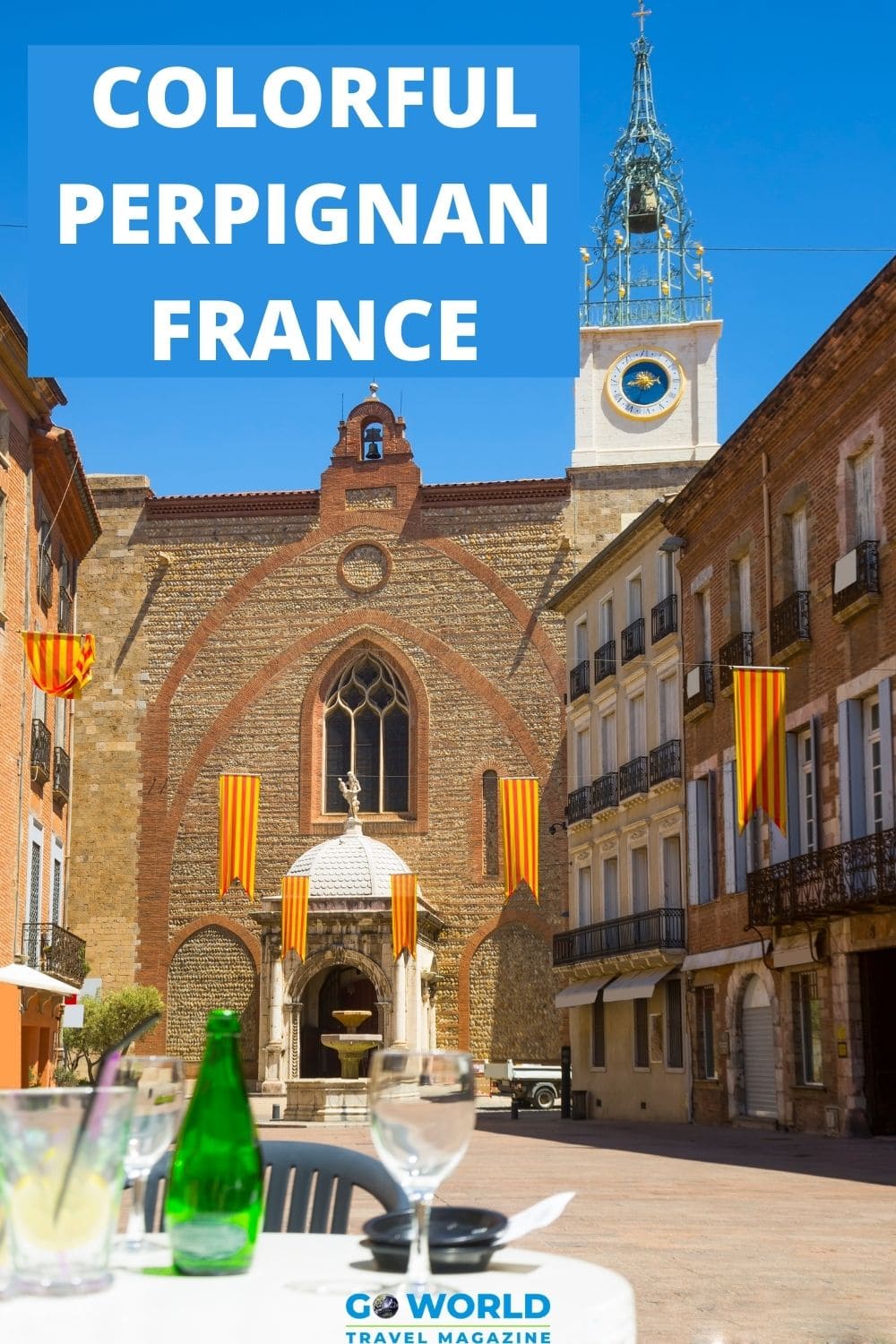 Salvador Dali called Perpignan "el centre du mon" which means the center of the world in Catalan, his native language. The famous artist caught some of those colors, such as the one he painted of the Perpignan train station.
In Perpignan, you will experience Catalan culture and its spicy cuisine along with the cuisine of southwestern France. There are a variety of dishes made with duck or mussels and other kinds of seafood. 
You can also sample some of France's finest wines from nearby Collioure. The grapes are grown in rocky, dry soil on steep, southern exposed hills creating intense, full-bodied wines.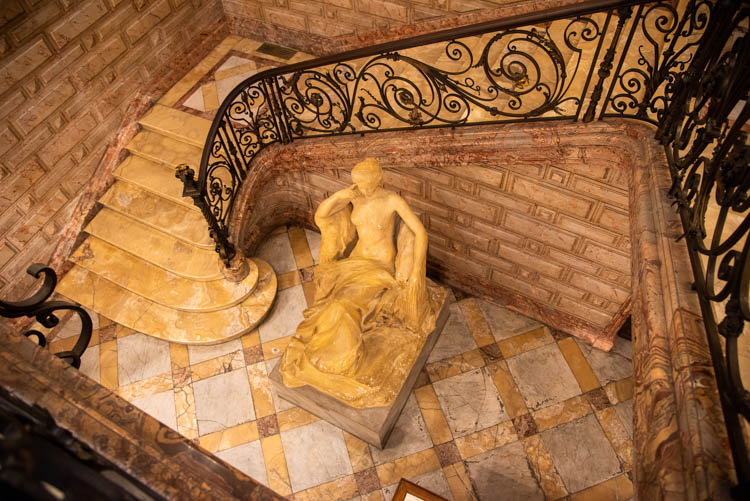 For Lovers of History
If you are a history buff, seeing the Palais des Rois de Mallorque, (Palace of the Kings of Mallorca) will intrigue you with its medieval history and gothic architecture. The Palace began as a fortress in 1274. The first King of Majorca, King Jaime II, used it to protect Perpignan's growing prosperity.
It is believed that Perpignan was settled around the beginning of the 10th century and became a commercial center for the Roussillon region at that time.
The Musée Hyacinth Rigaud will delight you with wall-size paintings of Louis XIV and the Sun King's mother. Hôtel Pams is not a hotel but a mansion built between 1852 and 1872 by Pierre Bardou.
He made his fortune by manufacturing cigarette papers. His mansion is now owned by the city of Perpignan and is open to the public.
Local Culture and Worldwide Concerns
Each September, Perpignan hosts an international photojournalism festival called Visa Pour L'Image. The intent is to showcase both reported and unreported news events from around the world.
The festival shines a light on environmental problems and how countries may or may not be addressing them. Also the consequences of governmental inaction. 
In addition, the festival highlights a wide range of cultural practices. This can be anything from weddings to the lives of nomadic tribes. Or from senior women playing a game of basketball to the harsh treatment of prisoners.
As you walk along Perpignan's medieval streets, you may be surprised by what or whom you see. The city's narrow streets attest to the summer's heat, as the buildings were constructed close to one another, creating cooling shadows.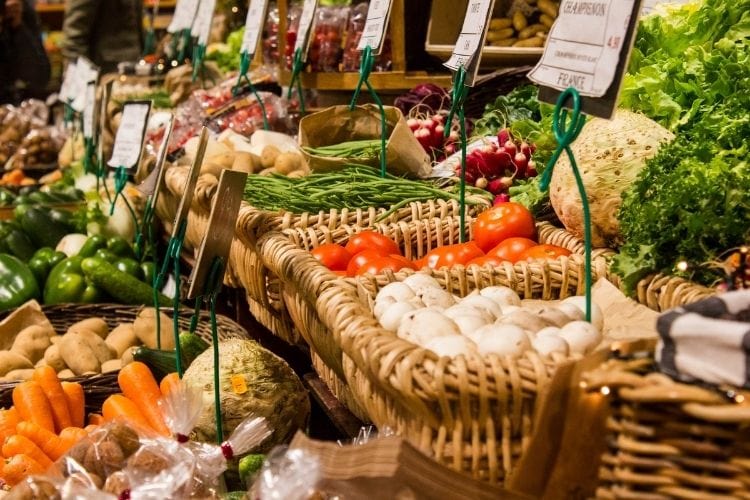 Varied Cuisine Found in Perpignan
The Canal Vauban runs through the center of Perpignan and is bordered by cafés and retail shops. You will also find Les Halles, an indoor market, which opened in 2017. Even before entering the large market area, you will be tempted by an assortment of gelati and French pastries
However, upon entering the main area of Les Halles you may be overwhelmed by the choices awaiting you. The challenge is to decide which of the 27 stands to visit.
Here you can purchase fresh fruits, meat, seafood, olives, cheese from the Pyrénées, regional wines, craft beers and much more. 
For dining, there is also a huge variety. You can choose from restaurants serving the cuisine of Morocco, Lebanon, Portugal, Catalonia, or even a well-made American cheeseburger. Les Halles is most often crowded on weeknights and weekends.
There is an outdoor seating area and if you are early enough, you'll find a comfortable sofa where you can sit and enjoy your meal with a glass of wine. You might even be able to learn to dance the tango or watch a football game with local residents.
Perpignan of the Past
In the center of Perpignan is the 14th century Saint John the Baptist Cathedral built in gothic style architecture with one central nave. 
Catalan culture and history are embedded in this region of France, Roussillon. The red and yellow Catalan flag, symbolizing blood and battlefields, can be seen in numerous places in Perpignan and across the region. 
Next to the cathedral is the cloistered cemetery, Campo Santo, where a medieval village is recreated once a year with singing troubadours, music and dancing, knights in combat, and demonstrations of forging, leather crafts, and pottery making.
Casanyes Market, Off the Tourist Track and Well Worth a Visit
Open-air markets can be found all over France. They make up much of the culture of towns and villages and are a social gathering place as much as a place to do daily food shopping. 
If you are an early riser, you will see women and men setting up their stalls of fresh fruit, vegetables, huge platters of paella, olives and dried fruit. You can also find inexpensive clothing, jewelry, makeup and every household gadget imaginable. 
The meat markets are all halal, well-stocked, organized and clean. Fresh fish from the nearby Mediterranean is also available every day.
The market is open each day from 7 AM to 1 PM. It is not just what you'll find in the market, but also the people that you will see and hear. Voices of friendly women calling to customers, promising the best prices ring out. 
Some will even give you an extra carton of blueberries or whatever fruit you may be buying. I remember filling my bag with a variety of fruits and vegetables.
When I handed it to the merchant to pay he looked through my bag and asked me for six euros, about $7 USD. The price would easily have been double in any supermarket and without all the conviviality of the Casanyes Market.
Two Distinct Cultures Living Side by Side
However, what makes this market unique from others is the mingling of two very distinct cultures: Gypsy and North African.
The Casanyes Market borders the St. Jacques neighborhood. This area was a Jewish enclave for many years until around1940. At this time the Gypsy community began moving in along with African families.
The two communities, Gypsy and North African, are often at odds and violence erupts from time to time. But, they do agree on one important point. They will not allow the government to demolish the neighborhood as it has proposed doing with the promise of better housing.
The two groups are joined by an assortment of local middle-class groups who are also keen to preserve St Jacques' architecture and cultural atmosphere. 
Talks about making the neighborhood a UNESCO site continue. However, the reality of life in St. Jacques is not easy. Unemployment is very high, some estimates put it at 90%, and public assistance is the norm. 
School attendance is not a high priority for some Gypsy families, creating problems for the children who reach adulthood with minimal reading and writing skills. Health is also poor among many because of a diet of processed foods, resulting in obesity and other health problems.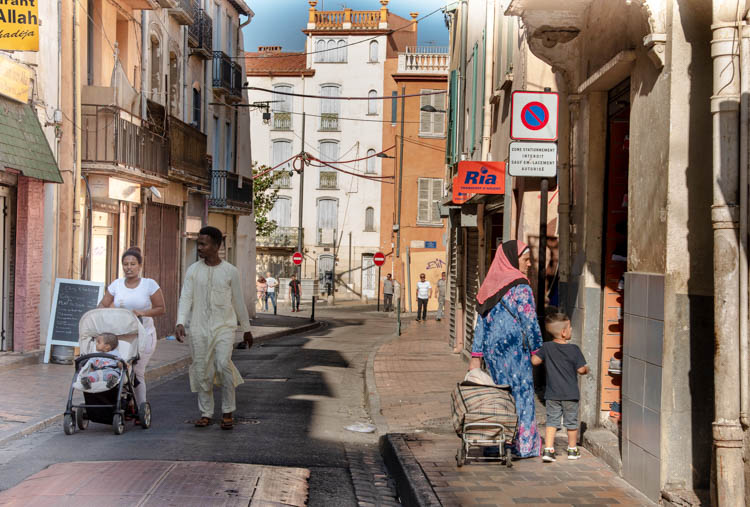 "We Need Work"
My French host family has a young Gypsy man as part of their family as he is the father of two of their great-grandchildren. 
This young man and I had several conversations during my first year in Perpignan. During our talks he told me of the many difficulties he faced growing up in an impoverished family.
He was unable to find work because his Gypsy background is looked down upon by many potential employers. In addition, he is limited by his lack of schooling. 
He emphasized the need for work among the young people of his community and how near impossible it is to find it. Problems of drugs and violence have found no solution. 
A Lively Though Disenfranchised Community
The St. Jacques neighborhood of Perpignan, France comes alive at about 4 PM when people congregate outside. Children are running everywhere and loud music plays. 
Often, as I passed entrances into the homes, I glimpsed unlit, narrow staircases and wondered what life is like for this community with the hardships they face daily. And yet the people stay. Family ties here are very strong.
Among the Gypsy community, there is a palpable sense of community and togetherness. A young woman is never seen walking alone within St. Jacques nor in the center of Perpignan.
She is always part of a group of friends, often going into town to the discount clothing store. These young women are easily recognizable. They are almost always dressed in black with their long, dark hair piled high upon their heads. 
The neighborhood is not clean and is considered unsafe by many. Trash and debris line the curbs.
I had been warned many times not to walk through St. Jacques at any time of day or night. But the colors, sights and sounds were too intriguing for me to bypass.
Walls are covered in colorful graffiti, people of all ages are sitting outside on ragtag sofas and chairs, music plays and laundry hangs from windows day or night.
However, not once, even late at night, did I ever feel threatened. One night, in fact, upon seeing my camera, two young Gypsy cousins came up to me and asked me about it.
Nothing more than that. We talked for a while about school, what they were studying and how much they enjoyed playing football.  Then I walked safely home
The Sanch: Procession of the Penitents
If you are in Perpignan on the Friday before Easter, you will see a unique and controversial tradition. It dates back to 1416 when a Dominican priest, Vincent Ferrier, likened the suffering of Christ to the way criminals were treated at the time.
One of his sermons on this topic resulted in the identity of executioners and condemned men being hidden. This was done to keep the condemned men from being identified by angry families who might have taken justice into their own hands.
Over the years, the procession of condemned men evolved into La Sanch, meaning The Blood, to commemorate the crucifixion of Jesus. For many years it was forbidden by the Catholic Church as immoral, but La Sanch persisted and continues until today.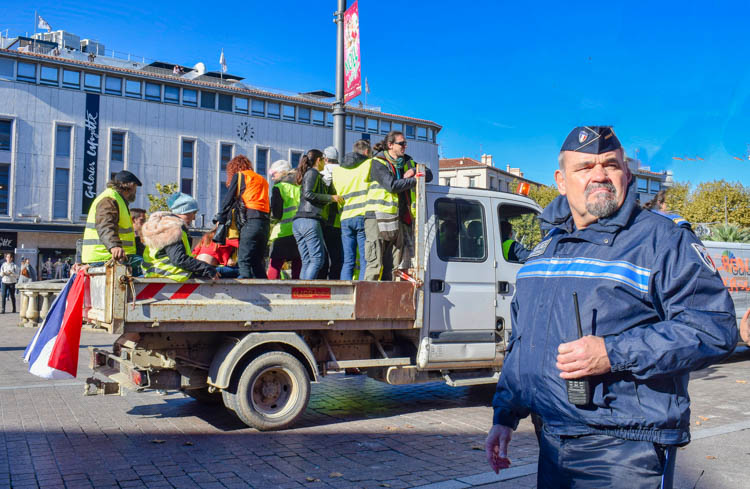 Peaceful Demonstrations in Perpignan, France
The violent protests in France beginning in November 2018 against proposed rises in gas and fuel prices were widely reported. People supporting and taking part in the demonstrations wore gilets jaunes, yellow vests, which became the symbol of the movement. 
Paris was the hardest hit, where businesses, cars, and stores along the renowned Champs Elysée were torched and vandalized. 
During the three years I spent in Perpignan, I witnessed several political demonstrations, not one of which was violent. One for higher salaries and improved working conditions for teachers. Another was for the rights of immigrants. And one was by the gilets jaunes.
One morning near the Castillet, I happened upon a large number of men and women dressed in workers' blue uniforms performing an anti-Macron song and dance routine. They were protesting the proposed changes by the French president, Emmanuel Macron, to current government retirement policies. 
The atmosphere was clearly festive – no shouting, no hint of violence, just a group of people letting the government peacefully know how they felt by singing and dancing.
Late one morning when I was in Perpignan center, I heard car horns beating in rhythm and I waited to see what was happening, thinking that a well-known person or politician was in town. I thought it could have been Marine Le Pen, a political conservative with ambitions to become the next president of France.
However, the horns weren't blowing to welcome anyone famous but to announce that the gilets jaunes were coming through. The feeling was that of a party or festival, not at all unlike the dancers singing and protesting President Macron's proposed policy of changes in retirement laws.
People were waving to the gilets jaunes, showing support in the way that so many things are done in Perpignan – joyfully and with much laughter. 
Later that day when I was back with my host family, we heard motorcycles, one after the other, passing in front of the apartment. It was hundreds of gilets jaunes passing by. 
Residents, including my host family and myself, went out onto the balconies to cheer them on and wave to our neighbors.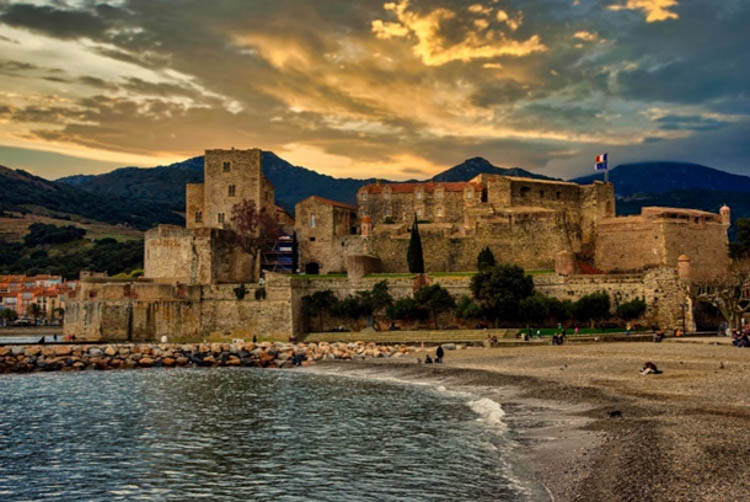 The One-Euro Bus to the Mediterranean
Perpignan, France boasts about being only 20 minutes from the Mediterranean coast, and particularly from the colorful, Catalan town of Collioure.
Here anchovies are caught, processed and sold. It is easily reached by car, but you can also take the one-euro bus, which will drop you off around the corner from the 14th century Château Royal overlooking one of Collioure's beaches.
The Church of our Lady of the Angels, L'Eglise de Notre Dame des Anges, another of the town's landmarks, lies just across the bay.
One day in January I walked along the Sentier Littoral, the coastal trail, and viewed the Mediterranean on one side and the Pyrenees on the other. By chance, that day the temperature reached 26C, 79F which was much appreciated on a winter day.
The wines of Collioure are well known throughout France. Their white wines have a unique dryness coming from the grapes that are grown in dry, rocky soil on high, south-facing slopes overlooking the Mediterranean at a 50% incline. 
Having driven past these slopes or hiked above them in the Alberes Mountains, I have wondered how people manage to harvest the grapes on such steep land.
However, they manage to do it the delicious wines, whether white, red, or rosé, are proof of their labor.
So much about Roussillon is about color, and in Collioure, you will find homes painted in pastel colors, paint leftover from the painting of the fishing boats and a summer festival celebrating Catalan music and culture.
A Vibrant City Not to Be Overlooked
Perpignan is a small city and is one for all seasons. Here there is no mass exodus in August as there is from Paris. Nor from the Dordogne region where large numbers of ex-pats leave in January and February looking for warmer weather.
Theater, cinemas, wine tastings, open-air markets and just a simple stroll through the city's winding streets will always give you something to see and do.
There is always something to enjoy, something new to learn or something to celebrate.
Getting to Perpignan, France
Barcelona's El Prat is the nearest international airport.  From there, you can take the metro for 4 euros or a taxi for about 25 euros to Sants train station. 
The trip by train takes about one and a half hours and departs from Barcelona to Perpignan three times a day. Regular flights and trains leave from Paris as well.
Where to Stay in Perpignan, France
Hotel de la Loge is located right in the center of Perpignan, across from the tourist office where the English-speaking staff will help you with tour arrangements and which sites to visit. 
Hotel de la Loge is a favorite among visitors to Perpignan and is located on one of the city's typical narrow streets, and the setting is quiet.
Where to Eat in Perpignan
My reaction to this is – anywhere and everywhere. All kinds of cuisine can be found in Perpignan, France. Among my favorites is the offerings at L'Arago on the Place L'Arago, a short distance from Hôtel de la Loge. 
A very pleasant outdoor seating area is available and there are many delicious choices on the menu.
Book This Trip
Start planning your Perpignan escape in France today. Get prepared with insider knowledge on the best shops, hotel and VRBO accommodations, local restaurant recommendations and more through TripAdvisor and Travelocity.
For the ultimate flight deals, train tickets and car rental options, check out OMIO Travel Partner.
Author Bio: Ava Kabouchy is the author of two books: "Where in the World is Grammie Now?": The Adventures of a Globetrotting Grandmother," written to teach children about Saudi Arabia and to encourage grandmothers, such as herself, to travel, experience, and learn. She also authored  "Wanderlust:  A New Lease on Life in the Kingdom of Saudi Arabia", published by Europe Books. Ava makes her home in southwest France and in summer, on a remote island off the coast of Maine, USA.