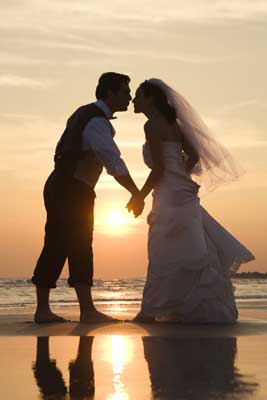 There's a lot to be said for tying the knot overseas—the glamour, the romance, the mystique! Not to mention that the money saved from not having to feed 300 mouths at a stateside reception can be put to better use; specifically, your honeymoon. Before you and your beloved pack those passports and head for the nearest castle, however, there are some legal and logistical issues you need to consider.
Certainly my husband Mark and I learned it all firsthand when we decided to exchange our wedding vows in one of Scotland's most breathtaking fortresses: Stirling. Not only was the date itself the subject of frequent revision—including a visit by Her Majesty the Queen—but yours truly nearly caused an international incident at the altar by not being quite as subservient as a certain Scottish minister would have dictated.
Don't Go It Alone
Unless you're especially intrepid or one of you is already well versed in the laws of your country of choice, it's well worth the cost to retain a solicitor who practices there or a bridal consultant who specializes in overseas nuptials. Although Mark is an Assistant Chief Counsel with the largest insurer in the world, he nonetheless blanched at the prospect of navigating foreign bureaucratic hoops and filing all of the necessary paperwork.
We had also both been married before, a condition that required us to produce an exorbitant amount of certified documentation that deemed us legally eligible to re-wed. With everything else we had to think about as the date approached, the last thing we needed was to travel 6,000 miles (9,600 km) only to discover upon arrival that we had left one of the requisite papers back home.
To that end, he used the Internet to find and retain a spunky Scottish solicitor named Fiona to handle all of the details in advance. "Queer," she remarked on the first day with her rapid-fire Scottish brogue, "but 'tis usually the back end o' marriage our firm be handlin' n' not its beginnin'." She treated us to lunch at an Indian restaurant in Edinburgh, all the while marveling aloud that we'd traveled so far (from California) just to say "I do."
Could You Come Back at a Better Time for Us?
Certain countries require that one or both parties actually reside there for "x" amount of time prior to the nuptials. Belize, for instance, requires three days of residence; England and Ireland call for 15; France is high with a total of 40. Likewise, there are differences in how long the notice period must be, not unlike the tradition of "posting banns," in which adequate time is allowed between the announcement of the impending union and the chance for anyone to step forward with objections.
How one applies for a foreign marriage license is also subject to variation. While many countries allow for application by mail; others, such as Barbados, Germany and Italy need a live body present to file the appropriate paperwork.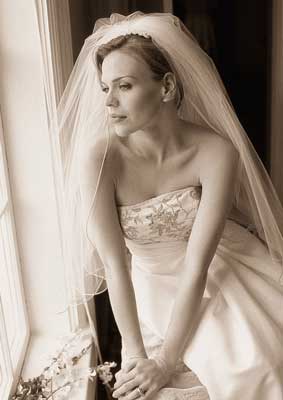 We were fortunate, of course, that our chosen country was Scotland. With no residency requirement whatsoever, it has long been a favorite runaway destination of underage English romantics. The downside, however, is that we were entirely at the mercy of anyone official who felt like changing the date to suit their own schedule, especially since our trip was planned during the off season, when many of the locals are typically absent in quest of warmer weather.
A month before our departure, we were informed that the Queen herself was planning a visit to the Highlands and that, accordingly, Stirling Castle was not available for any private functions. "Goodness," I remarked to my groom-to-be, "it's not as if we couldn't have invited her." A week after penning a new date, we were then told that the staff was conducting a special tour for Japanese golfers that day and could we possibly reschedule for the following Sunday.
Upon our actual arrival in the United Kingdom, there was an urgent message at the hotel. Not only had they moved our Sunday afternoon nuptials up to Saturday, but could we please "get on with it" by 10 in the morning since they wanted to lock up early that day and go home.
It's a good thing our guest list was entirely comprised of the wedding party members who were traveling with us on the same flight. At that point, I was starting to think that Mark and I would be exchanging our vows in the rainy parking lot of the gift shop.
The Devil in the Details
Do your homework in deciding the type of wedding ceremony you want. Vows exchanged before a county magistrate, for instance, are easier to arrange than those, which require, literally, a church blessing. You'll also need to research the various permits and payments required for ceremonies conducted in public settings as opposed to a private home.
Two additional considerations to be aware of when using public facilities involve the use of flash photography and the selection of your own caterer. Woe to the newlyweds who assume that it's permissible to take photos in a vintage chapel or that having two dozen pizzas delivered to the castle's Great Hall isn't a big deal.
Two weeks before we ever set foot on the plane, the officials at Stirling emailed us to see what kind of catering arrangements we wanted for our reception after the ceremony. "We were just planning to take our friends out for a wedding lunch," we explained. Apparently this was not the right answer. We were curtly informed that we couldn't have the wedding in the chapel unless we agreed to have our reception in Stirling's Great Hall. (To give readers a sense of the magnitude of this room, our wedding party of 9 could have comfortably fit in one of its fireplaces.)
Such price-gouging tactics, of course, aren't that uncommon. Due to the increasing popularity of historic and exotic locations for American lovebirds, the hosting cities have grown wise to the practice of insisting that their own staff provide the needed services (for a very large fee).
It is prudent to either inquire at the outset whether this will be the case in your circumstances or else have additional funds on hand for the last-minute "gotchas." The fact that they know you're already committed to the event and probably also have non-refundable plane tickets gives them a lot of leverage to call the shots.
Fortunately for us, we had Fiona in our corner. Oh to have been a fly on the wall when she "had a few words" with the castle officials. "They'll not be causin' y' any more grief," she announced. And, happily, they didn't. We exchanged our vows in the same chapel where Mary was crowned Queen of Scots…and then we went off to lunch at a nearby inn.
The Minister from Central Casting
Fiona was also responsible for finding the person who would perform the actual ceremony for us. "Does this guy remind you of someone?" my husband asked when we were introduced to the local minister who would officiate.
"Yes," I replied without hesitation. "Donald Crisp." For fans of old movies, the name Donald Crisp (1880-1974) should be a familiar one. His last role was the one of Grandpa Spencer in Spencer's Mountain (1963). And indeed if you were to send to Central Casting for "one short, elderly, white-haired Scotsman," this is exactly the person you would get.
Since we didn't have a particu
larly complex agenda, we agreed to meet him the day before the ceremony for a brief run-through. I told him it was perfectly fine to "just do the standard vows." What I didn't realize is that his version of this included the bride's word, "obey." "Couldn't we substitute 'cherish'?" I recommended. I even went so far as to whimsically suggest that I'd be happy to say "obey" if Mark had to say "obey," too. "But he's the man," the minister archly insisted. I'm pretty sure that he would have liked to tell Mark to run for his life at that point.
Suffice it to say, he grudgingly bit his tongue the following morning and only had me swear "to love and honor." He also ducked out before we had our official photographs, not wanting to be associated with such a feisty troublemaking lass as myself.
A Final Note
There is just as sound reasoning behind the concept of marrying in the United States. Fun as it was—and we'd do it all over again in a heartbeat–our advice to friends who are considering the same route is to seriously consider a "pre-wedding" as an option. Not to rain on the matrimonial parade, but transportation disasters are a reality. In the absence of marriage—or a will—a surviving fiancé could be displaced by the deceased's next of kin. Stress, as this article illustrated, can be a huge factor in orchestrating transcontinental details. The knowledge you're already married can lift the pressure of missing paperwork, unforeseen expenses and inclement weather.
Latest posts by Janna Graber
(see all)