Idyllwild, California is a small mountain town, 5,000 feet up in the San Jacinto mountains, only an hour from Palm Springs. The tiny town, virtually inaccessible during the winter, is filled with shops and restaurants and makes for a perfect summer (or fall or spring) day trip destination. Only an hour from Palm Springs, Idyllwild is also about 90 minutes from Los Angeles.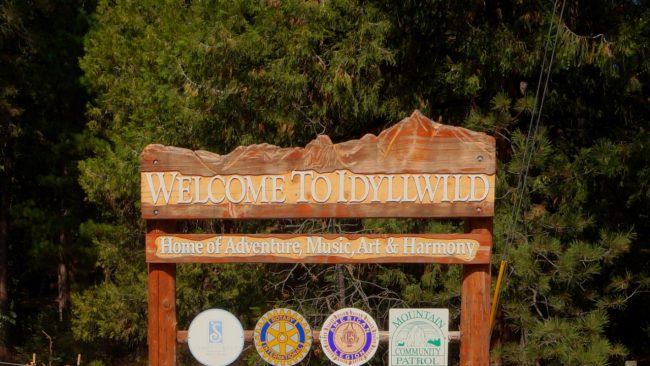 The Drive
Truly one of the country's greatest roads for performance cars or motorcycles, California State Route 74 is 20 miles of twisty, mountain road followed by 20 miles of beautiful driving through the San Bernadino National Forest. The road, also known as the Pines to Palms Scenic Byway, directly connects Palm Desert (the Palms) with Idyllwild (the Pines). I live in Palm Desert and headed out on a Sunday afternoon for my drive to the mountains.
The relatively brief drive (about an hour) takes you through multiple ecosystems. You start in the high desert of Palm Desert, flat and hot with typical desert vegetation. Then you ascend the mountains out of the Coachella Valley, entering a different environment, complete with Coachella Valley bighorn sheep feeding on the sheer cliff faces. Next as you get near Hemet, there are vast plains and valleys with lush vegetation and ranches. Finally you continue to ascend into the mountains where it's all pine trees as you approach Idyllwild.
The Car
To do this incredible route justice, I drove the 2017 Lexus GS F. With 467 horsepower coming from a 5.0 liter V8, it just eats up the miles. The horsepower is carefully applied to the road via two great pieces of tech. The GS F has a wonderfully precise 8-speed, direct-shift transmission that just may be the best I've ever used. Even though there are steering wheel-mounted paddle shifters and a manual mode, I found, in the Sport + driving mode, the car didn't need my help. The other cool track-derived tech feature is a torque vectoring differential, where the rear wheels spin at different rates to help force the car around corners. Brembo brakes up front helped me slow down on the drive back.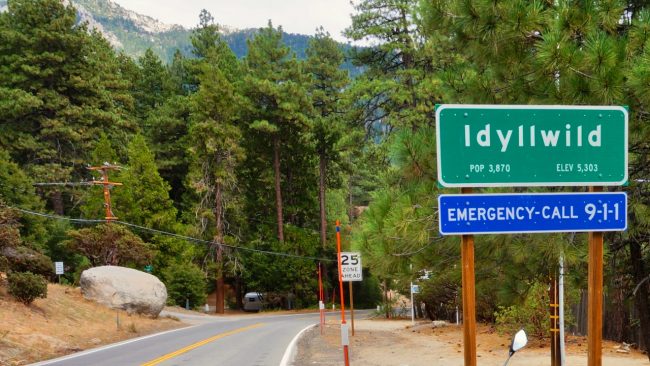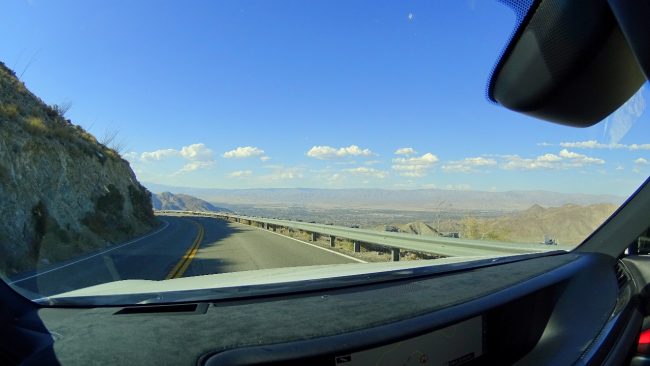 The power and performance of the GS F is completed by a very cool looking red leather interior, with seriously supportive sport seats in the front. You also get the full suite of Lexus driver aid and infotainment features, which I ignored and just focused on the road and the driving experience.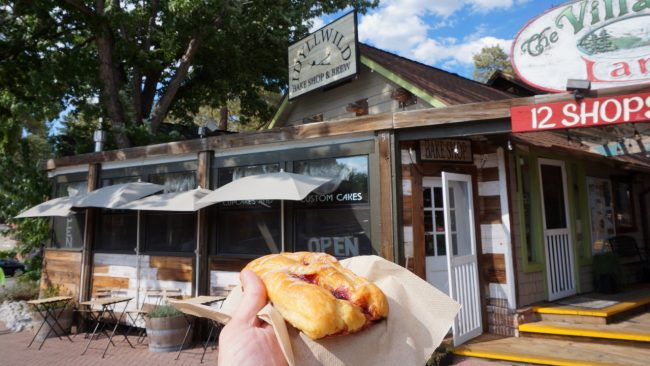 Eat
There are a few sit-down restaurants but I like the Veteran-owned Idyllwild Bake Shop and Brew. It's right on Circle Drive and the 243 so you get to watch the parade of bikes and cool cars that roll through. Beyond freshly baked pastries, they are a small sandwich shop as well, with a nice menu of house-made hot and cold sandwiches. I had an excellent roast beef and Swiss on toasted sourdough, with some great brown mustard. Dessert was a peach and raspberry danish. It fueled me up well for the drive back down the mountain. For fancier fare there's Gastrognome, known for their classic American cuisine.
Shop
Circle Drive, Park Lane and Village Center Drive are all lined with small shops selling various kinds of art and hand-made items. There are also several antique shops there and on the 243, the main road through town. The area is known for its Arts and Crafts-style knotty pine furniture.
Explore
The area has been intentionally minimally developed and there's no skiing here. For outdoor fun, they do have some great mountain and rock climbing and horseback riding. There are a range of hiking trails in the area, from easy to difficult. Idyllwild also hosts an annual film festival along with several popular music festivals. The biggest is Jazz in the Pines, held the first or second week of August each year.
Read more of Freddy Sherman's take on travel on his Go World Travel Blog. You can also follow more of his adventures at luxuryfred.com blog, his luxuryfred Instagram feed and on his YouTube channel.